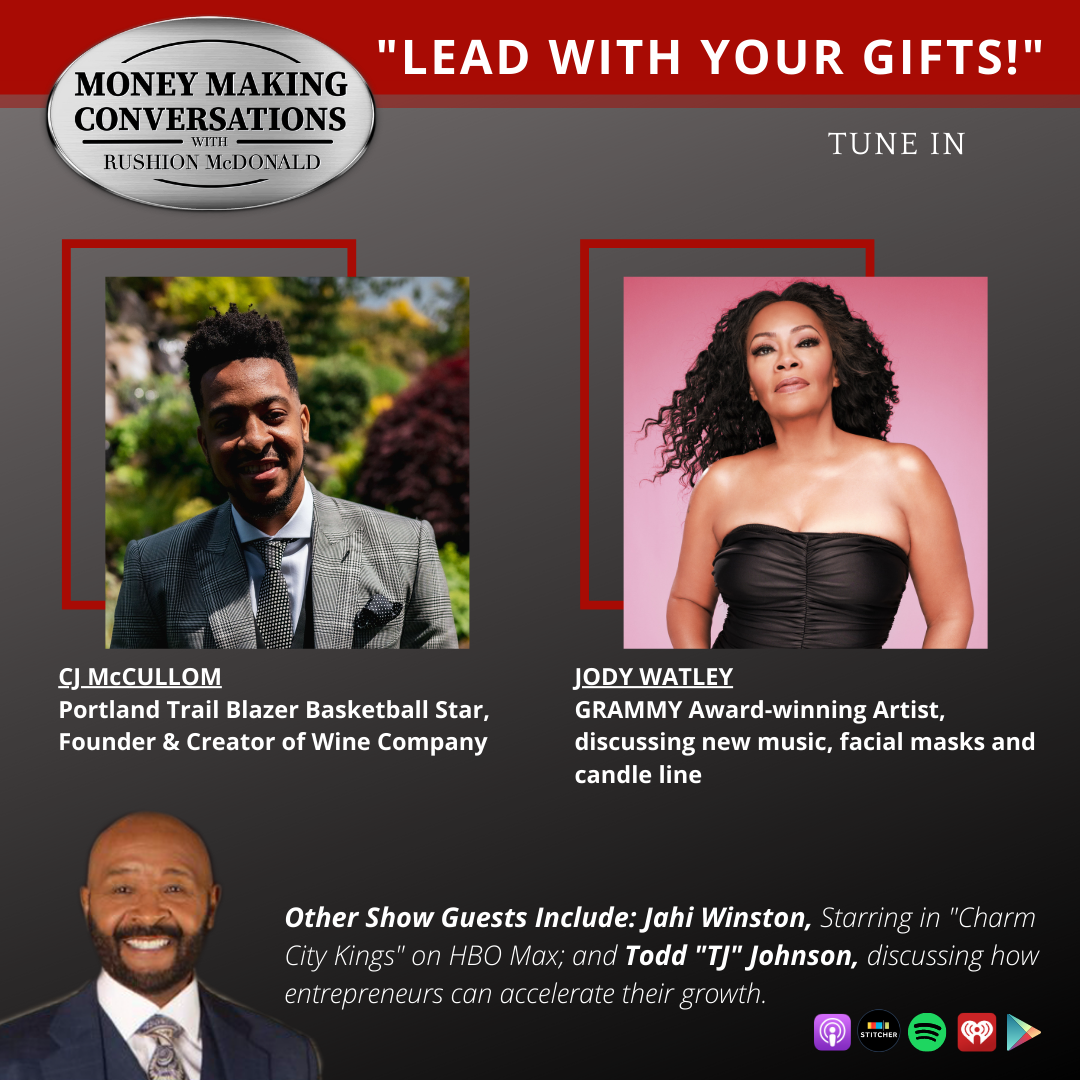 Rushion McDonald Welcomes to Money Making Conversations CJ McCollum – NBA Star, Founder & Creator of Wine Company, McCollum Heritage 91; Jody Watley- GRAMMY Award-winning Artist, Actress, discussing new interior fragrance and candle line "Sanctuary"; Jahi Winston- Actor, Singer, Public Speaker, and Philanthropist; Starring in "Charm City Kings" on HBO Max; Todd "TJ" Johnson- Co-Founder of Adiva Publishing, LLC.
My next guest is NBA Star CJ McCollum; after his introduction to wine in his early 20s by his fiancée, CJ moved to Oregon and joined the Portland Trail Blazers, finding himself just a short drive away from one of the top wine regions in the country. He launched his brand. McCollum Heritage 91 is all about legacy—bringing CJ's passions to life while honoring his roots in the process. It just so happened that the perfect word to describe that—heritage—is also the name of the street he grew up on in Canton, Ohio. Combined with his birth year and family name, McCollum Heritage 91 truly embodies CJ and all he stands for. He is on the show to discuss his SOLD OUT Heritage 91 wine collection. Life during and after the NBA bubble in Orlando and educational charity. Please welcome to Money Making Conversations, CJ McCollum.
My guest Jody Watley is a Grammy Winning Trendsetting Pioneer In Music, Video, Fashion, and Style. Jody is listed on Billboard Top 60 Hot 100 Female Artist Of All Time. She is Top 25 Dance Artist Of All Time; she became the first artist to release a million-selling video "Dance to Fitness, "which had not been achieved by a black woman or musician. She was the first woman of color to play Rizzo on Broadway in the hit musical GREASE. She is an entrepreneur, and she is producing and releasing her music. She is on the show to talk about being an artist during the pandemic and coping with the work stoppage. Jody Watley is finding her sanctuary in the kitchen amidst during these uncertain pandemic times. Please welcome to Money Making Conversations, Jody Watley.
My next guest Jahi Winston currently resides in Atlanta, Georgia. Jahi enjoys playing baseball, singing and working on building, his non-profit organization called "You Can Too," which encourages kids to pursue their dreams the arts and education. His career started on Broadway as Young Simba in Disney's Production The Lion King. He has shared the screen with Kevin Hart, Taraji P. Henson, starred in Netflix series Everybody Sucks, played a young Ralph Tresvant in the New Edition Story, and is now starring in the Charm City Kings, with Meek Mill, which will be streaming on HBOMAX. Please welcome to Money Making Conversations, Jahi Winston.
My next guest, Todd Johnson, has started or helped start businesses worldwide, including Europe, Mexico, the Caribbean, and the United States. Although much of Todd's financial success derives from business, he finds personal success in helping entrepreneurs; would-be entrepreneurs and business leaders maximize their earning potential through executive coaching and by partnering to help them execute their go-to market strategies. Todd's nHotPursuit program helps entrepreneurs accelerate the growth of their ventures. They exist to serve and inspire our community by passionately and diligently creating product, content and services that matter. Please welcome to Money Making Conversations, Todd "TJ" Johnson.
The Money Making Conversations talk show is about entrepreneurship and entertainment. The interviews give the consumer and business owners access to Celebrities, CEOs, Entrepreneurs, and Industry Decision Makers. They provide relatable information to the listener about career and financial planning, entrepreneurship, motivation, leadership, overcoming the odds, and how to live a balanced life. Listen to Money Making Conversations on Apple Podcasts, iHeartRadio, Stitcher, Spreaker, Spotify, Castbox, and more.
Rushion McDonald is a two-time Emmy Award-winning and three-time NAACP Image Award-winning television and film, producer. He is a sitcom writer, social media influencer, brand architect, entrepreneur, and award-winning baker.​
https://www.moneymakingconversations.com
https://www.youtube.com/MoneyMakingConversations
https://www.facebook.com/MoneyMakingConversations/
https://twitter.com/MoneyMakingConv