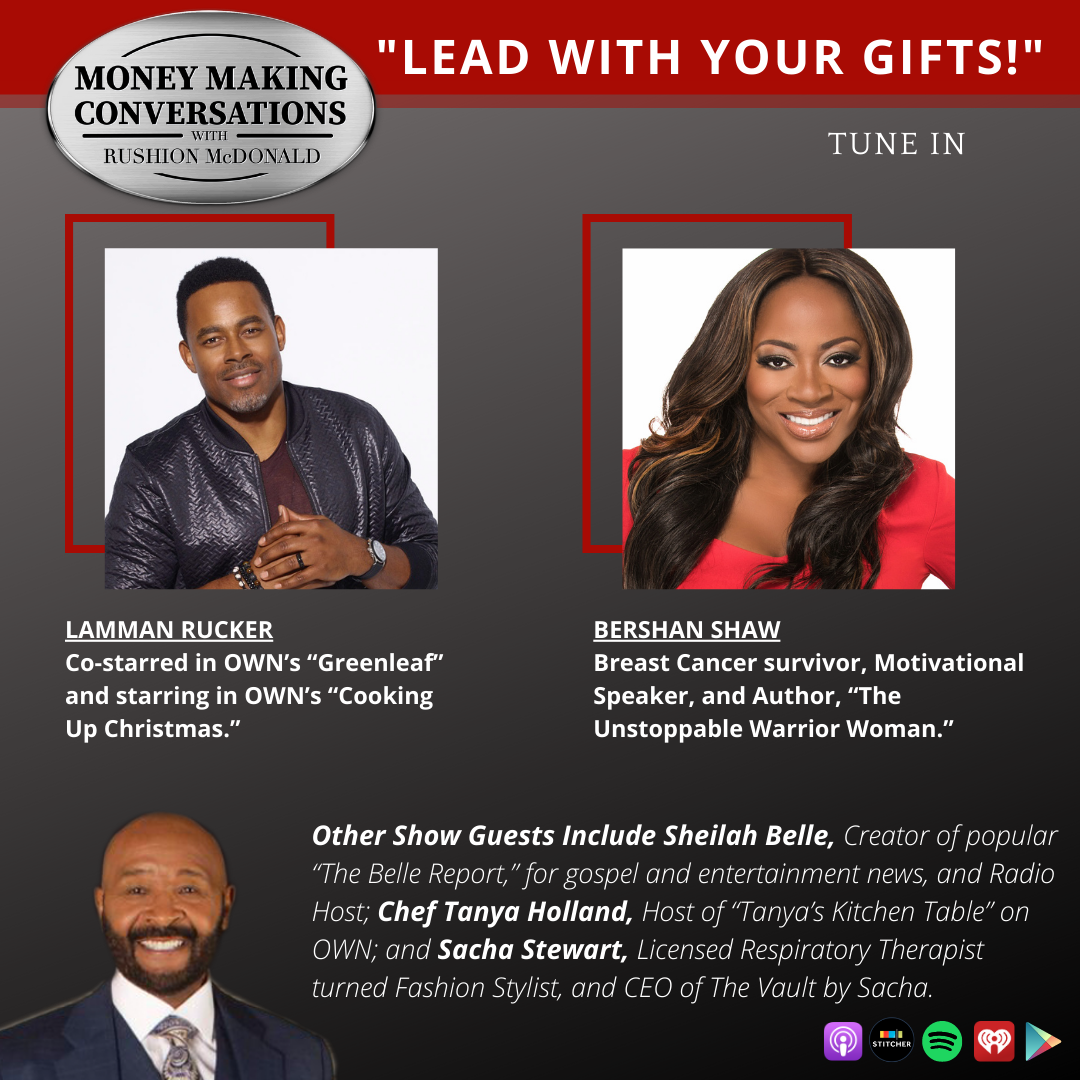 My next guest is Lamman Rucker. He is an Actor, Educator, Activist, and Entrepreneur whose career platform has been used to influence, educate, and ignite communities through artistic and academic innovation. Lamman is starring in a new Christmas Movie on the OWN network, entitled "Cooking Up Christmas." He plays pro baseball player Donovan Jackson, a single dad of three needing a live-in-chef to get him through the holidays with the kids. Meagan Holder plays the Chef's role; she stars as Chloe, an Atlanta-based chef at a fine dining restaurant who gets fired just weeks before Christmas and reluctantly takes a job. "Cooking Up Christmas" premieres Tuesday, December 15 at 9 p.m. ET/PT on OWN. Please welcome to Money Making Conversations Lamman Rucker.
My next guest is Bershan Shaw. She breast cancer survivor, an International Motivational Speaker, Career Coach, TV Personality, and Author of the book "The Unstoppable Warrior Woman." Ms. Shaw highlights the stories of incredible women, like herself battling stage four breast cancer, who have survived unthinkable odds and found the strength to succeed through their struggles. Up next in her career, Ms. Shaw will be taking the mental health space head-on with the launch of her social networking app, URAWARRIOR, out early 2021. The app is designed to provide warriors a healing community resource for motivational tools, self-improvement, personal development, and support. Please welcome to Money Making Conversations, the Author of "The Unstoppable Warrior Woman," Bershan Shaw.
My next guest is Sheilah Belle. Sheilah Belle "The Belle" has worked in broadcast news, journalism, and the press for over 30 years. She is the Editor-in-Chief and Publisher of The Belle Report, now entering its 15th year of publishing, has become one of the top Music Industry go-to platforms for Gospel and Inspirational News. The Belle has interviewed and met with some of the most influential people globally, including Nelson Mandela, President Bill Clinton, President Jimmy Carter, President Barack Obama, Oprah Winfrey, Dick Gregory, Coretta Scott King, Jesse Jackson, and many more. In addition to producing The Belle Report published Monday through Friday, Please welcome to Money Making Conversations Multi-media Journalist, Producer, Gospel Influencer, and Inspirational Speaker Sheilah Belle.
My next guest is Chef Tanya Holland. Acclaimed for her inventive take on modern soul food and comfort classics, Tanya Holland is the Executive Chef/Owner of the internationally renowned and beloved Brown Sugar Kitchen restaurant, located in Oakland, California. The Author of The Brown Sugar Kitchen Cookbook and New Soul Cooking, Holland competed on the 15th season of Top Chef on Bravo, was the host and soul food expert on Food Network's Melting Pot, she appears on the new HBO Max show Selena + Chef featuring Selena Gomez, and is the host of "Tanya's Kitchen Table" on OWN: Oprah Winfrey Network (airs November 14 – December 26, 2020). Please welcome to Money Making Conversations Chef Tanya Holland.
My next guest is Sacha Stewart. Her passion for fashion started as a little girl when she spent hours on end in the fabric store with her fashion designer mother. While pursuing her college degree, she would sell her designer items on E-Bay to pay her way through college. After college, she began a career as a licensed Respiratory Therapist, and despite job security, pivoted into full-time entrepreneurship. She is currently the CEO of The Vault by Sacha. The Vault by Sacha offers various limited edition, rare and eclectic pieces, including swimwear, tops, bottoms, and accessories to turn heads and make a statement at your next event. Please welcome to Money Making Conversations, Sacha Stewart.
The Money Making Conversations talk show is about entrepreneurship and entertainment. The interviews give the consumer and business owners access to Celebrities, CEOs, Entrepreneurs, and Industry Decision Makers. They provide relatable information to the listener about career and financial planning, entrepreneurship, motivation, leadership, overcoming the odds, and how to live a balanced life. Listen to Money Making Conversations on Apple Podcasts, iHeartRadio, Stitcher, Spreaker, Spotify, Castbox, and more.
Rushion McDonald is a two-time Emmy Award-winning and three-time NAACP Image Award-winning television and film, producer. He is a sitcom writer, social media influencer, brand architect, entrepreneur, and award-winning baker.​
https://www.moneymakingconversations.com
https://www.youtube.com/MoneyMakingConversations
https://www.facebook.com/MoneyMakingConversations/
https://twitter.com/MoneyMakingConv