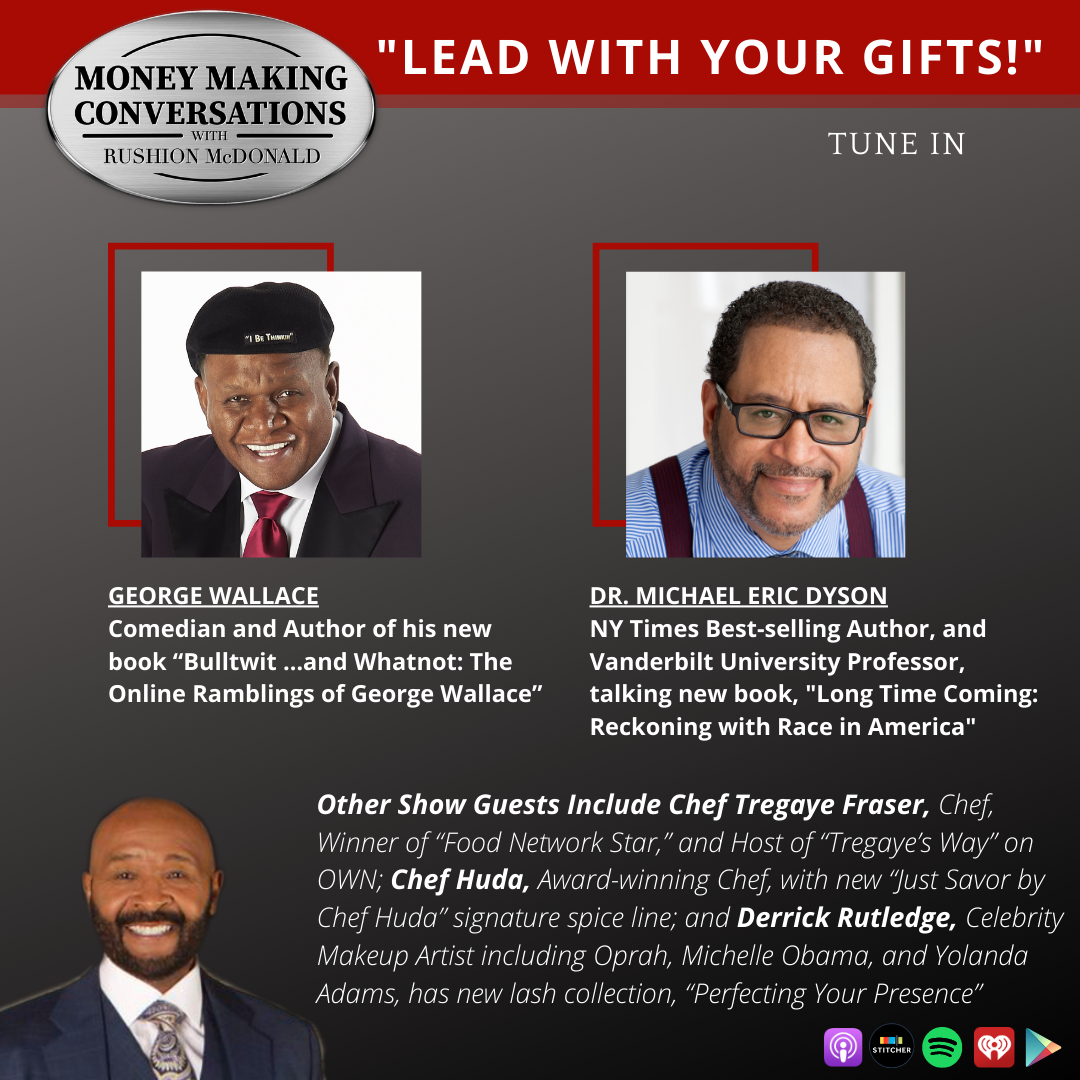 My next guest, The Man, The Comedian, The Legend is George Wallace. George Wallace is an award-winning comedian who has been selling out comedy clubs and concert venues worldwide for years. He recently launched a 2020 residency at the Westgate Las Vegas Resort & Casino before the pandemic. Sin City showed its admiration by nicknaming him "The New Mr. Vegas." Wallace was awarded a Lifetime Achievement Award at the Soul Train/Centric Comedy All-Star Awards and won Best Stand Up Comedian at the prestigious American Comedy Awards. His first book, LAFF IT OFF (Chaite Press), was published in 2014, now followed by his new release, "BullTwit…and Whatnot" The Online Ramblings of GEORGE WALLACE with Foreword By Patton Oswalt. Please welcome to Money Making Conversations George Wallace.
My next guest is Dr. Michael Eric Dyson. He is one of America's premier public intellectuals and author of over 20 books, including seven New York Times bestsellers. Dr. Dyson is the recipient of two NAACP Image Awards and the 2020 Langston Hughes Festival Medallion. Former President Barack Obama has noted: "Everybody who speaks after Michael Eric Dyson pales in comparison." His latest book, "Long Time Coming: Reckoning with Race in America," is now a national bestseller. Dr. Dyson tells us about his latest book, "Long Time Coming," which compelled him to write this book. Please welcome to Money Making Conversations Dr. Michael Eric Dyson.
My next guest is Chef Tregaye Fraser.  She grew up eating her grandmother farm-fresh cooking. She is a seasoned chef who likes to twist old-fashioned recipes with her unique flair. She learned the basics at Le Cordon Bleu, but she soon realized that her love for cooking came from her youthful soul and passion for fusion cuisine. Chef Tregaye is a successful, self-employed mother who relates best to a younger generation.  She is the first African American woman to win Food Network Star, a two-time competitor of Cutthroat Kitchen, and 3-time competitor of Guys Grocery games. She has her show, Tregaye's Way" that airs every Saturday at 12:30 p.m. ET/PT on OWN. Please welcome to Money Making Conversations Chef Tregaye.
My next guest is Chef Huda. She is a Telly Award-winning Television Host, acclaimed award-winning Chef, and Food Network record-setting champion. She is an American Heart Association Ambassador, Chef Huda; during the COVID-19, she launched the CHK #KitchenQuarantineParty live virtual series on IG to help bring joy to people in this uncertain time. Her IG Live Food Party was packed with loads of fun, cocktails, great music, delicious food, and VIP guests. She has a savory spice line, Just Savor by Chef Huda. Please welcome to Money Making Conversations Chef Huda.
My next guest is Derrick Rutledge. He is arguably one of the most prolific and sought-after makeup artists of his time; Derrick Rutledge is launching a limited edition of eyelashes known as the Derrick Rutledge Perfecting Your Presence (PYP) Collection. Known throughout the industry for helping his megastar clients define their look, Derrick informs that "perfecting a woman's presence begins with her eyes." In a fast-paced industry that relies on professionals and ubiquitous beauty tutorials to achieve the look most women desire, Please welcome to Money Making Conversations Derrick Rutledge.
The Money Making Conversations talk show is about entrepreneurship and entertainment. The interviews give the consumer and business owners access to Celebrities, CEOs, Entrepreneurs, and Industry Decision Makers. They provide relatable information to the listener about career and financial planning, entrepreneurship, motivation, leadership, overcoming the odds, and how to live a balanced life. Listen to Money Making Conversations on Apple Podcasts, iHeartRadio, Stitcher, Spreaker, Spotify, Castbox, and more.
Rushion McDonald is a two-time Emmy Award-winning and three-time NAACP Image Award-winning television and film, producer. He is a sitcom writer, social media influencer, brand architect, entrepreneur, and award-winning baker.​
https://www.moneymakingconversations.com
https://www.youtube.com/MoneyMakingConversations
https://www.facebook.com/MoneyMakingConversations/
https://twitter.com/MoneyMakingConv