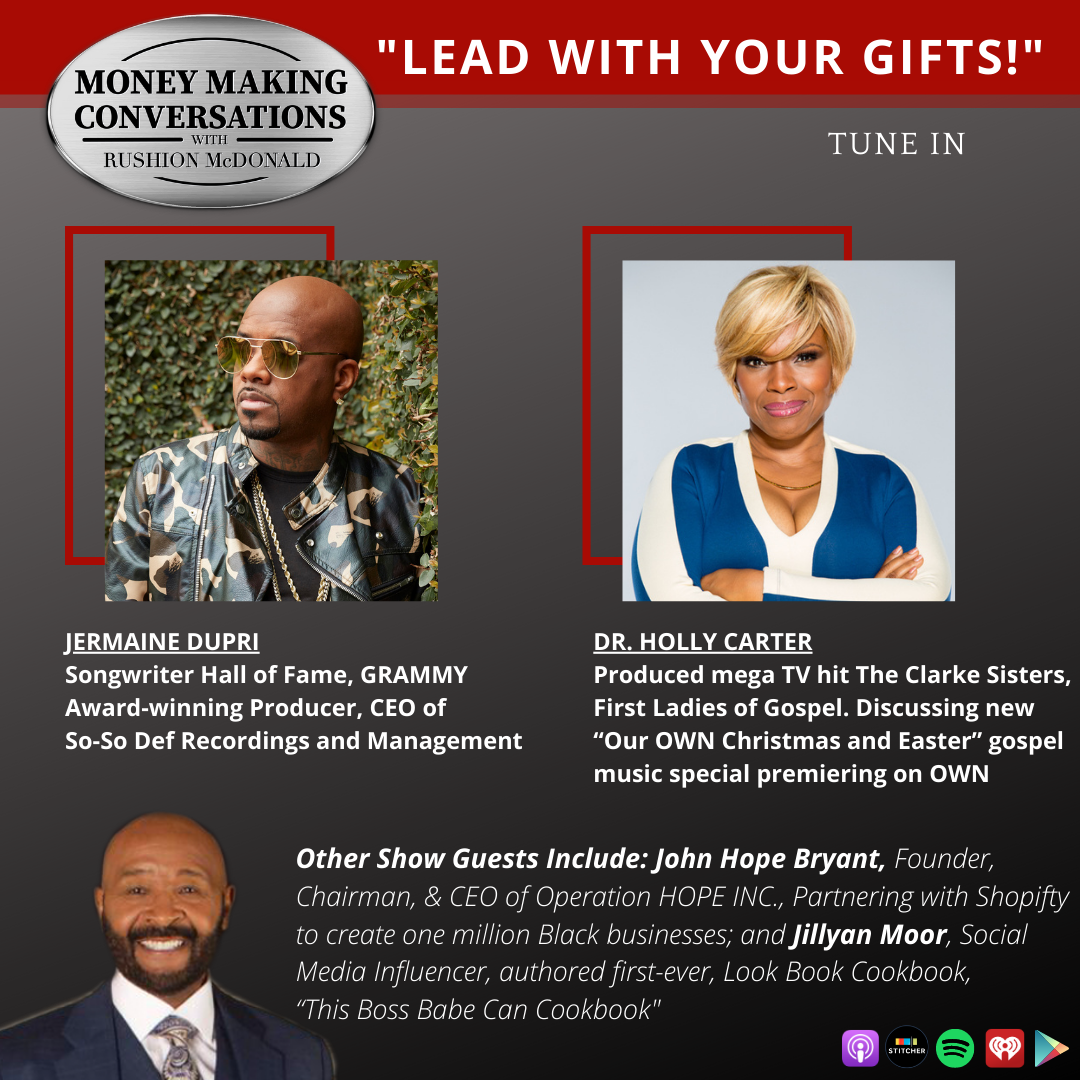 Rushion welcomes Jermaine Dupri, currently producing Justin Timberlake and Anthony Hamilton, Grammy award-winning producer, Songwriter Hall of Fame, produced Kris-Kross at the age of 17.;Dr. Holly Carter, producing partners Queen Latifah, Mary J Blige and Missy Elliot produced the "The Clarks Sisters: The First Ladies of Gospel," which premiered as the highest-rated original movie of 2020, on both broadcast and cable nets.; John Hope Bryant and Shopify, creating one million new black businesses. He is the founder, chairman, and chief executive officer of Operation HOPE, Inc., a global nonprofit headquartered in Atlanta.; Jillyan Moor, release first ever "This Boss Babe Can Cook", cookbook doubles as a look book. It has 45 different recipes and 45 different pictures and looks.
The Money Making Conversations talk show is about entrepreneurship and entertainment. The interviews give the consumer and business owners access to Celebrities, CEOs, Entrepreneurs, and Industry Decision Makers. They provide relatable information to the listener about career and financial planning, entrepreneurship, motivation, leadership, overcoming the odds, and how to live a balanced life. Listen to Money Making Conversations on Apple Podcasts, iHeartRadio, Stitcher, Spreaker, Spotify, Castbox, and more.
Rushion McDonald is a two-time Emmy Award-winning and three-time NAACP Image Award-winning television and film, producer. He is a sitcom writer, social media influencer, brand architect, entrepreneur, and award-winning baker.​
https://www.moneymakingconversations.com
https://www.youtube.com/MoneyMakingConversations
https://www.facebook.com/MoneyMakingConversations/
https://twitter.com/MoneyMakingConv