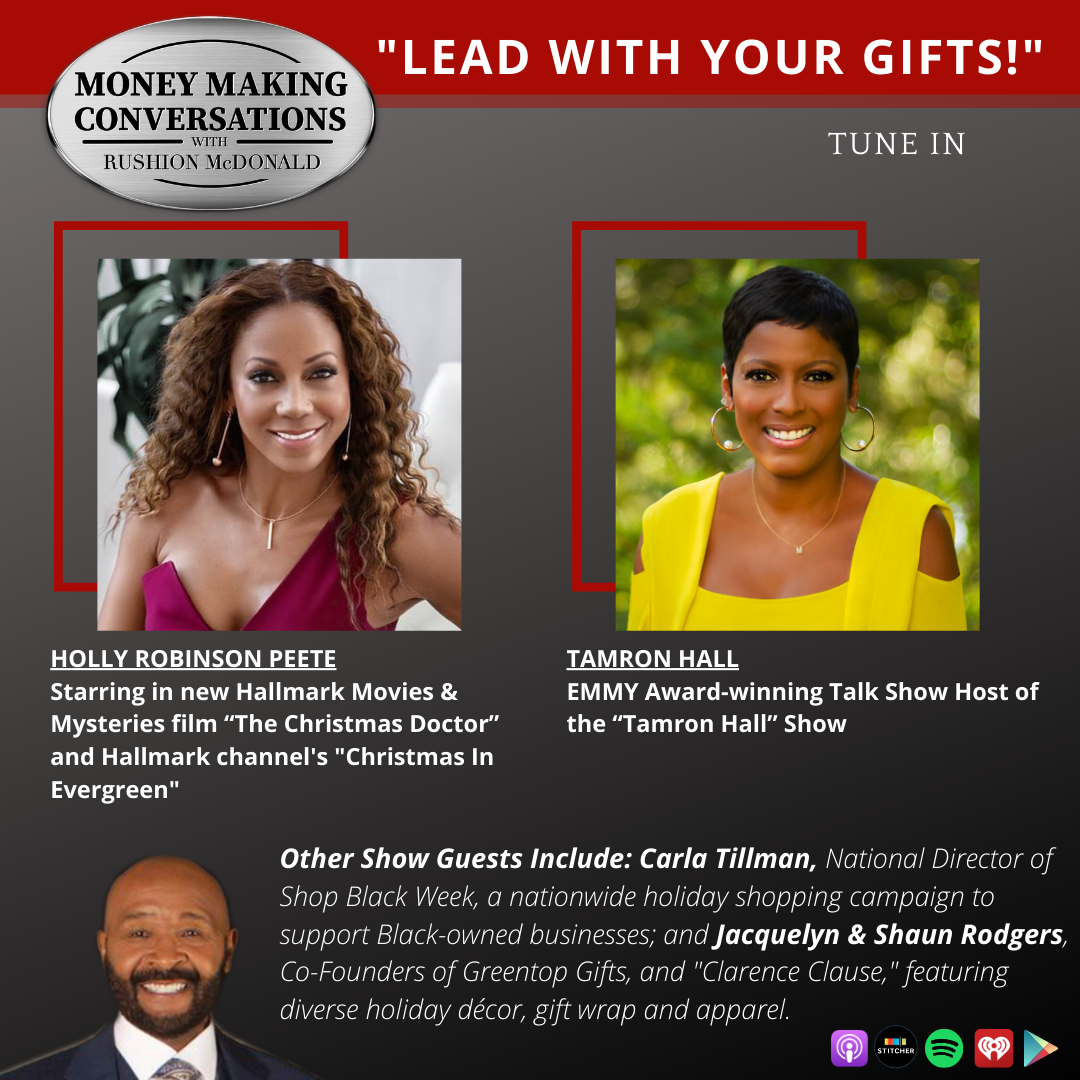 Rushion welcomes Holly Robinson Peete – Actress, Author, and Philanthropist, talking new holiday movies, "The Christmas Doctor" and "Christmas In Evergreen"; Tamron Hall – EMMY Awards host of the "Tamron Hall" Show; Carla Tillman- National Director of Shop Black Week, a nationwide holiday shopping campaign to support Black-owned businesses; Jacquelyn and Shaun Rodgers- Co-Founders of Greentop Gifts, a popular holiday brand featuring diverse holiday décor, gift wrap and apparel including Clarence Claus.
My next guest is Actress and singer Holly Robinson Peete. Holly is starring in two new Hallmark holiday movies: The Christmas Doctor premiering Hallmark Movies and Mysteries Christmas In Evergreen premiering on Hallmark Channel. We will be discussing racism, her son working for the LA Dodgers, raising a family during the pandemic, and how it has also impacted her charity and entertainment livelihood. Please welcome to Money Making Conversations Holly Robinson Peete.
My next guest is Tamron Hall. Her popular syndicated show "Tamron Hall" that she Executive Produces is a daily destination for viewers to connect with the people shaping our lives through meaningful, engaging, and entertaining conversations that help, heal, and inform during these uncertain pandemic times. This year she won the Daytime Emmy® Award for Outstanding Informative Talk Show Host for her 1st season. Tamron's show continues to be a conversation starter, past guests such as Samuel L. Jackson, Melissa Etheridge, David Arquette, Tyra Banks, Nelly, Michael Fishman, Chris Evans, and reality star NeNe Leakes, among others. The second season Tamron Hall has been even bigger and more informative! Please welcome to Money Making Conversations Tamron Hall.
My next guest is Carla Y. Tillman. She is the National Director of The Shop Black Week campaign, the historical community campaign slated to infuse hundreds of millions into the Black community in one week. I have her on the show because we need everyone to support, and it ends on Black Friday, November 27th. Please welcome to Money Making Conversations, Carla Tillman.
My guest Jacquelyn Rodgers has over 14 years' experience in Consumer Packaged Goods from Nestle Mars & Wrigley and is a graduate of Clark Atlanta University. Shaun received his undergraduate degree from Morehouse College and MBA from Duke University. They are co-Founders of the hugely popular and successful holiday décor and apparel company Greentop Gifts. The company brand's signature character, an African American Santa is affectionately known as Clarence Claus, has quickly cemented Greentop Gifts' place in African American and families of color households who look for representation during the holiday season, to provide diverse options with a full holiday collection of products. Please welcome to Money Making Conversations Jacquelyn and Shaun Rodgers.
The Money Making Conversations talk show is about entrepreneurship and entertainment. The interviews give the consumer and business owners access to Celebrities, CEOs, Entrepreneurs, and Industry Decision Makers. They provide relatable information to the listener about career and financial planning, entrepreneurship, motivation, leadership, overcoming the odds, and how to live a balanced life. Listen to Money Making Conversations on Apple Podcasts, iHeartRadio, Stitcher, Spreaker, Spotify, Castbox, and more.
Rushion McDonald is a two-time Emmy Award-winning and three-time NAACP Image Award-winning television and film, producer. He is a sitcom writer, social media influencer, brand architect, entrepreneur, and award-winning baker.​
https://www.moneymakingconversations.com
https://www.youtube.com/MoneyMakingConversations
https://www.facebook.com/MoneyMakingConversations/
https://twitter.com/MoneyMakingConv