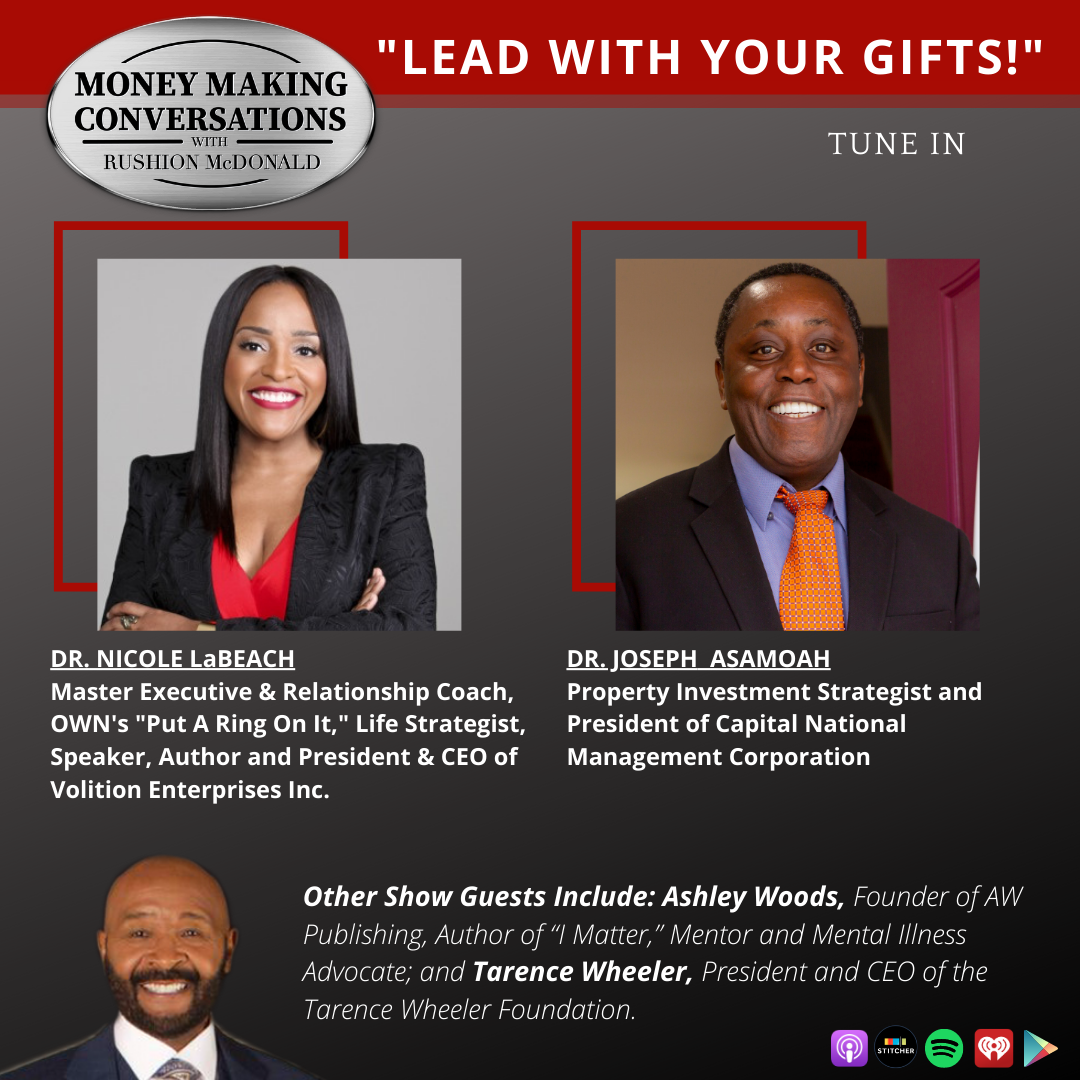 Rushion welcomes Dr. Nicole LaBeach- Master Executive & Relationship Coach, OWN's "Put A Ring On It," Life Strategist, Speaker, Author and President & CEO of Volition Enterprises Inc.; Dr. Joseph Asamoah-Property Investment Strategist and President of Capital National Management Corporation; Ashley Woods- Founder of AW Publishing, Author of "I Matter," Mentor and Mental Illness Advocate; Tarence Wheeler- President and CEO of the Tarence Wheeler Foundation.
My next guest is Dr. Nicole LaBeach is President & CEO of Volition Enterprises, Inc., a premier Organizational Development (OD) firm specializing in the areas of Coaching, Training, Change Management, and Diversity, Equity, & Inclusion. She is not the host of the new relationship show, "Put A Ring On It." PAROI show follows three longtime couples, with help from Dr. Nicole LaBeach, who embark on the ultimate relationship test. From week to week, the couples are pushed outside their comfort zones to confront the question they've been afraid to ask, "Is this their happily ever after?" Dr. Nicole LaBeach's wisdom has inspired the audiences of Essence Magazine, The Steve Harvey & Tom Joyner Morning Shows, T.D. Jakes, TV One, Aspire TV, Hope for Women Magazine, RollingOut Magazine, and CBS Radio. Please welcome to Money Making Conversations Dr. Nicole LaBeach.
My next guest is Dr. Joseph Asamoah. He is the Property Investment Strategist & President of Capital National Management Corporation. Dr. Joseph is from Ghana and came to America by way of England over 30 years ago, with only $100 in his pocket. He now owns over 40 homes that he rents to low-income families. His mission is to change lives and provide opportunities for low-income people to live in safer neighborhoods and access resources, better education for their children, and beautiful design equity homes. He offers solutions to tackle gentrification and affordable housing issues in unique and effective ways. Please welcome to Money Making Conversations, Dr. Joseph Asamoah.
My next guest Ashley Woods is an author, aspiring motivational speaker, and mentor. Ashley is a veteran of the United States Army and National Guard Reserve; she served five years from 2002-2007. Diagnosed with PTSD in 2012, Ashley has faced many obstacles in her life, including multiple breakdowns and two suicide attempts. Equipped with an effective management technique for her PTSD, Ashley now dedicates her time as a mental illness advocate, supporting millions of people that battle with the effects of various mental disorders every day and inspiring and encouraging others to overcome and thrive. Ashley is living proof that your illness does not have to define your path in life. She is on the show to talk about overcoming the odds. Please welcome to Money Making Conversations Ashley Woods.
My next guest Tarence Wheeler is a highly respected professional with over 20 years of experience in community relations and philanthropic activities, specializing in community outreach and corporate partnerships. His greatest passion is helping enrich the lives of at-risk young people in communities throughout the Metropolitan Detroit area. Some of his notable charitable events include: Back to School Supply Drive, Feminine Hygiene Campaign, All-Star Giveback Turkey Drive, just to name a few. Mr. Wheeler is often seen speaking and motivating young people in the Detroit-area schools with a simple mission to alleviate the non-academic barriers to education. Please welcome to Money Making Conversations Tarence Wheeler.
The Money Making Conversations talk show is about entrepreneurship and entertainment. The interviews give the consumer and business owners access to Celebrities, CEOs, Entrepreneurs, and Industry Decision Makers. They provide relatable information to the listener about career and financial planning, entrepreneurship, motivation, leadership, overcoming the odds, and how to live a balanced life. Listen to Money Making Conversations on Apple Podcasts, iHeartRadio, Stitcher, Spreaker, Spotify, Castbox, and more.
Rushion McDonald is a two-time Emmy Award-winning and three-time NAACP Image Award-winning television and film, producer. He is a sitcom writer, social media influencer, brand architect, entrepreneur, and award-winning baker.​
https://www.moneymakingconversations.com
https://www.youtube.com/MoneyMakingConversations
https://www.facebook.com/MoneyMakingConversations/
https://twitter.com/MoneyMakingConv