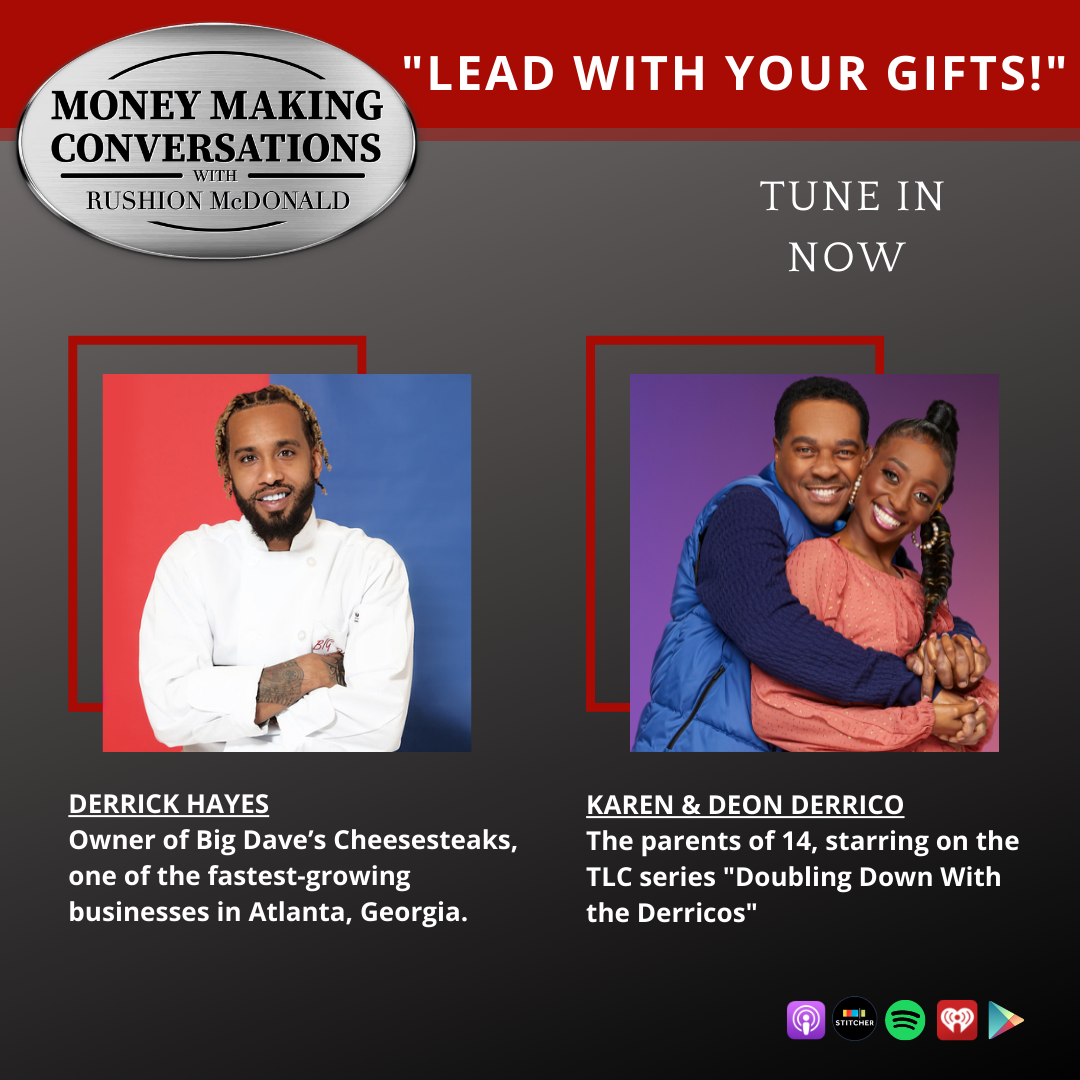 On this episode of Money Making Conversations Master Class I speak with Karen and Deon Derrico from the TLC series "Doubling Down with the Derricos." We discuss season 3 of their TLC fan favorite TV show, how they balance 14 children, while being successful in real estate and more! I also have the owner of Big Dave's Cheesesteaks, Derrick Hayes, sharing how he took small water-ice shop in a 749 sq. ft Shell gas station and turned it into a nationwide franchise!
Topics Covered:
Running a household as parents of 14
Family dynamics with the siblings who range in age,
What generational wealth means
Lessons in leadership
The road to self-discovery as an entrepreneur
More on Karen & Deon Derrico
Navigating life with fourteen kids, including four sets of naturally conceived multiples, is never easy. But, with the kids getting older, parents Deon and Karen are facing a whole new set of challenges, including a fifteen-year-old's quest for independence and a driver's license, eleven-year-old and ten-year-old twins developing their first crushes, four-year-old triplets starting preschool, plus potty training, a trip to Disney, new health issues and more. In the midst of all the regular chaos of raising children, the Derricos are also on the brink of a big decision: moving cross-country to South Carolina to be closer to Karen's extended family and her Southern roots. No matter what lies ahead, the Derricos will face it together, doubling down on all the love and fun it takes to raise this unique family.
More on Derrick Hayes
As a West Philadelphia native, restaurateur and philanthropist. Derrick "D" Hayes understands the value of hard work, dedication,and perseverance. His vision for his restaurant, Big Dave's Cheesesteaks, began in 2014 as he aimed to merge his passion for community, food, and business. What started as a small water-ice shop in a 749 sq. ft Shell gas station in Dunwoody, Georgia since 2016 has now augmented into the nationally known Big Dave'sCheesesteaks, a thriving cheesecake empire with store and mobile locations all across metro Atlanta.