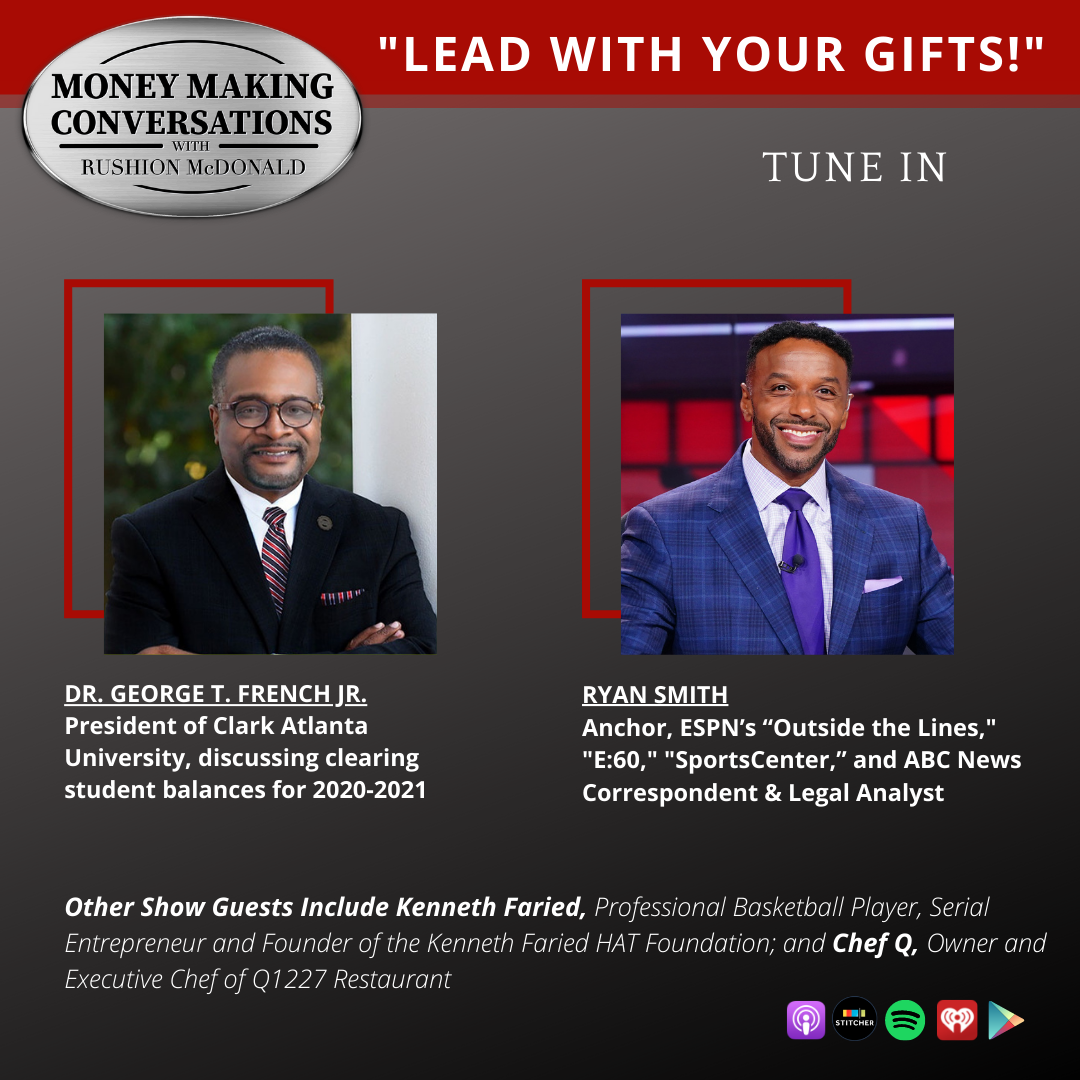 Rushion McDonald talks to Ryan Smith – He joined ESPN in February 2017 as a host on ESPN's Outside the Lines and E:60 and as a New York-based correspondent. He added anchoring SportsCenter to his role in 2019.
Rushion McDonald talks to Dr. George T. French – He announced as President of Clark Atlanta University he zero balanced student account balances for the Spring 2020, Summer 2020, Fall 2020, Spring 2021, and Summer 2021 semesters.
Rushion McDonald talks to Kenneth Faried – NBA Star, Serial Entrepreneur, he finished second at the Fortnite Celebrity Pro-Am Tournament and used the $250,000 prize money to launch his Kenneth Faried HAT Foundation.
Rushion McDonald talks to Chef Q – Chef, Entrepreneur, and Owner of Q1227 Restaurant. He has received exceptional reviews for its' great tasting food and service from former President, Bill Clinton; Steve Harvey; Singer/Songwriter, Shawn Mendes; Actor, Danny Glover; Comedian, George Lopez; NBA Players, Chris Paul, Houston Astros Manager Dusty Baker and a host of others.
The Money Making Conversations talk show is about entrepreneurship and entertainment. The interviews give the consumer and business owners access to Celebrities, CEOs, Entrepreneurs, and Industry Decision Makers. They provide relatable information to the listener about career and financial planning, entrepreneurship, motivation, leadership, overcoming the odds, and how to live a balanced life. Listen to Money Making Conversations on Apple Podcasts, iHeartRadio, Stitcher, Spreaker, Spotify, Castbox, and more.
Rushion McDonald is a two-time Emmy Award-winning and three-time NAACP Image Award-winning television and film, producer. He is a sitcom writer, social media influencer, brand architect, entrepreneur, and award-winning baker.​
https://www.moneymakingconversations.com
https://www.youtube.com/MoneyMakingConversations
https://www.facebook.com/MoneyMakingConversations/
https://twitter.com/MoneyMakingConv