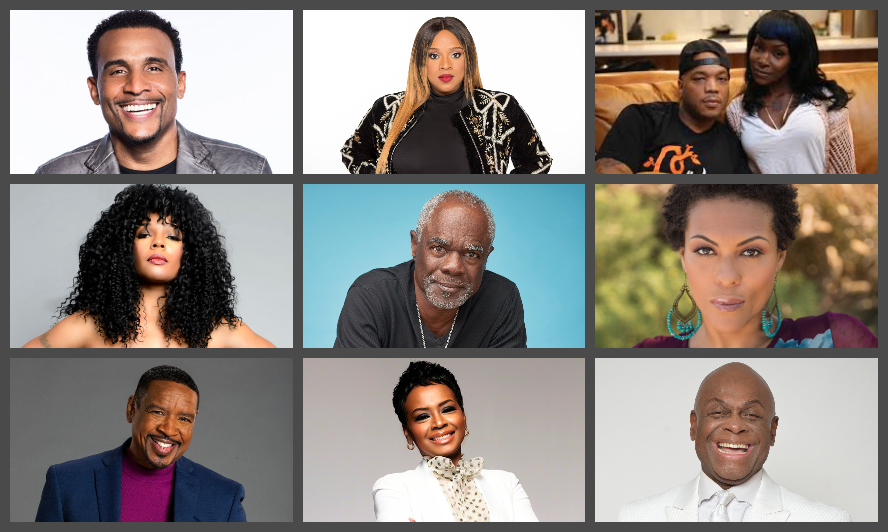 ATLANTA, GA (April 6, 2020) – Two-time EMMY®-winning producer, social media influencer, entrepreneur, and branding guru Rushion McDonald hosts a dynamic month of motivation, laughs, and entertainment this April, delivering a powerful group of award-winning entertainers, trailblazing entrepreneurs and influencers, lifestyle and financial experts, and more this month on his popular podcast and syndicated radio program "Money Making Conversations." Tune into "Money Making Conversations" now as McDonald and his guests share empowering insights, the path of success and challenges from creating ideas into million-dollar businesses, leading with your gifts, and living a balanced life. Featuring the latest television, movie and comedy projects, beauty and health, design, financial investment, among other topics, "Money Making Conversations" hosted by Rushion McDonald is available on www.moneymakingconversations.com and across digital platforms, satellite networks and syndicated radio including: Spotify, iHeartRadio podcast, Apple Podcast, YouTube, Spreaker, Stitcher, Overcast, Alexa, SiriusXM Satellite Radio Channels 141 on Howard University's Campus, and 142 on HBCU Campuses, and multiple stations across the U.S in North Carolina and South Carolina, Georgia, Louisiana, Alabama, California, among other states.
The guests* featured on "Money Making Conversations" this April include: EMMY®-winning Actor, Director, Producer, Humanitarian Glynn Turman ("A Different World," "The Wire," "House of Lies," Co-Star/Executive Producer in the Netflix film "Justine"); GRAMMY®-winning Recording Artist, Songwriter, Actress, Creator of the Eleven60 clothing line, Kierra Sheard (Co-Starring in the new Lifetime biopic "The Clark Sisters: The First Ladies of Gospel"; New album KIERRA); GRAMMY®-nominated Artist, Co-Host of TV One's "Sister Circle," and Author Syleena Johnson (Album "Woman"; Book: "The Weight is Over: My Journey to Loving My Body from the Outside In"); Comedian, Writer, Producer, Actor David A. Arnold (Headlining his own Netflix hit comedy special "Fat Ballerina"); Actor, Producer Dorien Wilson ("The Parkers," "Cherish the Day," Star of Bounce TV's "In the Cut"); Actress April Parker Jones ("Supergirl," "The Fosters," Starring on Tyler Perry's "If Loving You Is Wrong" airing on OWN); Entrepreneurs, Hip Hop Icon Styles P and Author ("The Ethereal Hike") Adjua Styles, Co-Owners of juice bar chain Juices for Life, and Farmacy for Life, an online provider of plant-based remedies; Comedian, Actor, and Author of "Michael Goes Motivational" Michael Colyar; Interior Designer, Lifestyle Expert, and Host of the Quibi series "Murder House Flip," Mikel Welch; CEO and Founder of Shoe Gummi, Inventor, and Influencer Shantel Jackson; Mahisha Dellinger, Founder and CEO of award-winning natural haircare company CURLS, Television Personality, Author, Business Advocate, and Founder of the Black Girls Making Millions Academy; Dr. Lynn Richardson, President, Richardson Finance Group, President & CEO of MC Lyte's Hip Hop Sisters Foundation, President & COO of MC Lyte's Sunni Gyrl Entertainment & Celebrity Management Firm, and Author; Celebrity Designer Angela Dean, CEO of Deanzign, and Creator of Shaped By An Angel; Miko Branch, CEO and Co-Founder of Miss Jessie's haircare company for curly hair; Cheryl Cobb, CEO of Cheryl Entertainment and Author ("Dirty Little Secrets"); and Investment Expert, Stocks and Options Trader Teri Ijeoma, Founder of Invest with Teri.
Rushion McDonald produces "Money Making Conversations" through his multimedia company 3815 Media, where he is the business manager for ESPN's Stephen A. Smith and was the Chief Marketing Officer for the Air National Guard's national account for recruitment and retention in the 50 states, Guam, Puerto Rico, U.S. Virgin Islands and Washington, DC. A treasure trove of entertainment, inspiring advice and information on building career longevity, entrepreneurship, secrets of success, pursuing your passion, and work-life wellness, "Money Making Conversations" features CEOs, celebrities, industry leaders, tastemakers, motivational speakers, authors, lifestyle, financial, and tech experts, among other guests. A multiple EMMY® and NAACP Image Award winner, Rushion McDonald is a television and film producer, sitcom writer, branding architect, award-winning baker, and he's written and produced for Kevin Hart, Taraji P. Henson, Gabrielle Union, Jamie Foxx, Tia and Tamera Mowry, Steve Harvey, and managed multi-million dollar deals and campaigns.
*List subject to change
To connect with Rushion McDonald and Money Making Conversations, please visit:
www.moneymakingconversations.com
Facebook: @RushionMcDonald, @MoneyMakingConversations
Instagram: @RushionMcDonald, @MoneyMakingConversations
Twitter: @RushionMcDonald, @MoneyMakingConv
YouTube: https://www.youtube.com/MoneyMakingConversations
Contact:                    
W&W Public Relations
Jacinda Chen / Jacinda@w-wpr.com
908-253-6360