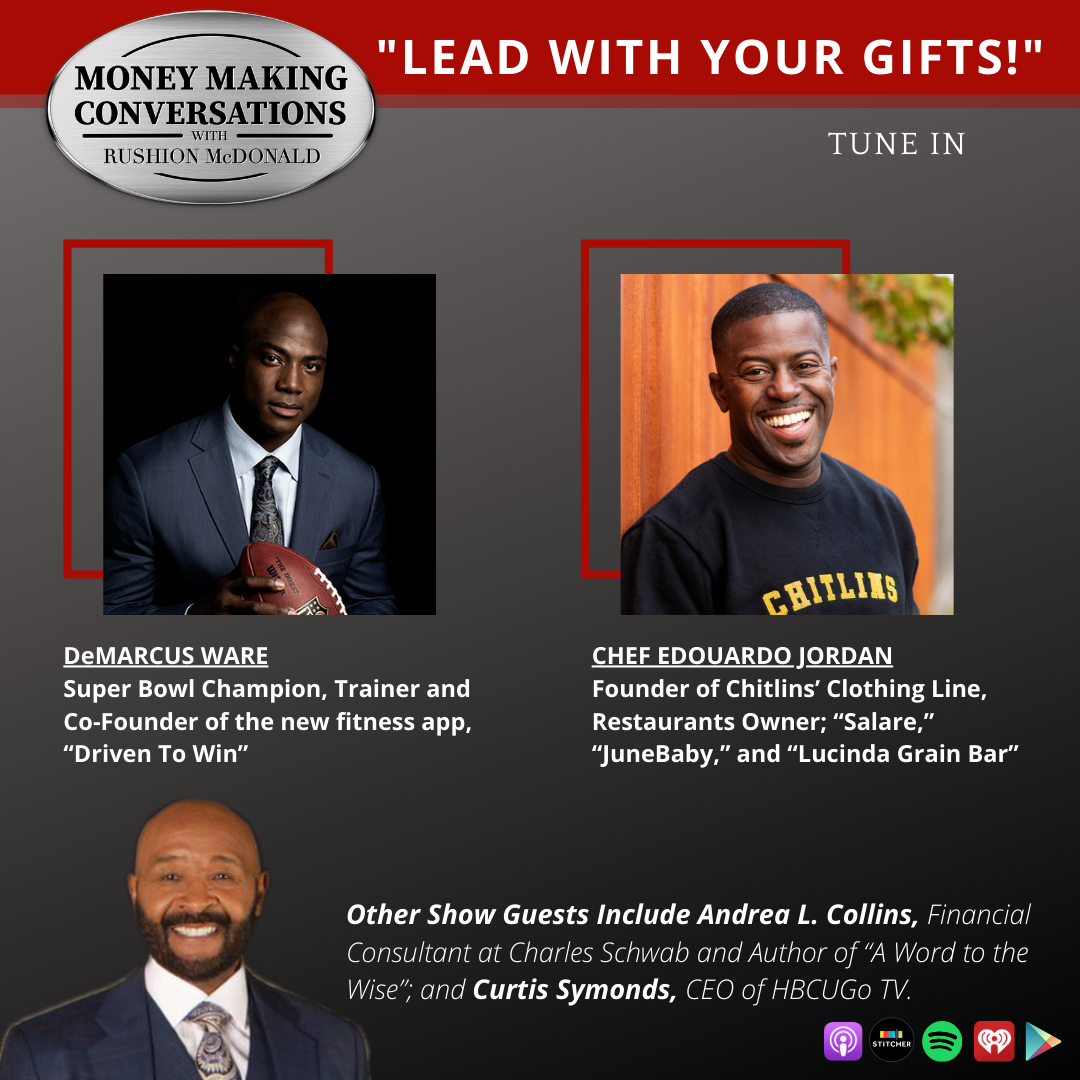 My next guest is Superbowl Champion and NFL Legend DeMarcus Ware. Wednesday, December 9, this NFL Legend announced the launch of Driven To Win (D2W), a new fitness app that brings a professional sports workout training experience to anyone with an iPhone. After perfecting his practice, DeMarcus is now extending his pro-level workout techniques to anyone with a performance-driven mentality – whether you're an aspiring athlete looking to improve or just beginning your fitness journey. Driven To Win is a no-nonsense, high-performance daily grind that builds leaders through truly personalized physical and mental training from nine times NFL Pro Bowlers DeMarcus Ware. The app has a 5-star rating and brings million-dollar, pro-level fitness techniques right to the palm of your hand. Please welcome the Money Making Conversations, the creator of the Driven to Win App, DeMarcus Ware.
My next guest is Chef Edouardo Jordan. He is the Founder of Chitlins' Clothing Line, Acclaimed James Beard Restaurants Owner; "Salare," "JuneBaby," and "Lucinda Grain Bar." Edouardo Jordan was born and raised in St. Petersburg, Florida, and attended college at the University of Florida. After graduating with dual degrees in business administration and sports management, Jordan decided to enroll in culinary school at the Le Cordon Bleu in Orlando-Navigating COVID as a small business owner, as well as a Black business owner. Small businesses, in general, are facing extreme hurdles right now. Please welcome to Money Making Conversations Chef Edouardo Jordan.
My next guest is Andrea L Collins. Andrea has over 15 years of experience in the Investment Management industry. She began her career at Morgan Stanley Wealth Management – where she specialized in portfolio management for high net worth individual investors and foundations. She is active in the community, an avid supporter of the arts, and frequently teaches financial literacy workshops for schools and organizations, and is a proud Delta Sigma Theta member. Please welcome to Money Making Conversations Andrea L Collins.
My next guest is Curtis Symonds. He is a former BET executive who creates a proper destination to celebrate and share the legacy of Historically Black Colleges and Universities, HBCUGO.TV. HBCU GO TV is the voice of African American youth and the HBCU community and currently airs on Roku and HBCUGO.TV. To increase awareness of and support the sustainability of HBCU's by making a meaningful financial contribution to these American Institutions of Higher Learning population. Please welcome to Money Making Conversations Curtis Symonds.
The Money Making Conversations talk show is about entrepreneurship and entertainment. The interviews give the consumer and business owners access to Celebrities, CEOs, Entrepreneurs, and Industry Decision Makers. They provide relatable information to the listener about career and financial planning, entrepreneurship, motivation, leadership, overcoming the odds, and how to live a balanced life. Listen to Money Making Conversations on Apple Podcasts, iHeartRadio, Stitcher, Spreaker, Spotify, Castbox, and more.
Rushion McDonald is a two-time Emmy Award-winning and three-time NAACP Image Award-winning television and film, producer. He is a sitcom writer, social media influencer, brand architect, entrepreneur, and award-winning baker.​
https://www.moneymakingconversations.com
https://www.youtube.com/MoneyMakingConversations
https://www.facebook.com/MoneyMakingConversations/
https://twitter.com/MoneyMakingConv