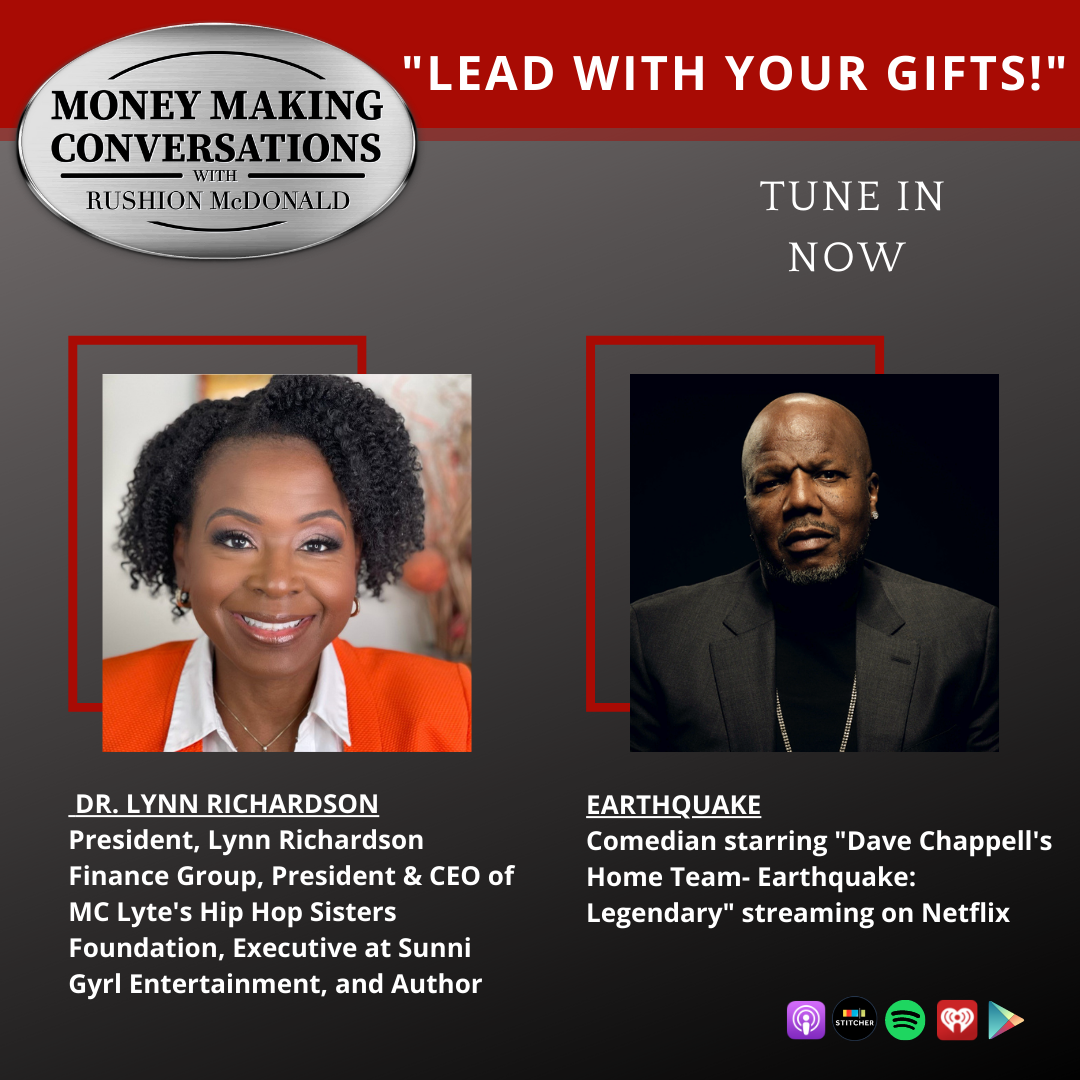 This week on Money Making Conversations my good friend Earthquake stops by to discuss his new comedy special. Chappelle's Home Team" EARTHQUAKE: "Legendary" on NETFLIX. He speaks on finding his voice, upcoming Legendary tour and more. Dr. Lynn Richardson returns for financial literacy month sharing new ways to build financial wealth.
Topics Covered
When Rushion McDonald and Earthquake first met!
Comedians are mental health professionals.
New Netflix special.
Implementing proper budgeting
Implementing investment strategy
More on Earthquake
Washington DC's own comedian, actor and voice-artist, Earthquake earned a strong fan-base in stand-up comedy via programming platforms fueled by BET, HBO, Comedy Central, Showtime and more. Born Nathaniel Stroman, 'Quake' (as he's known by fans), entered America's households on the classic run of BET's Comic View and HBO's comedic rites of passage program, Def Comedy Jam. Pointedly, Earthquake wowed audiences with one of his most memorable performances for HBO's coveted 30-minute comedy special series, One Night Stand.
While becoming one of the hottest properties of the standup comedy circuit, Earthquake filmed a string of comedy specials. The specials include, About Got Damm Time, Walter Latham Presents, From the Outhouse to the Whitehouse and more recently These Ain't Jokes which premiered on the Showtime Network. Quake's fans also enjoy an extensive cluster of comedy content collector's DVD's as well such as the Shaq's All-Star Comedy Jam DVD Collections.
More on Dr. Lynn Richardson
Lynn Richardson is an author, entertainment executive, & celebrity financial coach who uses her quick wit and humorous presentation style to help others achieve personal, professional, and spiritual harmony. Featured on the Steve Harvey Daytime TV Show, and on BET, Hallmark, ABC and dozens of media outlets, Lynn is COO of MC Lyte's Sunni Gyrl Entertainment, President of Hip Hop Sisters Foundation & she served as Chief of Operations of Russell Simmons' Hip Hop Summit Action Network, where she works closely with celebrities on global empowerment programs for women, youth and hip hop urban professionals.
Lynn became one of the nation's top mortgage professionals after helping a lady with 4 bankruptcies and 2 foreclosures become a successful homeowner in less than 9 months. In 2006, Richardson joined JP Morgan Chase as Vice President of National Strategic Partnerships and served as the national coordinator of The Delta Sigma Theta Home Ownership initiative, In 2007, Richardson was also responsible for implementing the Chase/AKA Keys to Homeownership initiative.