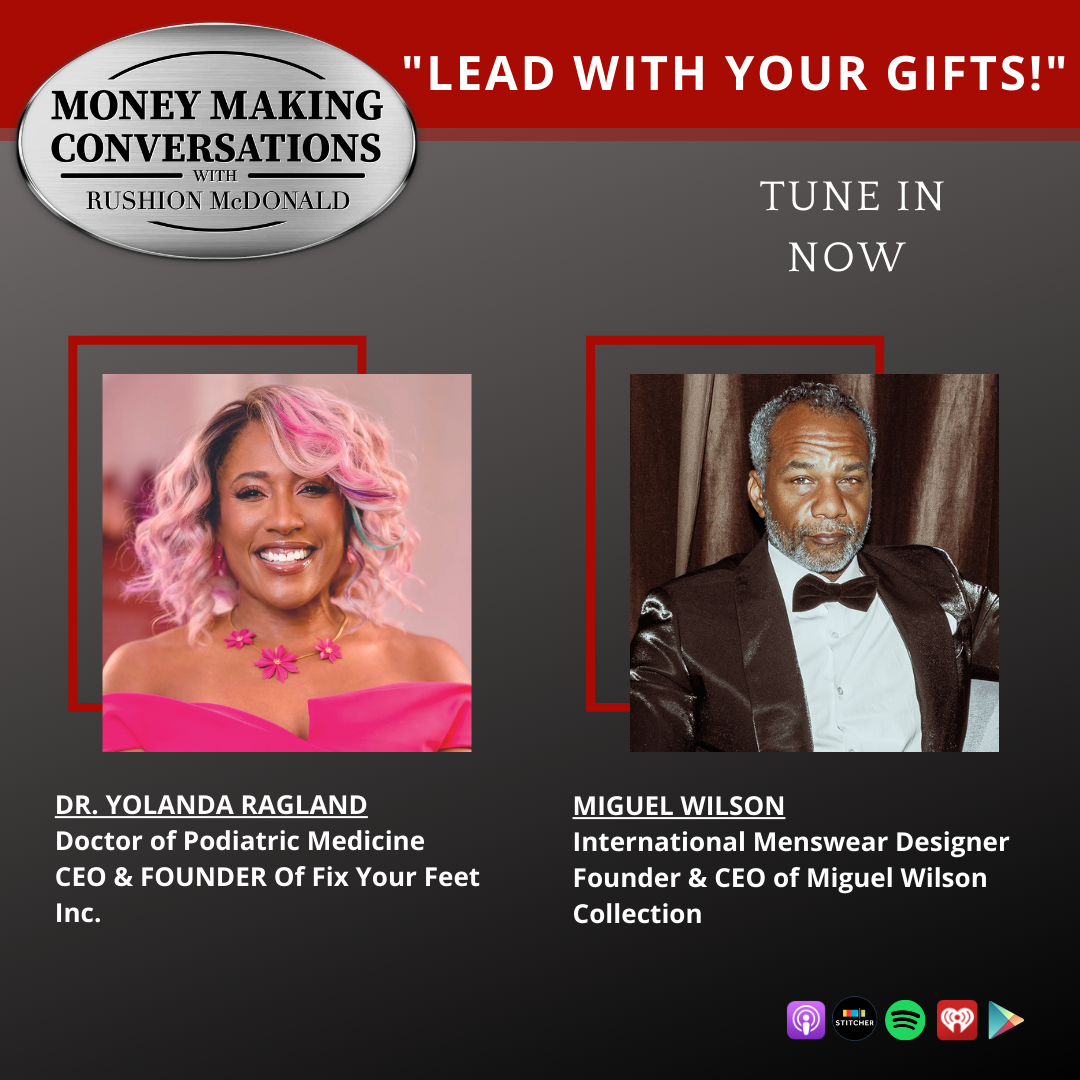 In this episode of Money Making Conversations Master Class Dr. Yolanda Ragland discusses best tips and practices to taking care of your feet and how she became the only podiatrist focusing on foot health in the black community. Also after opening multiple fashion boutiques in Atlanta including Phipps Plaza, celebrity menswear designer, Miguel Wilson, shares his journey from corporate to creative.
Topics Covered
Are high heels safe to wear all the time?
A unique reason Dr. Ragland loves Kanye's shoes (and it's not what many may think)
Going from a corporate career to a creative career as a fashion designer
How Miguel Wilson's love for polo influenced his career as a luxury good provider
How to identify what was missing in your target market. Finding support from community as a black designer
Co-founder of the Morehouse Polo Team, the first-ever HBCU polo team.
More on Dr. Yolanda Ragland
As a Doctor of Podiatric Medicine, Yolanda Ragland is a Podiatric Surgeon.
She maintains offices on Park Avenue in New York City and the Washington Metro area, Bowie, Maryland. The focus of her practice is bunion and hammertoe correction. Her trade secret Tiara ToeTM technique leaves patients with "sandal-ready feet" and little to no visible scarring after
their surgical procedure.
Dr. Ragland's goal is to help women be successful by supporting them with a strong foundation.
More on Miguel Wilson
An international menswear designer, Miguel Wilson is recognized as an authority on men's fashion and an expert on weddings, particularly when it comes to groomswear.
He is the founder/CEO of the Miguel Wilson Collection, a boutique formal wear design business for men, and one of the only menswear designers that specifically carries a Wedding Collection for grooms and groomsmen.
For over 20 years, the Washington D.C. native designed suits, sportcoats, trousers, shirts and accessories for men with a long client list that includes celebrities and other high-profile people including Bishop TD Jakes, Pastor Jamal Bryant, Hollywood producer Will Packer, rappers 2 Chainz and Waka Flocka, and Real Housewives of Atlanta husbands Peter Thomas, Todd Tucker, and Michael Sterling, just to name a few.
He currently maintains four locations in Atlanta, Washington D.C., Miami, and New York City, while also traveling around the world to accommodate his clients and providing his services virtually.