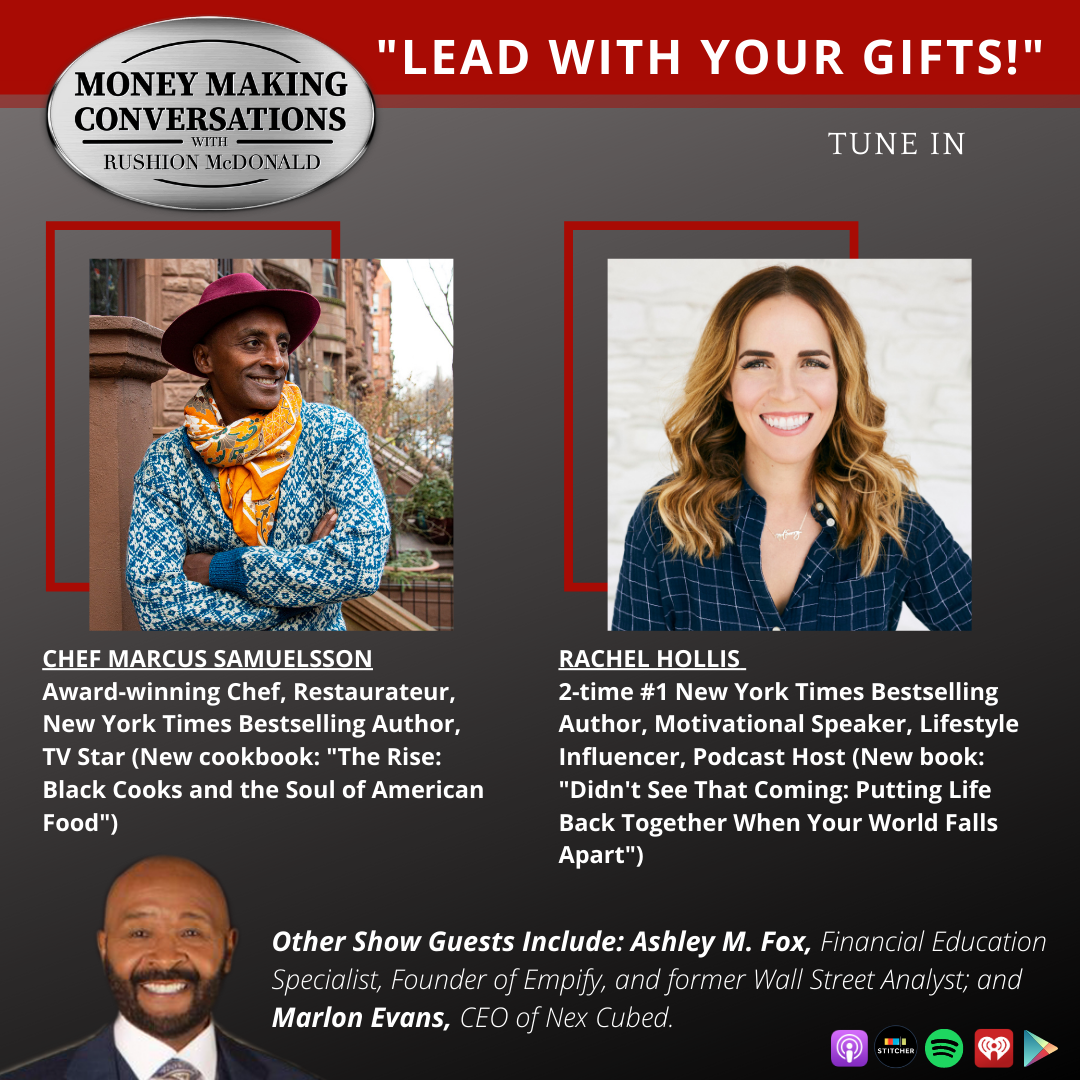 Rushion welcomes Chef Marcus Samuelsson- Award-winning Chef, Restaurateur, New York Times Bestselling Author, TV Star (New cookbook: "The Rise: Black Cooks and the Soul of American Food"); Rachel Hollis- 2-time #1 New York Times Bestselling Author, Motivational Speaker, Lifestyle Influencer, Podcast Host (New book: "Didn't See That Coming: Putting Life Back Together When Your World Falls Apart"); Ashley M. Fox- Financial Education Specialist, Founder of Empify, and former Wall Street Analyst; Marlon Evans- CEO of Nex Cubed.
My guest is Marcus Samuelsson is an award-winning chef, restaurateur, bestselling author, TV personality, philanthropist and food activist. His culinary career spans over 25 has numerous restaurants in the U.S. and internationally, including Red Rooster, Marcus B&P, Norda, Marcus Montreal, and more. His newest book is called "The Rise: Black Cooks and the Soul of American Food." The book is celebrating contemporary Black cooking, highlighting the food, culture, and history in stories and recipes, the book covers the diverse contributions and traditions that have influenced Black cooking and American culture, from the African continent, to the Caribbean, and U.S. We have a lot to talk about the process of creating the book, called "The Rise: Black Cooks and the Soul of American Food." Why did Marcus write the book? How did he decide this was the next book that he wanted to do? Please welcome to Money Making Conversations Marcus Samuelsson.
My next guest Rachel Hollis laid the foundation for her lifestyle brand and media company by being a two-time #1 New York Times bestselling author. Hollis connects with a highly engaged and growing global audience who treasure her transparency and optimism. She is one of the most sought-after motivational speakers, plays host to one of today's top business podcasts, and is a proud working mama of four who uses her platform to empower and embolden women around the world. Rachel calls Austin, Texas home; more specifically, the Hill Country just outside of Austin. She is on the show to discuss her new book, "Didn't See That Coming." Please welcome to Money Making Conversations Rachel Hollis.
My next guest Ashley M. Fox is a former Wall Street analyst, a Howard University grad, and an expert in her field as a Financial Education Specialist. After helping manage money for both millionaires and billionaires, during her career on Wall Street, Ashley quit her job and started her own company; EMPIFY. Empify (merging of the words EMPower and modIFY). It is a financial ed-tech start up that was created to show both adults and children how to build wealth. Since 2014, Empify has reached thousands of individuals, and its programs have been implemented in over 50 different schools and organizations across the country. Her work and story have been featured on Jim Cramer's "The Street", Yahoo Finance, Rolling Out Magazine, Philly.com, Fox News, ABC, Huffington Post, Glamour Magazine, and Forbes. Please welcome to Money Making Conversations Ashley M. Fox.
My next guest Marlon Evans, received his BA in Political Science and a MA in Sociology from Stanford University, where he competed on the football and track & field teams. In 2018, Marlon was named CEO of Nex Cubed, an investor that creates and accelerates frontier tech companies with an emphasis on digital health and financial tech. He is on the show discuss being a minority entrepreneur. The story behind the Nex Cubed HBCU Founder's Program and the importance of Black Wealth creation and generational wealth through entrepreneurship. Please welcome to Money Making Conversations Marlon Evans.
The Money Making Conversations talk show is about entrepreneurship and entertainment. The interviews give the consumer and business owners access to Celebrities, CEOs, Entrepreneurs, and Industry Decision Makers. They provide relatable information to the listener about career and financial planning, entrepreneurship, motivation, leadership, overcoming the odds, and how to live a balanced life. Listen to Money Making Conversations on Apple Podcasts, iHeartRadio, Stitcher, Spreaker, Spotify, Castbox, and more.
Rushion McDonald is a two-time Emmy Award-winning and three-time NAACP Image Award-winning television and film, producer. He is a sitcom writer, social media influencer, brand architect, entrepreneur, and award-winning baker.​
https://www.moneymakingconversations.com
https://www.youtube.com/MoneyMakingConversations
https://www.facebook.com/MoneyMakingConversations/
https://twitter.com/MoneyMakingConv