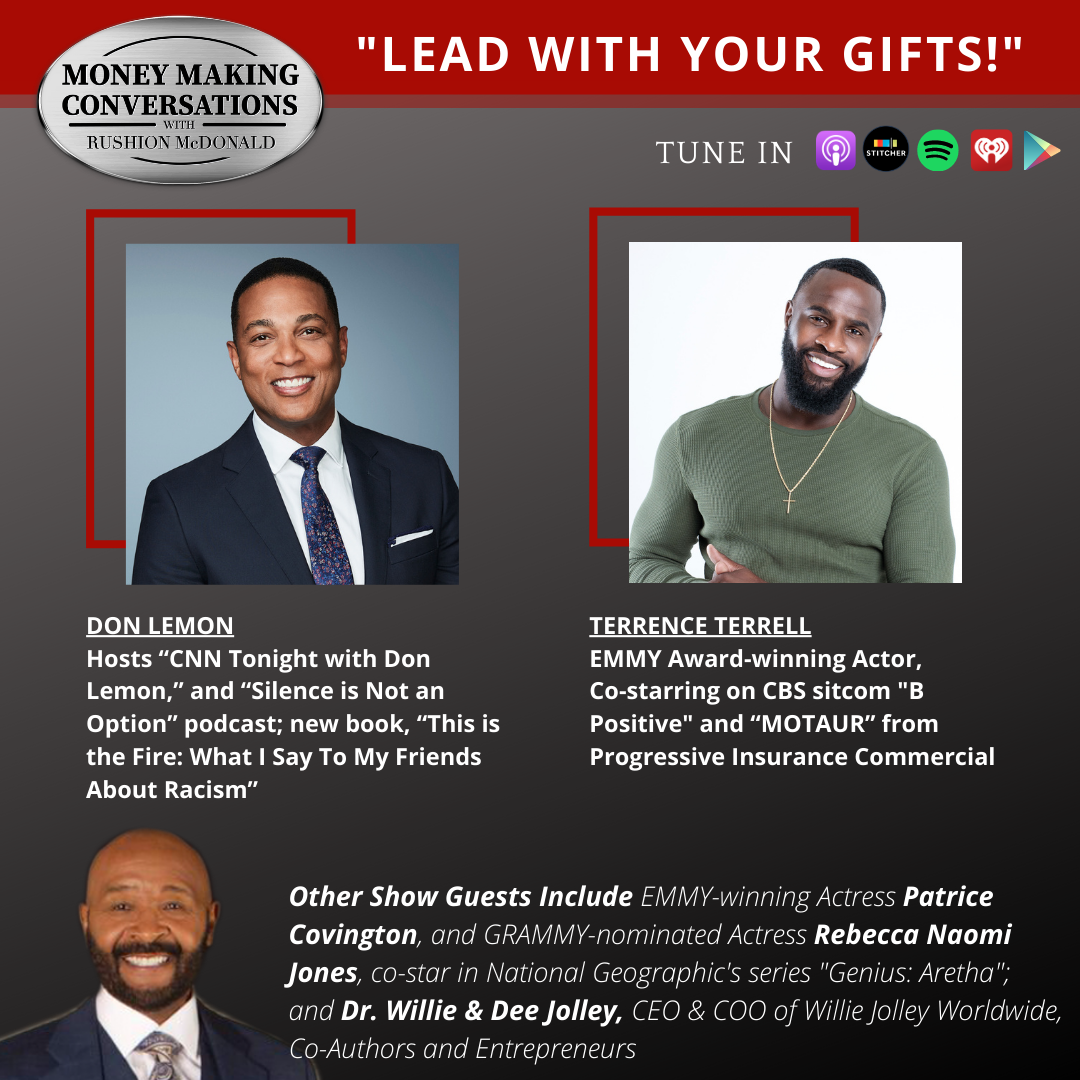 My next guest is Don Lemon. He is the host of a top-rated podcast entitled, "Silence is not an option." The podcast Silence is not an Option embarks on tough, honest, and provocative conversations with activists, artists, and thinkers, offering perspective about our nation's deep racial divide while exploring what Americans can do to help find a path forward. He can also be seen weekday, during primetime hosting CNN Tonight. He is on the show to talk about the power of not remaining silent and his new book, "This is the Fire: What I Say To My Friends About Racism." Please welcome to Money Making Conversations, the only African American news anchor in primetime Don Lemon.
My next guest is Terrence Terrell. He is Motaur, the half-man-half motorcycle in the Progressive motorcycle insurance commercials. He Emmy Award-winning Actor, Author, Musician, and Philanthropist. Terrence has appeared on BOSCH for Amazon, ROOM 104 for HBO, BATWOMAN for The C.W., and THE FIRST WIVES CLUB for BET+, as well as Issa Rae's GIANTS, for which he won his Daytime Emmy for "Outstanding Supporting Actor in a Digital Drama Series. Terrence can be seen as a series regular on the new Chuck Lorre comedy for C.B.S., B POSITIVE. He is originally from Cleveland, MS, is an HBCU alum (Mississippi Valley State University), and currently resides in Los Angeles, CA. Terrence is also passionate about mentorship. He serves as the Head Mentor for Tina Knowles Lawson and Richard Lawson's WACO Theater and "Angels and Warriors" non-profit organization in L.A. to empower young, underprivileged millennial students to experience and accomplish their dreams in arts and entertainment. His self-published children's book series includes BLACKY, THE SHES, THE CROWN KIDS, and his latest book, MY LITTLE BLACK BOOK. My Little Black Book, the books promote Black beauty, inclusion, and self-love, which are Terrence's driving forces. He is building an empire through talent, hard work, passion, and a commitment to making the world a better place every day. Please welcome to Money Making Conversations Terrence Terrell.
My next guests are Patrice Covington & Rebecca Naomi Jones. Acclaimed actresses and singers Patrice Covington and Rebecca Naomi Jones are co-starring on "Genius: Aretha" as Erma and Carolyn Franklin. Patrice Covington is an Emmy® Award-winning actress, singer, teacher, author, and model. Rebecca Naomi Jones is currently featured in those Nissan's Rogue 2021 national campaign. She has also performed in solo concerts at Lincoln Center American Songbook and Apollo Cafe. They are both starring in the Genius: Aretha. GENIUS is an Emmy-winning anthology series that dramatizes the fascinating stories of the world's most brilliant innovators, their extraordinary achievements, and complex lives. This season will explore Aretha Franklin's musical genius and incomparable career, as well as the immeasurable impact and lasting influence she has had on music and culture around the world.
My next guests are Willie and Dee Jolley. Dr. Willie Jolley is a Hall of Fame speaker, award-winning singer, best-selling author, and popular media personality. He was named "One of the Outstanding Five Speakers in the World" by 175,000 Toastmasters International members. He has been inducted into the prestigious Speakers Hall of Fame. The Veteran Speakers Association named him a "Legend of The Speaking Industry!" Dee Taylor-Jolley is the C.O.O. of Willie Jolley Worldwide. She is also the Chief Learning Officer for Jolley University, the training, and development division of Willie Jolley Worldwide. Please welcome to Money Making Conversations Willie and Dee Jolley.
​The Money Making Conversations talk show is about entrepreneurship and entertainment. The interviews give the consumer and business owners access to Celebrities, CEOs, Entrepreneurs, and Industry Decision Makers. They provide relatable information to the listener about career and financial planning, entrepreneurship, motivation, leadership, overcoming the odds, and how to live a balanced life. Listen to Money Making Conversations on Apple Podcasts, iHeartRadio, Stitcher, Spreaker, Spotify, Castbox, and more.
Rushion McDonald is a two-time Emmy Award-winning and three-time NAACP Image Award-winning television and film, producer. He is a sitcom writer, social media influencer, brand architect, entrepreneur, and award-winning baker.​
https://www.moneymakingconversations.com
https://www.youtube.com/MoneyMakingConversations
https://www.facebook.com/MoneyMakingConversations/
https://twitter.com/MoneyMakingConv