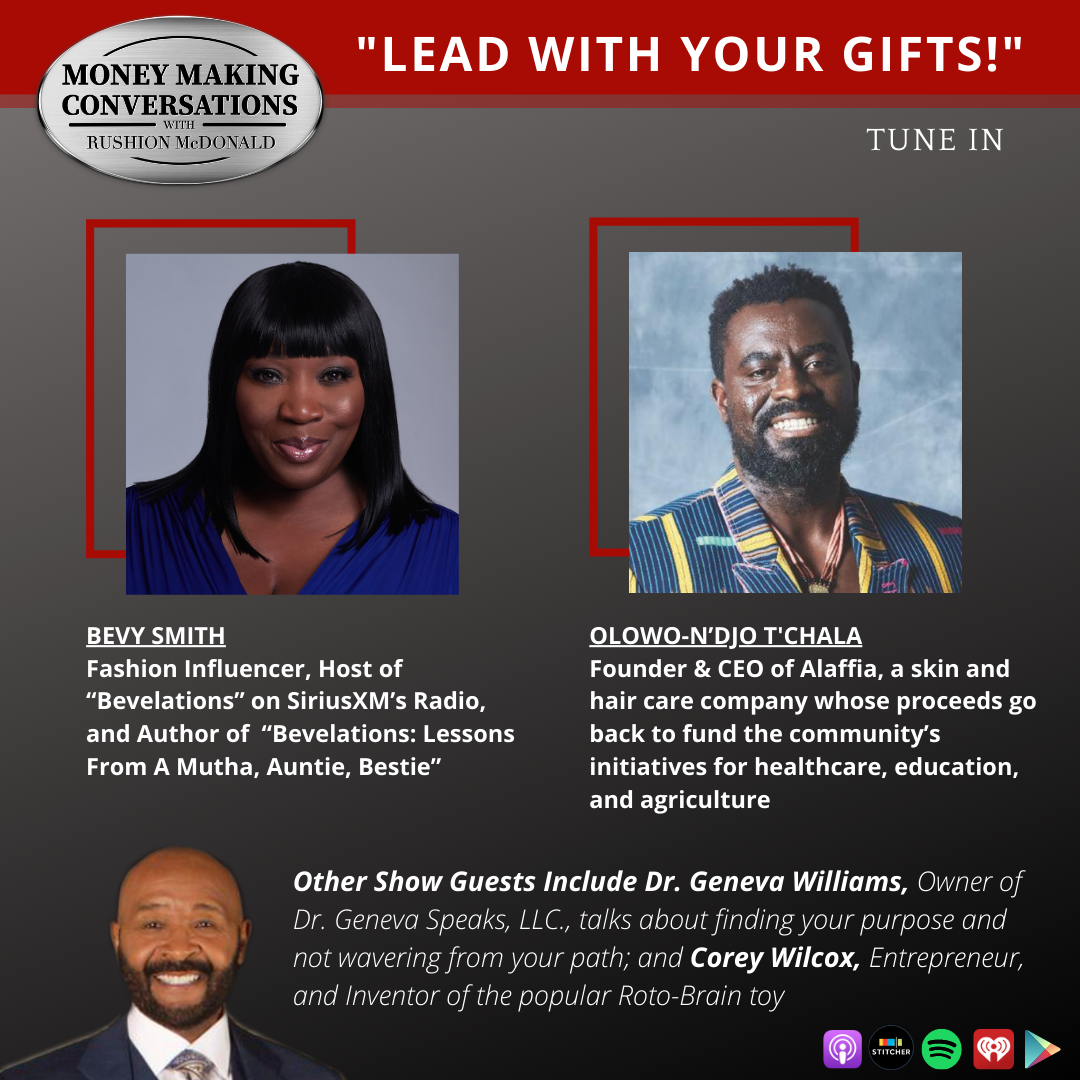 My next guest is Bevy Smith. She is an author, pop Culture Aficionado, Fashion Expert, and Host of "Bevelations" on SiriusXM's Radio Andy. Bevy just released her first book, "Bevelations." "Bevelations" is her memoir about learning to live a big, authentic, and unapologetic life—and how you can, too. Once a wildly successful luxury fashion publishing executive at Rolling Stone and Vibe magazine, Bevy shifted her professional goals over a decade ago to pursue a life in front of the camera. Bevy served as moderator on Bravo TV's revolutionary talk show, "Fashion Queens," and was a co-host on the nationally syndicated entertainment news program, "Page Six TV". Please welcome to Money Making Conversations Bevy Smith.
My next guest is Olowo-n'djo Tchala. He was born and raised in the village of Kaboli, Togo, located in West Africa. Growing up, he shared an 8' x 10' room with his mother and seven siblings. Now, he is the founder and CEO of Alaffia. Proceeds from the sale of Alaffia beauty and grooming products are returned to communities in Togo to fund community empowerment and gender equality initiatives, such as maternal health care, education, reforestation and regenerative agriculture. We will discussing overcoming the odds, stereotyping in business and his women centric business model. Please welcome to Money Making Conversations Olowo-n'djo Tchala.
My next guest is Dr. Geneva Williams. After a 40+ year career as an award-winning, innovative nonprofit leader, Dr. Geneva Williams reinvented herself as an author, international speaker, podcaster and title-holding advocate for women to live fit, fine and a vibrant life. She shares how she went from her stellar career as a President/CEO, becoming a widow after four decades of marriage, still raising two millennials at home – to becoming the oldest contestant to win the Ms. Black Fit & Fine pageant, to being recognized as a leading Michigan businesswoman, and going on to star in her first television commercial.
My next guest is Corey Wilcox. He is the inventor of the Roto Brain. Roto Brain enhances memory, critical thinking skills and will test your IQ. He has dreamed up dozens of innovations, and solutions to every day problems for well over a decade. His endurance has yielded him an overnight success with acquiring investors. Now, he has multiple ideas in various stages of production. He is the owner of a startup and has aspirations that reach into multi-media entertainment. Please welcome to Money Making Conversations Corey Wilcox.
​The Money Making Conversations talk show is about entrepreneurship and entertainment. The interviews give the consumer and business owners access to Celebrities, CEOs, Entrepreneurs, and Industry Decision Makers. They provide relatable information to the listener about career and financial planning, entrepreneurship, motivation, leadership, overcoming the odds, and how to live a balanced life. Listen to Money Making Conversations on Apple Podcasts, iHeartRadio, Stitcher, Spreaker, Spotify, Castbox, and more.
Rushion McDonald is a two-time Emmy Award-winning and three-time NAACP Image Award-winning television and film, producer. He is a sitcom writer, social media influencer, brand architect, entrepreneur, and award-winning baker.​
https://www.moneymakingconversations.com
https://www.youtube.com/MoneyMakingConversations
https://www.facebook.com/MoneyMakingConversations/
https://twitter.com/MoneyMakingConv