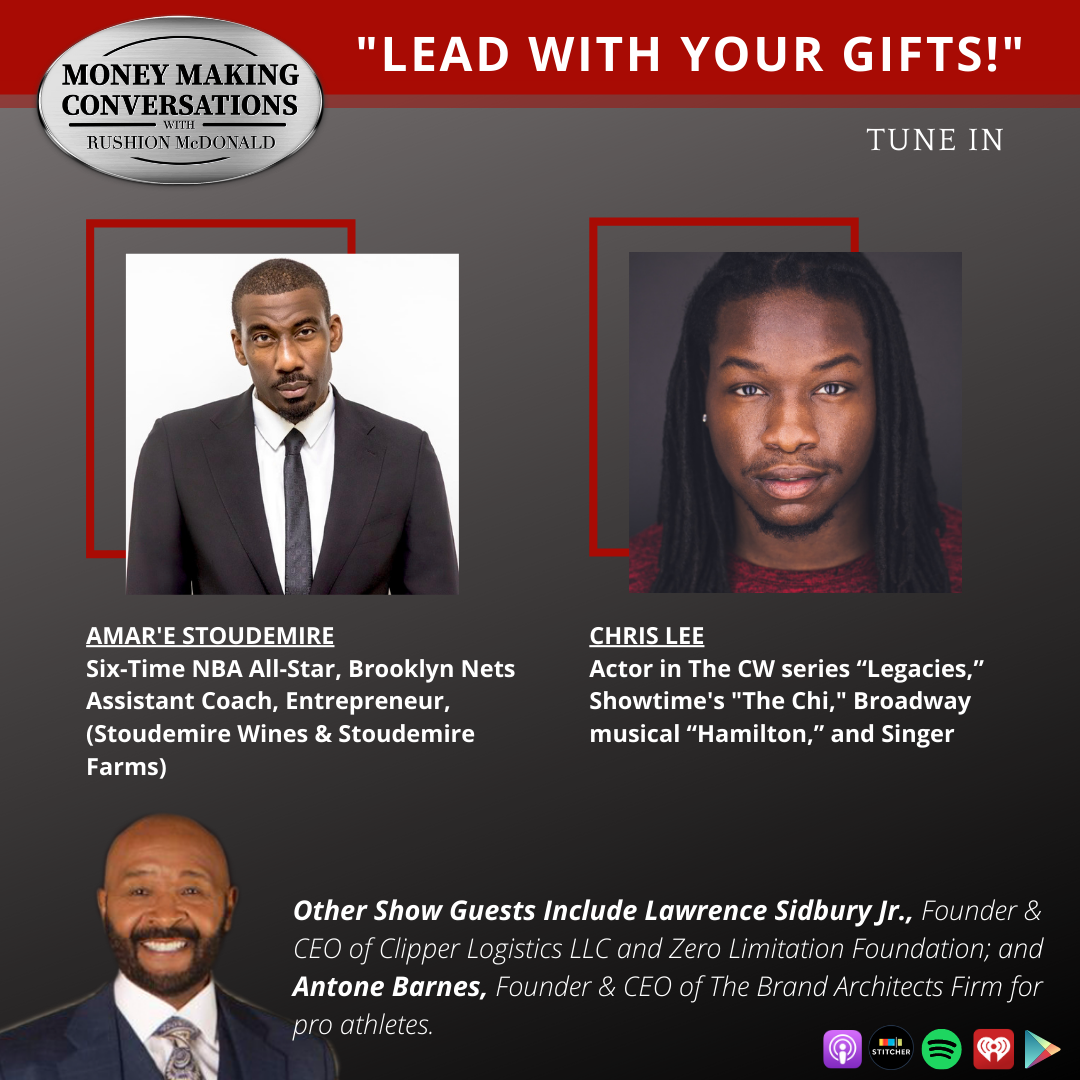 My next guest is Amar'e Stoudemire. The six-time NBA All-Star is currently an Assistant Player Development Coach for the Brooklyn Nets and Entrepreneur. Amar'e is the first and only Black kosher winemaker. Amar'e owns Stoudemire Farms, an organic, family-run farm in Dutchess County, NY, which raises Black Angus. Amar'e wants to raise awareness about struggling Black farmers, and teach the next generation a 360 degree view of wellness, which includes not only exercise and food, but financial wellness and community service. Amar'e is also currently pursuing his Masters Degree in Business from the University of Miami. Please welcome to Money Making Conversations Amar'e Stoudemire.
My next guest is Chris Lee. He has played many roles as an actor, singer, dancer, vampire, drug dealer and musician. He is currently on the cast of The CW series "Legacies," currently airing season 3. On the music side, his latest release is the new single "Miss," available now. While Chris was in college he was cast in the Broadway hit musical "Hamilton," for their Chicago production. After that, he shifted to television, appearing on "Empire," "S.W.A.T.," and recurred on "The Chi." Please welcome to Money Making Conversations Chris Lee.
My next guest is Lawrence Sidbury Jr. A former •2009 4th rd draft pick of the Atlanta Falcons. He graduated from Richmond University in Richmond, VA and was part of their 2008 National Champion team. Lawrence is on the show today to discuss the importance of preparing for life after the NFL, his business ventures, and foundation. Please welcome to Money Making Conversations Lawrence Sidbury Jr.
My next guest is Antone Barnes. Over 15 years in the Music Industry as a Record Executive "Roc-a-Fella Records, Sony/Loud Records, Universal/Motown Records, Koch Records" as Regional and National Director of Promotions. Left the Music Industry in 2009 to start The Brand Architects which is a form that specializes in Pro Athlete Individual Brand Development. Please welcome to Money Making Conversations Antone Barnes.
​The Money Making Conversations talk show is about entrepreneurship and entertainment. The interviews give the consumer and business owners access to Celebrities, CEOs, Entrepreneurs, and Industry Decision Makers. They provide relatable information to the listener about career and financial planning, entrepreneurship, motivation, leadership, overcoming the odds, and how to live a balanced life. Listen to Money Making Conversations on Apple Podcasts, iHeartRadio, Stitcher, Spreaker, Spotify, Castbox, and more.
Rushion McDonald is a two-time Emmy Award-winning and three-time NAACP Image Award-winning television and film, producer. He is a sitcom writer, social media influencer, brand architect, entrepreneur, and award-winning baker.​
https://www.moneymakingconversations.com
https://www.youtube.com/MoneyMakingConversations
https://www.facebook.com/MoneyMakingConversations/
https://twitter.com/MoneyMakingConv