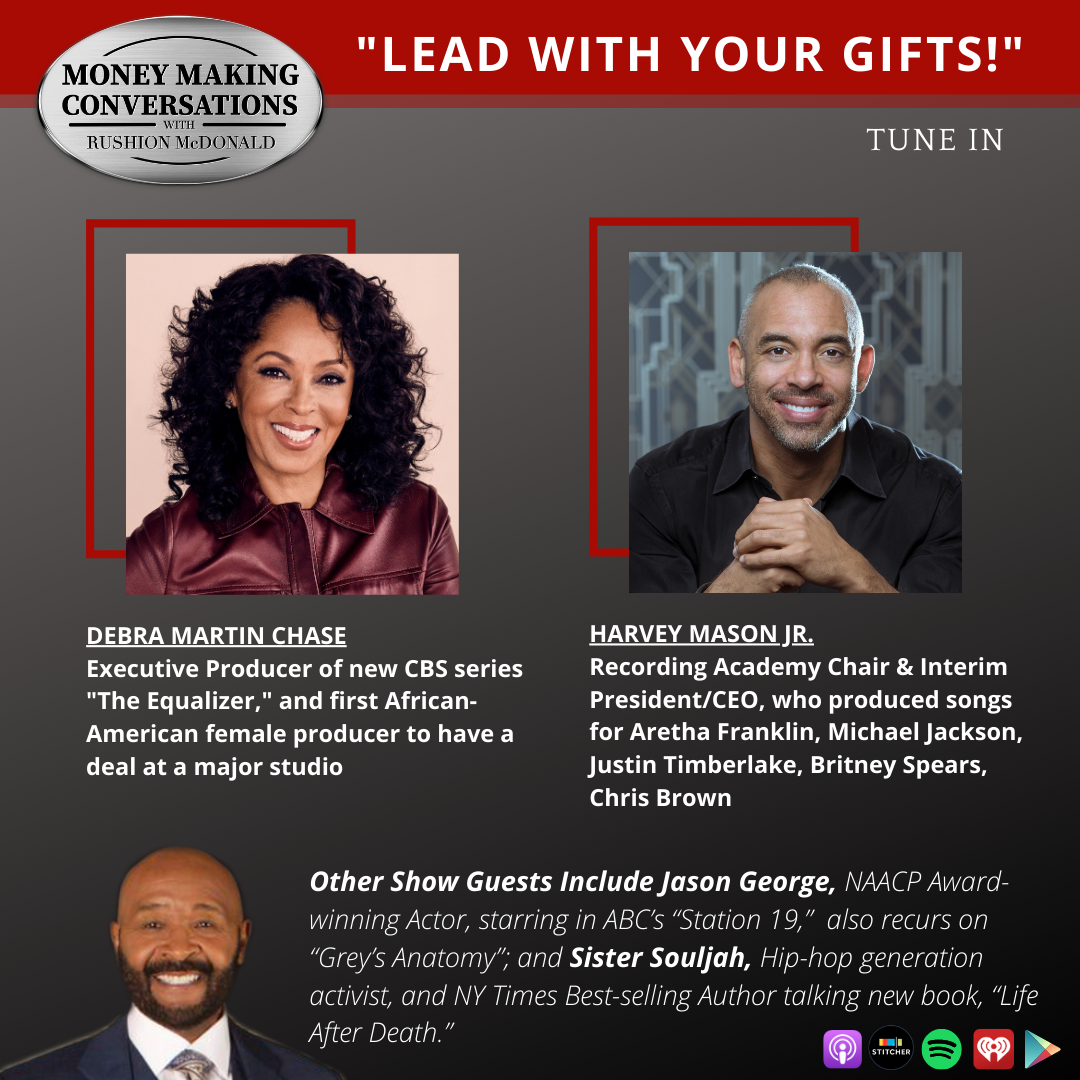 My next guest is Debra Martin Chase. She is the President and CEO of Martin Chase Productions. She is currently the executive producer for THE EQUALIZER TV series for CBS and Universal Studios, starring Queen Latifah, premiered on Super Bowl Sunday 2021 on CBS. "The Equalizer" currently airs Sundays at 8 pm/7c on CBS. Now let's talk about Debra Martin Chase, an entertainment industry icon and trailblazer as the first African American female producer to have a deal at any significant studio—EVER. She is also the first African American woman to produce a film that grossed over $100 million (Courage Under Fire). To date, her films have grossed over a half-billion dollars at the box office. About six years ago, nobody was interested in making movies about women or people of color—my how the Landscape has Changed for Black Creatives in Hollywood. Please welcome to Money Making Conversations Debra Martin Chase.
My next guest is Harvey Mason Jr. He proudly serves as the Chairman of the Board of the Recording Academy, also known as the Grammys, and has also stepped into Interim President/CEO for the Recording Academy. Harvey has penned and produced songs for industry legends like Aretha Franklin, Michael Jackson, Whitney Houston, Mariah Carey, and Elton John and today's superstars, including Justin Bieber, Beyonce, John Legend, Ariana Grande, Justin Timberlake, and Chris Brown. Also, he has compiled an impressive list of film and TV music credits, including writing/producing the music for Jesus Christ Superstar Live!, Jingle Jangle: A Christmas Journey, Zoey's Extraordinary Playlist, Shrek, Straight Outta Compton, all three Pitch Perfect. The GRAMMY Awards are music's biggest night. And the 63rd GRAMMY Awards are airing on Sunday, March 14 at 8 pm EST on CBS. What can we expect from this year's show? Please welcome to Money Making Conversations Harvey Mason Jr.
My next guest is Sister Souljah. She is a New York Times bestselling author. Her debut book The Coldest Winter Ever sold over a million copies. It introduced the world to the quick-witted, bold, fashionable, erotic, soulful, and undeniably complicated character of Winter Santiaga. The sequel to The Coldest Winter Ever, LIFE AFTER DEATH, is out now! Previously a recording artist with the hip-hop group Public Enemy, Sister Souljah is best known as a political activist and educator of urban youth from underserved communities. A graduate of Rutgers University, she is a beloved personality in her community. She lives in New York with her husband and son. The Coldest Winter Ever was a Los Angeles Times, Essence, and Emerge Magazine bestseller. In 2018, it was included in PBS's "Great American Read" program and currently has over a million copies in print. Please welcome to Money Making Conversations to discuss her new book, The Coldest Winter Ever, LIFE AFTER DEATH, Sister Souljah.
My next guest is Jason George. He is starring in the midseason return of Station 19 breaths of air on Thursday, March 11 at 8 pm ET on ABC. George is also known for his work as a regular on "Mistresses," "Eve," "Off Centre" and "Eli Stone," as well as films "Witches of East End"; "The Climb"; and "Barbershop" with Anthony Anderson and Ice Cube. After several years on "Grey's Anatomy" as Dr. Ben Warren, George turned in his scrubs for firefighter gear when his character helped start the spinoff hit action-drama series, "Station 19," about heroic firefighters. Now, George moves seamlessly between both series. We will talk about his career from comedy to soap opera to drama and acting and production during COVID-19. Please welcome to Money Making Conversations, Jason George.
The Money Making Conversations talk show is about entrepreneurship and entertainment. The interviews give the consumer and business owners access to Celebrities, CEOs, Entrepreneurs, and Industry Decision Makers. They provide relatable information to the listener about career and financial planning, entrepreneurship, motivation, leadership, overcoming the odds, and how to live a balanced life. Listen to Money Making Conversations on Apple Podcasts, iHeartRadio, Stitcher, Spreaker, Spotify, Castbox, and more.
Rushion McDonald is a two-time Emmy Award-winning and three-time NAACP Image Award-winning television and film, producer. He is a sitcom writer, social media influencer, brand architect, entrepreneur, and award-winning baker.​
https://www.moneymakingconversations.com
https://www.youtube.com/MoneyMakingConversations
https://www.facebook.com/MoneyMakingConversations/
https://twitter.com/MoneyMakingConv