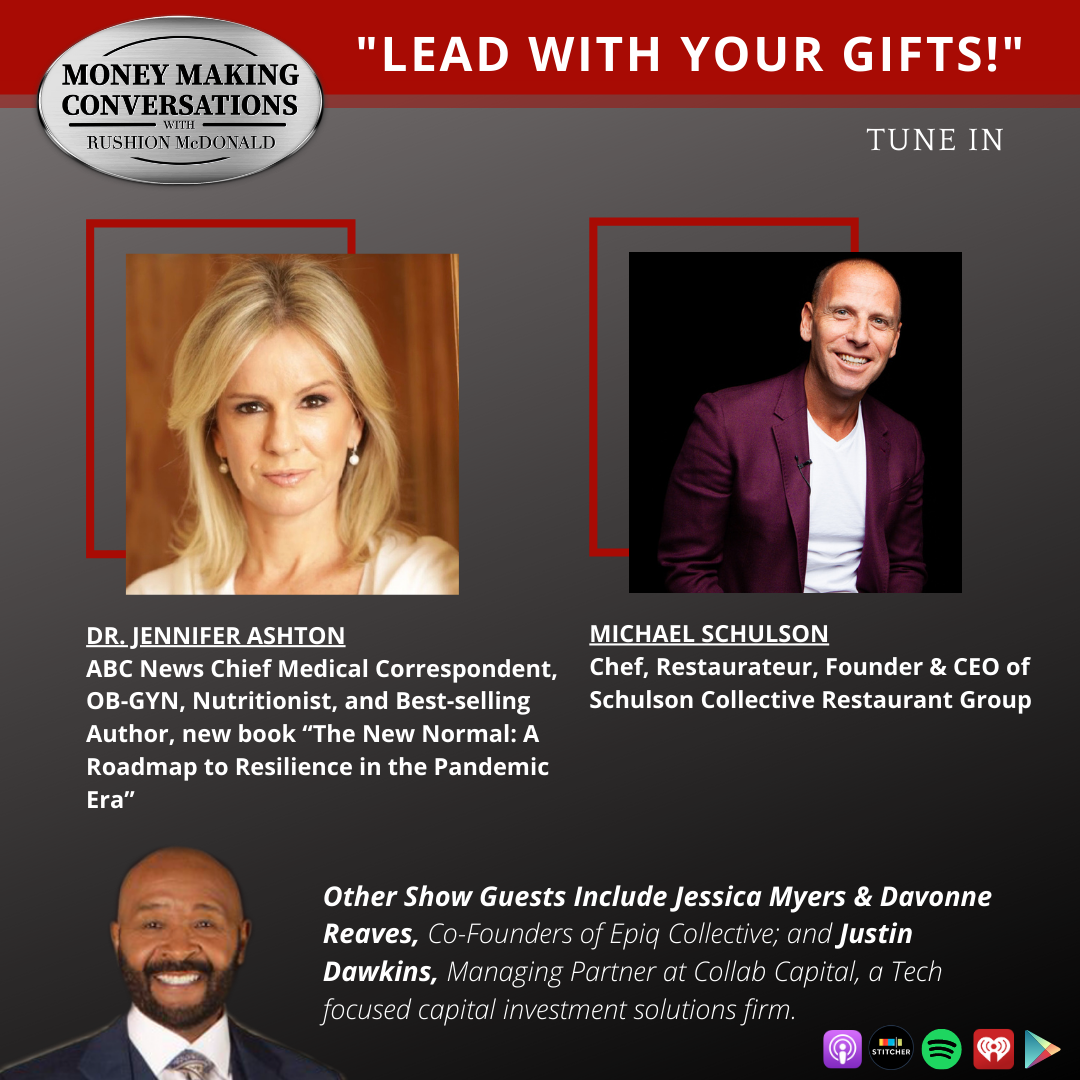 My next guest is Dr. Jennifer Ashton. Dr. Ashton is a double board-certified physician as an OB-GYN, Obesity Medicine, a nutritionist with a master's degree in Nutrition, making her one of the only MDs with a national media platform also has a degree in Nutrition. She is ABC News Chief Medical Correspondent. Dr. Jennifer Ashton has been a trusted voice providing vital health and medical information on "GMA3: What You Need to Know" and constant coverage on ABC News on the COVID-19 pandemic. She's released her latest book, "The New Normal: A Roadmap to Resilience in the Pandemic Era." A must-read guide to dealing with the pandemic's continued challenges is One of the most trusted health personalities on television today, and she has an active medical practice. Her new book "The New Normal" is out now and will teach us how to think like a doctor to help us stay informed, make decisions about your health and better navigate The New Normal. Please welcome to Money Making Conversations, Dr. Jennifer Ashton.
My next guest is Michael Schulson. The Schulson Collective restaurant is his vision has made him one of Philadelphia's most successful hospitality professionals. We will be discussing his career, how COVID-19 has affected his restaurant businesses, how has the Collective made adjustments during these times? What is the future of the restaurant business post-COVID-19? When most people were gaining weight during COVID-19. Michael lost 35 pounds in less than three months. Please welcome to Money Making Conversations Michael Schulson.
My next guests are Jessica Myers and Davonne Reaves. Since 2019, principals Jessica Myers and Davonne Reaves have acquired more than $14 million in commercial real estate assets, focusing on hotels and multi-family structures. The firm works with passive investors seeking attractive long-term investment strategies to grow their real estate portfolio. Jessica, a proud member of Alpha Kappa Alpha Sorority, founded Epiq Collective with Davonne Reaves. They will be discussing how to raise capital and how to buy a hotel. Please welcome to Money Making Conversations Jessica Myers and Davonne Reaves.
My next guest is Justin Dawkins. He most recently launched and serves as Managing Partner for Collab Capital. This investment firm focuses on providing Black entrepreneurs the social, human, and financial capital they need to build profitable businesses. Their goal is to help solve the growing racial wealth gap in America. Please welcome to Money Making Conversations Justin Dawkins.
The Money Making Conversations talk show is about entrepreneurship and entertainment. The interviews give the consumer and business owners access to Celebrities, CEOs, Entrepreneurs, and Industry Decision Makers. They provide relatable information to the listener about career and financial planning, entrepreneurship, motivation, leadership, overcoming the odds, and how to live a balanced life. Listen to Money Making Conversations on Apple Podcasts, iHeartRadio, Stitcher, Spreaker, Spotify, Castbox, and more.
Rushion McDonald is a two-time Emmy Award-winning and three-time NAACP Image Award-winning television and film, producer. He is a sitcom writer, social media influencer, brand architect, entrepreneur, and award-winning baker.​
https://www.moneymakingconversations.com
https://www.youtube.com/MoneyMakingConversations
https://www.facebook.com/MoneyMakingConversations/
https://twitter.com/MoneyMakingConv