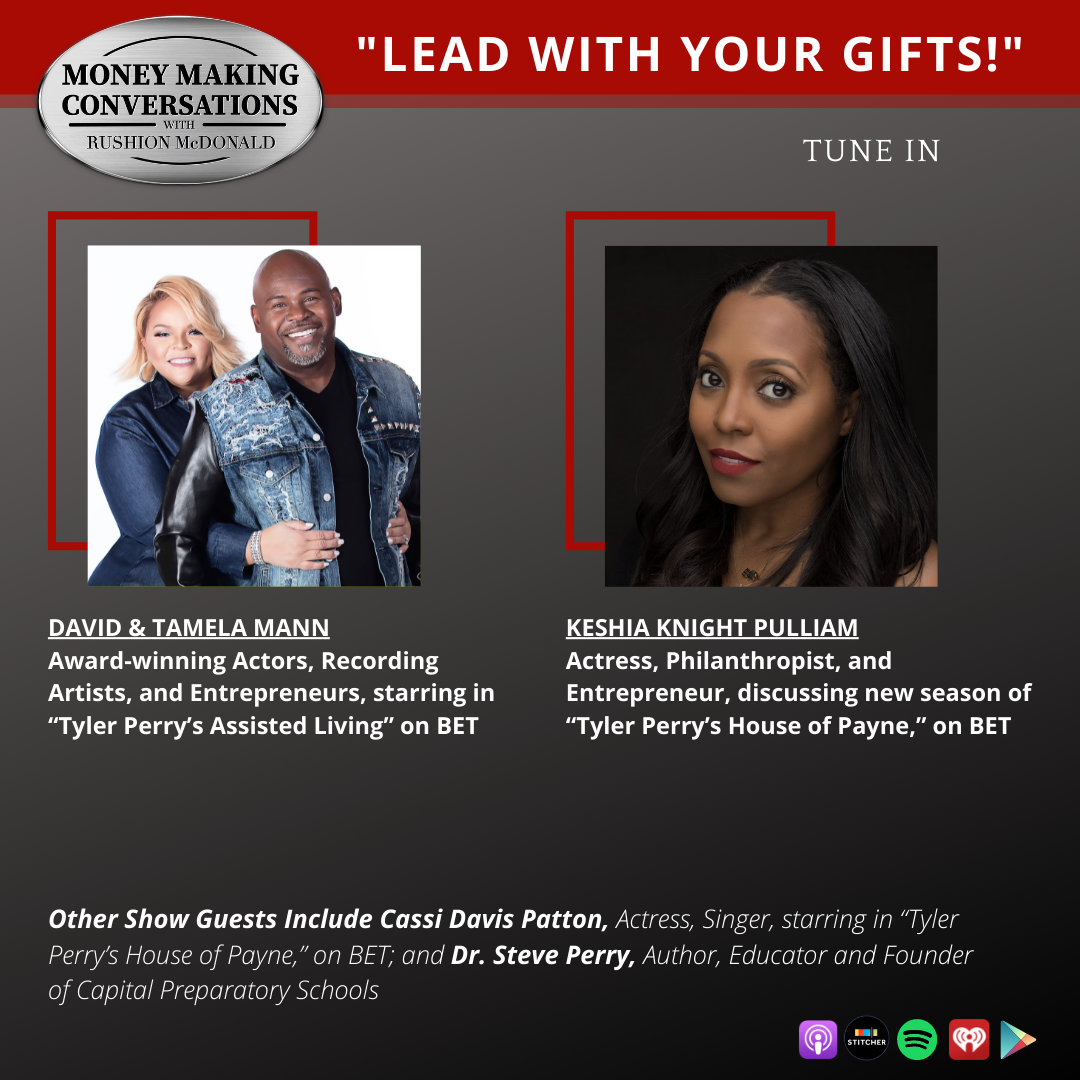 David and Tamela Mann- Award-winning Actors, Recording Artists, and Entrepreneurs, starring in "Tyler Perry's Assisted Living" on BET. They are the stars of "Tyler Perry's Assisted Living" on BET, David Mann is an NAACP Image Award-winning actor (Outstanding Actor in a Comedy Series ('Meet The Browns,' 'Mr. Brown') and Tamela Mann is a Grammy® Award Winner, BET Award winner, Billboard Music Award Winner, NAACP Image® Award Winner, Gospel Music Stellar Award Winner, GMA Dove Award Winner, actress, songwriter, producer, and businesswoman.
Keshia Knight Pulliam- Actress, Philanthropist, and Entrepreneur discusses the new season of "Tyler Perry's House of Payne" on BET. She is a graduate of an HBCU, Spelman College, and she did it with honors with a BA in sociology and concentration in Film. She is an Emmy-nominated actress, runs the Kamp Kizzy Foundation, The Fearless Fund, co-founded with her business partner Arian Simone and sells culinary products on her Keshia's Kitchen website.
Cassi Davis Patton- Actress, Singer, starring in "Tyler Perry's House of Payne" on BET. Her role on "Tyler Perry's House of Payne" is playing Ella Payne, which returns on BET for its 8th season. TYLER PERRY'S HOUSE OF PAYNE was the #1 comedy series on cable for African Americans 18-49, 25-54 in the calendar year 2020.
Dr. Steve Perry- Author, Educator, and Founder of five Capital Preparatory Schools, In 2020, Dr. Steve Perry opened his fifth school campus in the Bronx, NY. In all schools, students are admitted to the schools by random lottery to ensure equal access to all students regardless of socioeconomic status or academic history.
​The Money Making Conversations talk show is about entrepreneurship and entertainment. The interviews give the consumer and business owners access to Celebrities, CEOs, Entrepreneurs, and Industry Decision Makers. They provide relatable information to the listener about career and financial planning, entrepreneurship, motivation, leadership, overcoming the odds, and how to live a balanced life. Listen to Money Making Conversations on Apple Podcasts, iHeartRadio, Stitcher, Spreaker, Spotify, Castbox, and more.
Rushion McDonald is a two-time Emmy Award-winning and three-time NAACP Image Award-winning television and film, producer. He is a sitcom writer, social media influencer, brand architect, entrepreneur, and award-winning baker.​
https://www.moneymakingconversations.com
https://www.youtube.com/MoneyMakingConversations
https://www.facebook.com/MoneyMakingConversations/
https://twitter.com/MoneyMakingConv