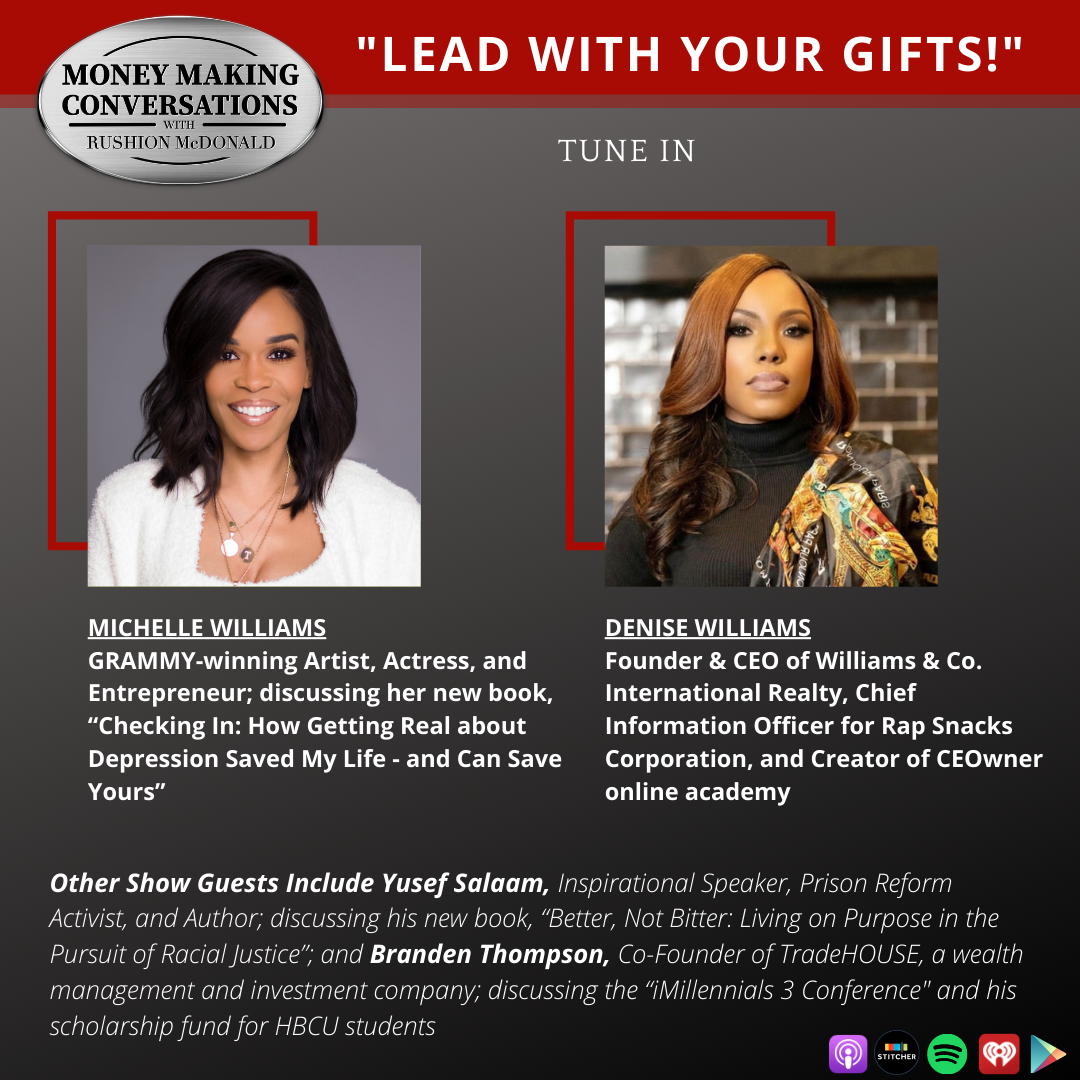 Michelle Williams is a Grammy Award-winning recording artist and actress who rose to stardom as a member of the R&B mega-group, Destiny's Child, and most recently appeared as the Butterfly on Fox's hit series and Entrepreneur; she's discussing her new book, "Checking In: How Getting Real about Depression Saved My Life- and Can Save Yours."
Yusef Salaam is an inspirational speaker and prison abolitionist who, at age fifteen, was one of the five teenage boys wrongly convicted and sentenced to prison in the Central Park jogger case. In 1997, he left prison as an adult to a world he didn't fully recognize or understand. In 2002, the sentences for the Central Park Five were overturned, and all Five were exonerated for the crime they didn't commit. discussing his new book, "Better, Not Bitter: Living on Purpose in the Pursuit of Racial Justice."
Branden Thompson is a native Houstonian who graduated from Prairie View University with a degree in Electrical Engineering. He founded TradeHouse. A company that's partnered with an educational platform to properly teach people how to invest in the foreign exchange market. Within only two years of its inception, Trade HOUSE (a wealth management organization) has grown to 80,000 active members. Co-Founders of Trade House, a wealth management company; they're on the show to discuss hosting the "I Am 3" Conference in Miami.
Denise Williams is the Founder and CEO of Williams & Co. International Realty. She is one of the youngest real estate brokerage owners in the United States and now has the largest black woman-owned brokerage in Atlanta with over 60 agents on her team.
​The Money Making Conversations talk show is about entrepreneurship and entertainment. The interviews give the consumer and business owners access to Celebrities, CEOs, Entrepreneurs, and Industry Decision Makers. They provide relatable information to the listener about career and financial planning, entrepreneurship, motivation, leadership, overcoming the odds, and how to live a balanced life. Listen to Money Making Conversations on Apple Podcasts, iHeartRadio, Stitcher, Spreaker, Spotify, Castbox, and more.
Rushion McDonald is a two-time Emmy Award-winning and three-time NAACP Image Award-winning television and film, producer. He is a sitcom writer, social media influencer, brand architect, entrepreneur, and award-winning baker.​
https://www.moneymakingconversations.com
https://www.youtube.com/MoneyMakingConversations
https://www.facebook.com/MoneyMakingConversations/
https://twitter.com/MoneyMakingConv