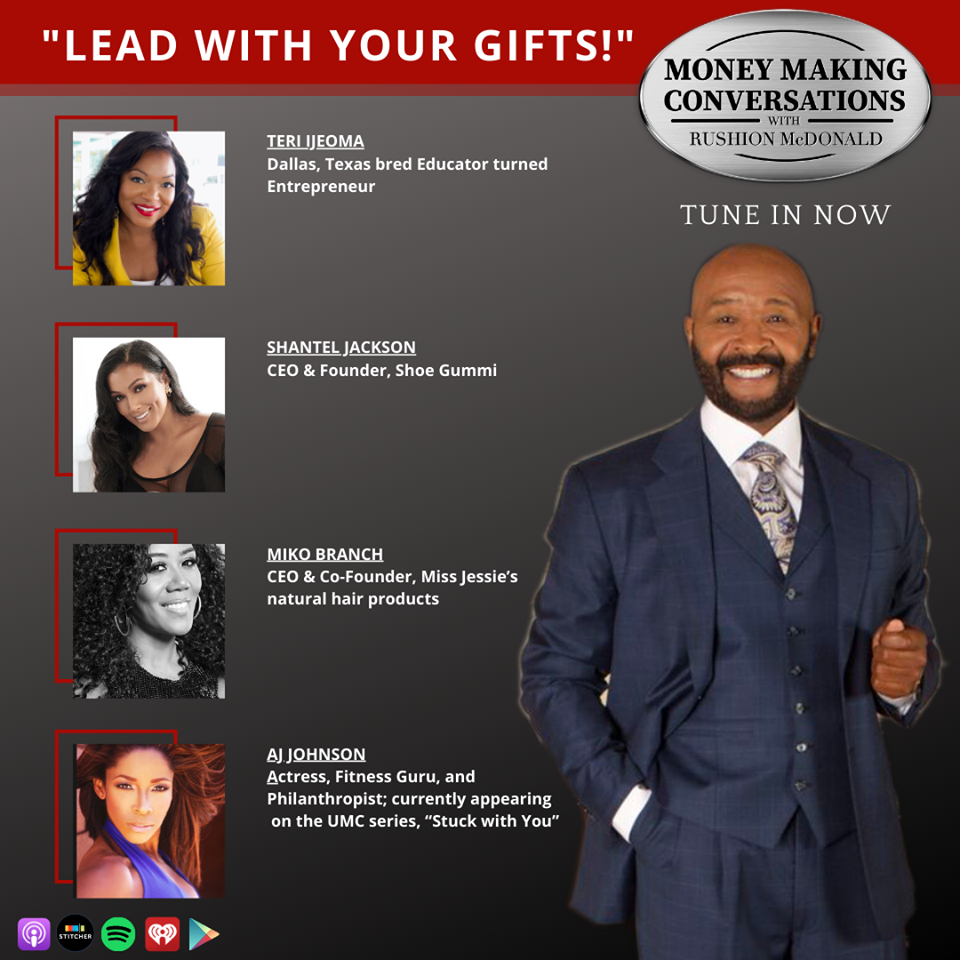 Please welcome Teri Ijeoma, Stocks & Options Trader, CEO of Invest with Teri; Shantel Jackson, CEO & Founder, Shoe Gummi; Miko Branch, CEO & Co-Founder, Miss Jessie's natural hair products; and AJ Johnson, Actress, Fitness Guru, and Philanthropist; currently appearing on the UMC series, "Stuck with You."
Teri Ijeoma began her professional career working in education and non-profits. When she started trading stocks nine years ago, she initially saw it as an opportunity to supplement her income simply. However, she was so successful with this side hustle that in 2017, she decided to quit her job, travel the world, and begin trading full-time Invest with Teri provides education and coaching on how to invest in the stock market. Please welcome to Money Making Conversations Teri Ijeoma.
Shantel Jackson is an entrepreneur, inventor, influencer, and former American TV personality. It was her passion for style, yet need for comfort that inspired 'Shoe Gummi,' the world's first outer-sole pad and the only outer-sole proven to prevent foot discomfort caused by high heels. Under her leadership, the company has gained credibility and expert approval from renowned Orthopedic Surgeon, Dr. Lehman. Please welcome to Money Making Conversations, the CEO and Founder of Shoe Gummi Shantel Jackson.
Miko Branch is the co-founder and CEO of Miss Jessie's LLC. Founded in 2004, the Miami-based company is a pioneering leader in the explosive natural hair care movement.
Miko founded the company with her sister, Titi. Miss Jessie's is currently sold in thousands of stores across the country, including Target, CVS, and Walgreens, and is a favorite of celebrities including Lupita Nyong'o, Viola Davis, Zendaya and Yara Shahidi. Please welcome to Money Making Conversations Miko Branch.
AJ Johnson is Actress; you have seen her in the following movies House Party, Skin Deep, The Inkwell, Sister Act, and Baby Boy. She is a TV producer, Life coach, Fitness guru, Philanthropist; she is an HBCU grad with a Psychology and Chemistry degree from Spelman College. She is currently appearing on the UMC series "Stuck with You." Please welcome to Money Making Conversations AJ Johnson.
​The Money Making Conversations talk show is about entrepreneurship and entertainment. The interviews give the consumer and business owners access to Celebrities, CEOs, Entrepreneurs, and Industry Decision Makers. They provide relatable information to the listener about career and financial planning, entrepreneurship, motivation, leadership, overcoming the odds, and how to live a balanced life. Listen to Money Making Conversations on Apple Podcasts, iHeartRadio, Stitcher, Spreaker, Spotify, Castbox, and more.
Rushion McDonald is a two-time Emmy Award-winning and three-time NAACP Image Award-winning television and film, producer. He is a sitcom writer, social media influencer, brand architect, entrepreneur, and award-winning baker.​
https://www.moneymakingconversations.com
https://www.youtube.com/MoneyMakingConversations
https://www.facebook.com/MoneyMakingConversations/
https://twitter.com/MoneyMakingConv