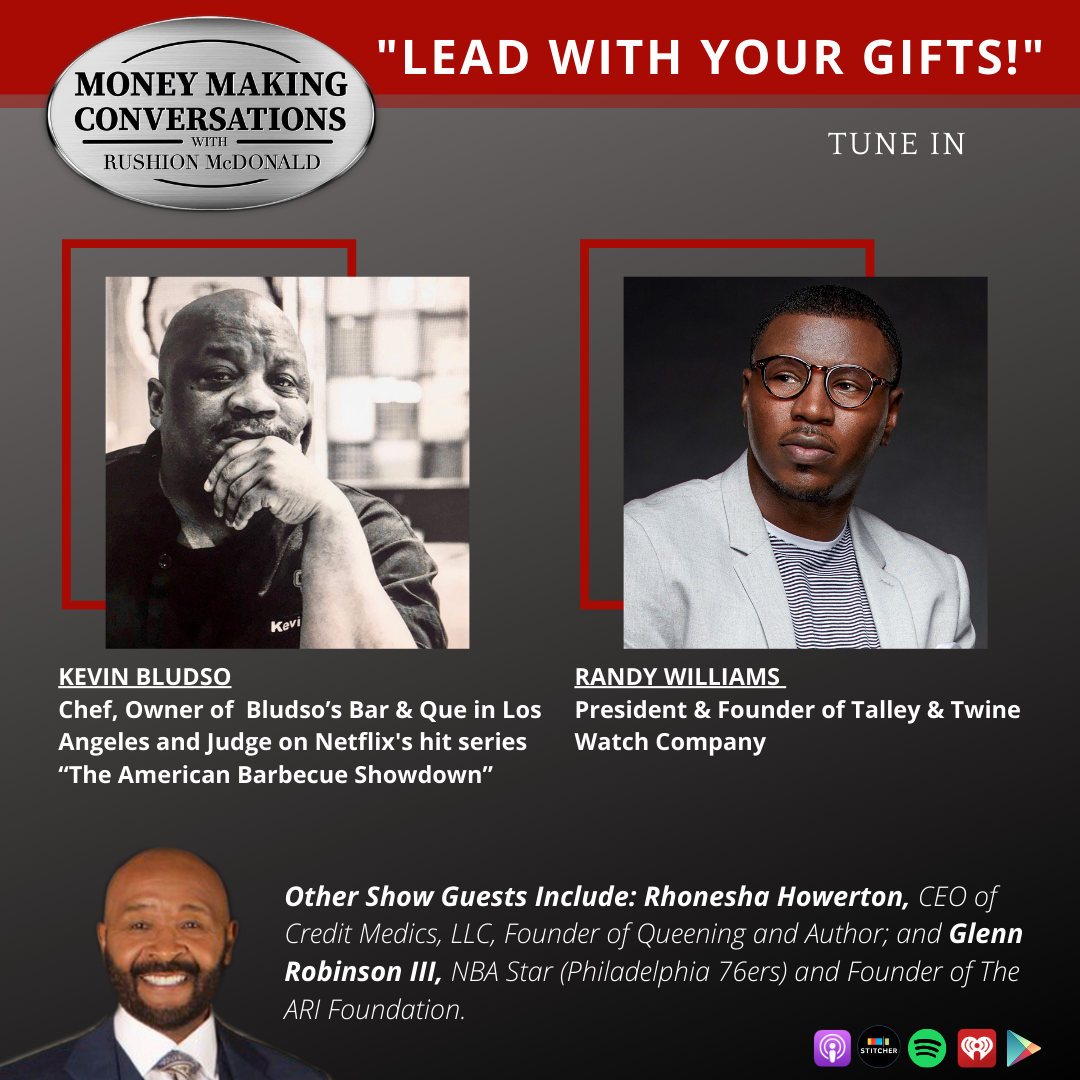 Rushion welcomes Kevin Bludso- Chef, Owner of Bludso's Bar & Que, Judge on Netflix's"The American Barbecue Showdown," seen on Paramount Networks' "Bar Rescue"; Randy Williams- President & Founder of Talley & Twine Watch Company; Glenn Robinson III- NBA Star (Philadelphia 76ers) and Founder of The ARI Foundation; Rhonesha Howerton- CEO of Credit Medics, LLC, and Author
My next is guest Kevin Bludso, we go all the way back to the Hoodie Awards in Los Angeles, CA, before he opened Bludson's Bar and Que on LaBrea in Los Angeles. Kevin is a chef, television personality and two-time Steve Harvey Hoodie Award Winner. In 2008, he opened Bludso's BBQ, and it has since grown into an international empire, with Bludso's Bar & Que on LaBrea, a concession stand at the LAFC Soccer Stadium, a location in Proud Bird by LAX, and a sprawling restaurant and bar called San Antone by Bludso's BBQ in the Crown Casino in Melbourne, Australia. The legend of Bludso's BBQ begins in Corsicana, Texas, where the Bludso family has been perfecting the craft of slow-smoked meats for five generations. But while his family roots are laid in Texas, Kevin Bludso was born and raised in Compton, California. Now he is a television star, you can catch him judging on Netflix's "The American Barbecue Showdown." Please welcome to Money Making Conversations Kevin Bludso.
My next guest Randy Williams is the President of Talley & Twine, a company that designs and manufactures luxury watches and accessories. Since starting the company in 2014, Randy has gained national media attention with features in Men's Health, Black Enterprise, Huffington Post, Essence, Blavity, New York Magazine & Cosmopolitan. The company's name comes from an intersection that was formerly the center of a notorious, crime-ridden neighborhood in Virginia. In recent years, the neighborhood has been completely revitalized and those same families now have the opportunity to own. A place with a dark past now has a bright future; Talley & Twine represents that future. It's not about how you start, it's about how you finish. Please welcome to Money Making Conversations Randy Williams.
My next guest Glen Robinson III is an NBA basketball player. His ARI Foundation which stands for "Angels Are Real Indeed," is a non-profit organization aimed at empowering fathers and helping create deeper bonds between fathers and their children. They also provide resources to help elevate fatherless children and families. Glenn was inspired to launch this initiative after the birth of his daughter, Ariana, and wanted to shine a light on the importance of the relationship between children and their fathers. Glenn highlights fathers and their stories on his Instagram page, and wants to shine a light on some of the amazing work they're doing. Please welcome to Money Making Conversations Glen Robinson III.
My next guest Rhonesha Howerton wears several hats in the entrepreneur lifestyle. She currently serves as the Owner and CEO of Credit Medics, LLC, she is Co-Founder of Go Get Crowned "Queening" nonprofit organization for women empowerment and Co-Owner of 'Get Well Urgent Care' medical facility. Coming from a poverty-stricken neighborhood and having escaped the statistics. Howerton has found her purpose and passion which is encouraging others, and helping them to reach their fullest potential and cheering them on to the finish line. Please welcome to Money Making Conversations Rhonesha Howerton.
The Money Making Conversations talk show is about entrepreneurship and entertainment. The interviews give the consumer and business owners access to Celebrities, CEOs, Entrepreneurs, and Industry Decision Makers. They provide relatable information to the listener about career and financial planning, entrepreneurship, motivation, leadership, overcoming the odds, and how to live a balanced life. Listen to Money Making Conversations on Apple Podcasts, iHeartRadio, Stitcher, Spreaker, Spotify, Castbox, and more.
Rushion McDonald is a two-time Emmy Award-winning and three-time NAACP Image Award-winning television and film, producer. He is a sitcom writer, social media influencer, brand architect, entrepreneur, and award-winning baker.​
https://www.moneymakingconversations.com
https://www.youtube.com/MoneyMakingConversations
https://www.facebook.com/MoneyMakingConversations/
https://twitter.com/MoneyMakingConv