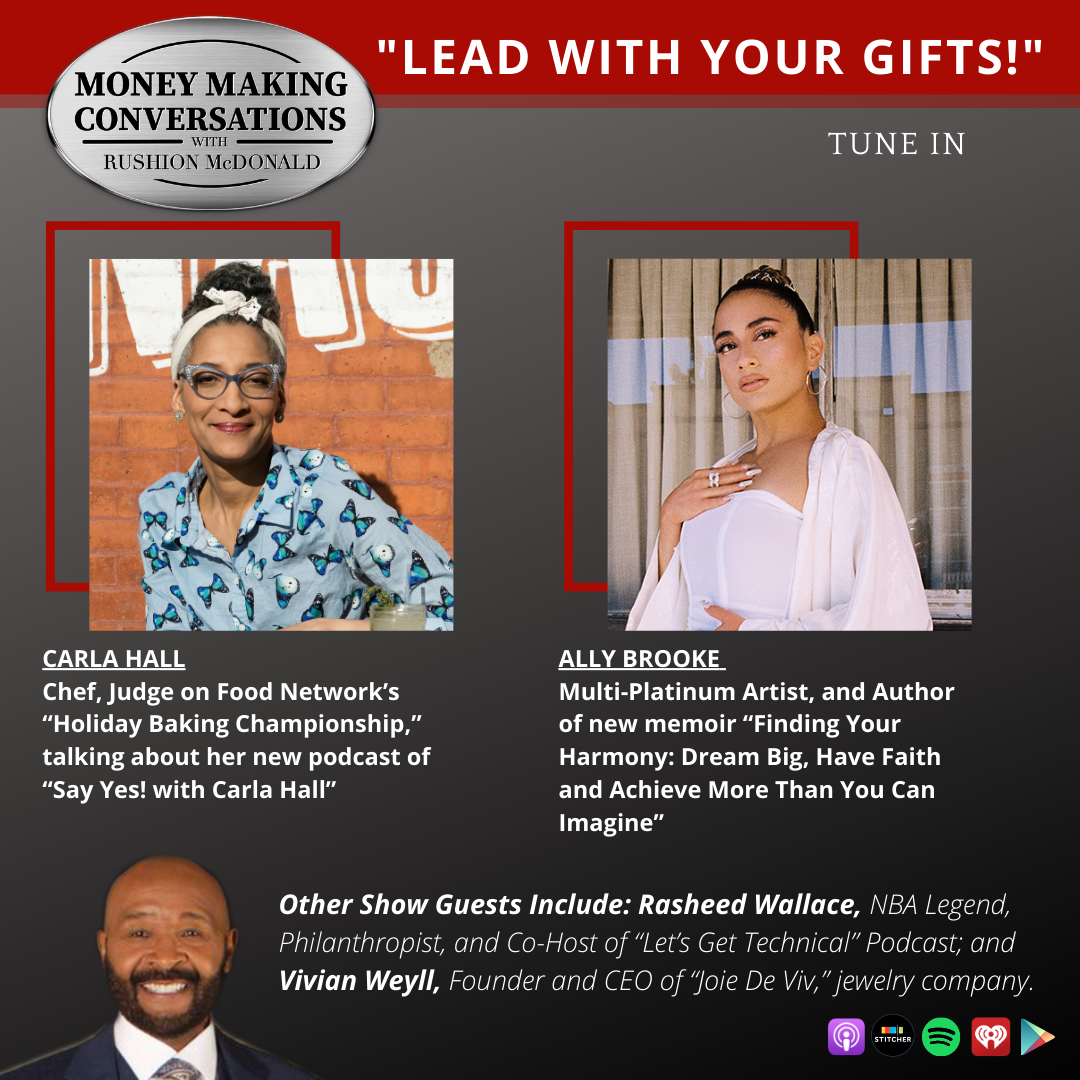 Rushion welcomes Carla Hall- Chef, Judge on Food Network's "Holiday Baking Championship," talking about her new podcast of "Say Yes! With Carla Hall"; Ally Brooke- Multi-Platinum Artist, and Author of the new memoir "Finding Your Harmony: Dream Big, Have Faith and Achieve More Than You Can Imagine"; Rasheed Wallace-NBA Legend, Philanthropist, Activist, Coach, and Co-Host of "Let's Get Technical" Podcast; Vivian Weyll- Founder and CEO of "Joie De Viv," jewelry company.
My next guest Carla Hall is Born in Nashville, TN. Carla Hall grew up surrounded by Soul Food. When the time came for her to select her career path, she first opted for a business route – she graduated from Howard University's Business School and worked as an accountant for two years – before deciding to switch gears to runway modeling. Today, she is a trained chef who has worked in several professional restaurant kitchens in and around the Washington, D.C. area and is an accomplished television personality and author. Today, she is on the show to talk about the Food Network's HOLIDAY BAKING CHAMPIONSHIP, where Carla Hall is a judge. It is currently airing November through December on the Food Network, and we will also be discussing Carla's new podcast SAY YES! It airs weekly and launched in mid-September. Now the table is set, please welcome to Money Making Conversations Carla Hall.
My next guest Ally Brooke is a native of San Antonio, Texas. She is a multiplatinum singer-songwriter, dancer, actress, and author of her newly-released memoir "Finding Your Harmony." She is a former member of the girl group Fifth Harmony, which kicked off her music career when the group was formed during the second season of the American singing competition "The X Factor" in 2012. She is now pursuing her solo career. Ally is on the show to talk about the inspiration behind the book, "Finding Your Harmony" and the process of putting this book together, the messages about faith, her positive approach to life, and determination she is sharing with her story, and being a role model for young people. Please welcome to Money Making Conversations Ally Brooke.
My next guest Rasheed Wallace is a Philadelphia Sports Hall of Famer and 16-year NBA veteran and four-time NBA All-Star. Wallace holds the single-season record for technical fouls. In the 2000–01 season, Wallace received 41 technical fouls throughout 80 games, about one technical foul for every two games. He Philanthropist, Activist, High School Basketball Coach, and Co-Host of the "Let's Get Technical" Podcast with his former NBA Teammate Bonzi Wells. Rasheed is dedicated to helping his community and bringing people together. He provides food and resources to underserved communities in cities, including Philadelphia, Charlotte, Durham, Flint, and Detroit. He has been a leading voice in calling for an end to gun violence, police brutality, and racial injustice. Please welcome to Money Making Conversations Rasheed Wallace.
My next guest is Vivian Weyll. Her fine jewelry business was founded on the belief that jewelry should be luxurious. That company, however, came to an abrupt end following her divorce, and the main producer of the stones was her former husband, who refused to provide the material for her to continue her venture. Thus she had to reinvent herself. Vivian's story is about being a single mother, an entrepreneur, and betting on yourself when she took a leap of faith, with a plan, and invested every dime into her new fine jewelry venture. She is on the show to tell her story and will motivate us with her story. Please welcome to Money Making Conversations Vivian Weyll.
The Money Making Conversations talk show is about entrepreneurship and entertainment. The interviews give the consumer and business owners access to Celebrities, CEOs, Entrepreneurs, and Industry Decision Makers. They provide relatable information to the listener about career and financial planning, entrepreneurship, motivation, leadership, overcoming the odds, and how to live a balanced life. Listen to Money Making Conversations on Apple Podcasts, iHeartRadio, Stitcher, Spreaker, Spotify, Castbox, and more.
Rushion McDonald is a two-time Emmy Award-winning and three-time NAACP Image Award-winning television and film, producer. He is a sitcom writer, social media influencer, brand architect, entrepreneur, and award-winning baker.​
https://www.moneymakingconversations.com
https://www.youtube.com/MoneyMakingConversations
https://www.facebook.com/MoneyMakingConversations/
https://twitter.com/MoneyMakingConv