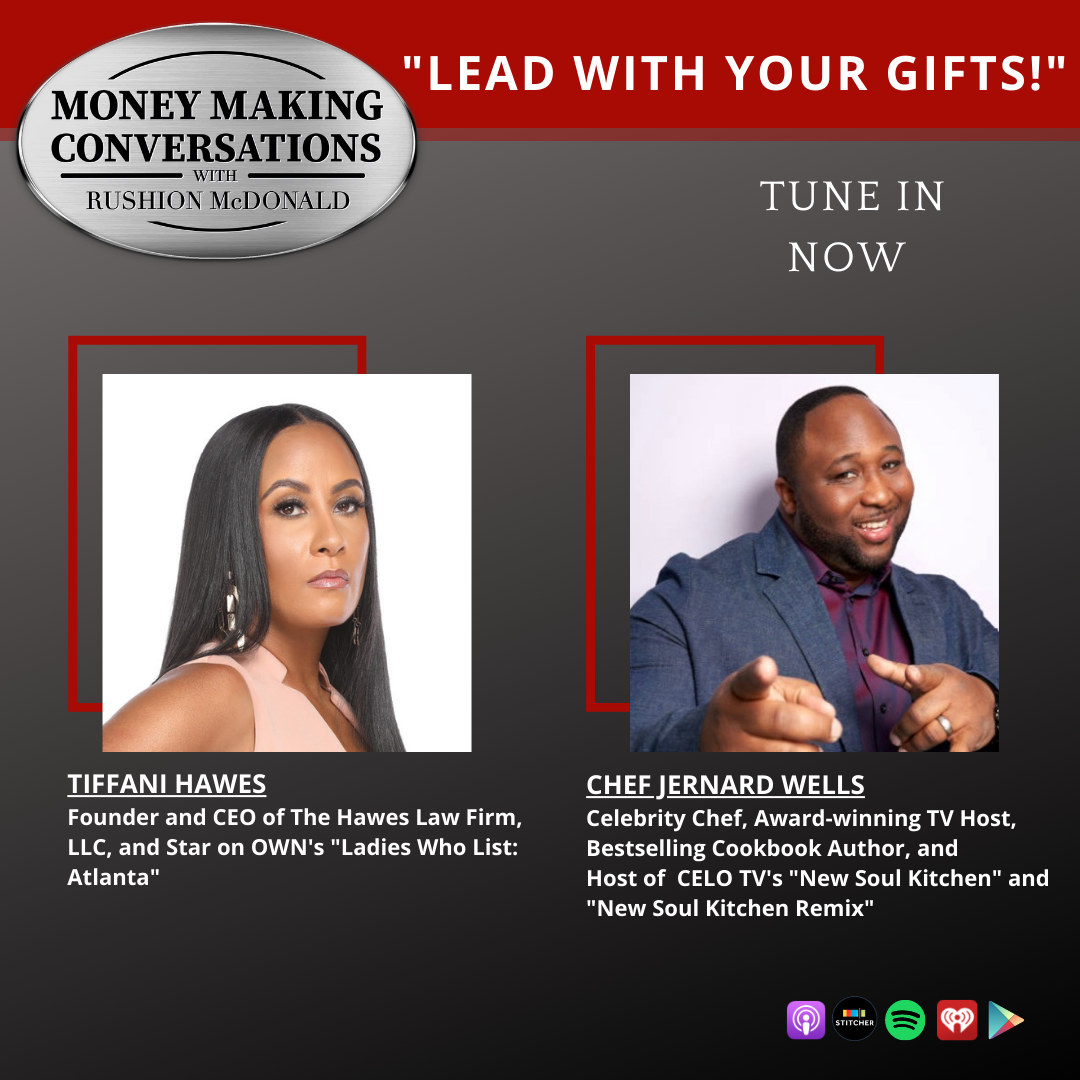 My dear friend Celebrity Chef Jernard Wells, returns to speak on his most recent season of New Soul Kitchen Remix and the shows new direction towards healthy food living. We discuss our cooking do and don'ts, my new garden, and the benefit of growing your own food. I also have one of stars of "Ladies Who List Atlanta," Real estate closing attorney Tiffany Hawes answering callers questions about purchasing a home in today's market.
Topics Covered
Bridging the gap between great food and healthy living.
Making quick meals
Home buying factors.
Purpose of closing attorney
Terms of the lender
Importance of HBCU's
More on Tiffany Hawes
Tiffani R. Hawes graduated from Atlanta's John Marshall Law School in December 2013.Prior and during law school Mrs. Hawes worked as a real estate paralegal for more than eight years.During this time, Mrs. Hawes gained the knowledge and skills necessary to open The Hawes Law Firm, LLC, which specializes in real estate closings.Mrs. Hawes has dedicated her real estate closing practice to bringing a celebratory and fun closing experience for all parties apart of the closing transaction. Why have a boring closing when you can be educated and celebrated at the same time. A mother of two boysand one girl, Mrs. Hawes and her husband are both very active in their local community.When not serving clients, Mrs. Hawes enjoys screaming on the sideline at her children's sport games.
More on Celebrity Chef Jernard Wells
Jernard Wells is an Award Winning TV Host/Celebrity Chef/Bestselling Cookbook Author best known from numerous Food Network & Cooking Channel shows. He is the host of "New Soul Kitchen" on CLEO TV and is a co-host on "The Best Things I Ever Ate" on Cooking Channel. Wells has worked with Tyler Perry, NBA star Brandon Ingram, Lady Antebellum and Ricky Bell & Michael Bivins of New Edition/BBD. He has been featured on "Today Show", PEOPLE, "Steve Harvey Morning Show", ESSENCE, "Pickler & Ben", "Home & Family", Lifetime & HLN to name a few. The James Beard House Honored Chef is affectionately called "The Family Chef" because he loves using food to promote positive family images. He and his wife of 20 years have 9 children. He is the author of 6 books.