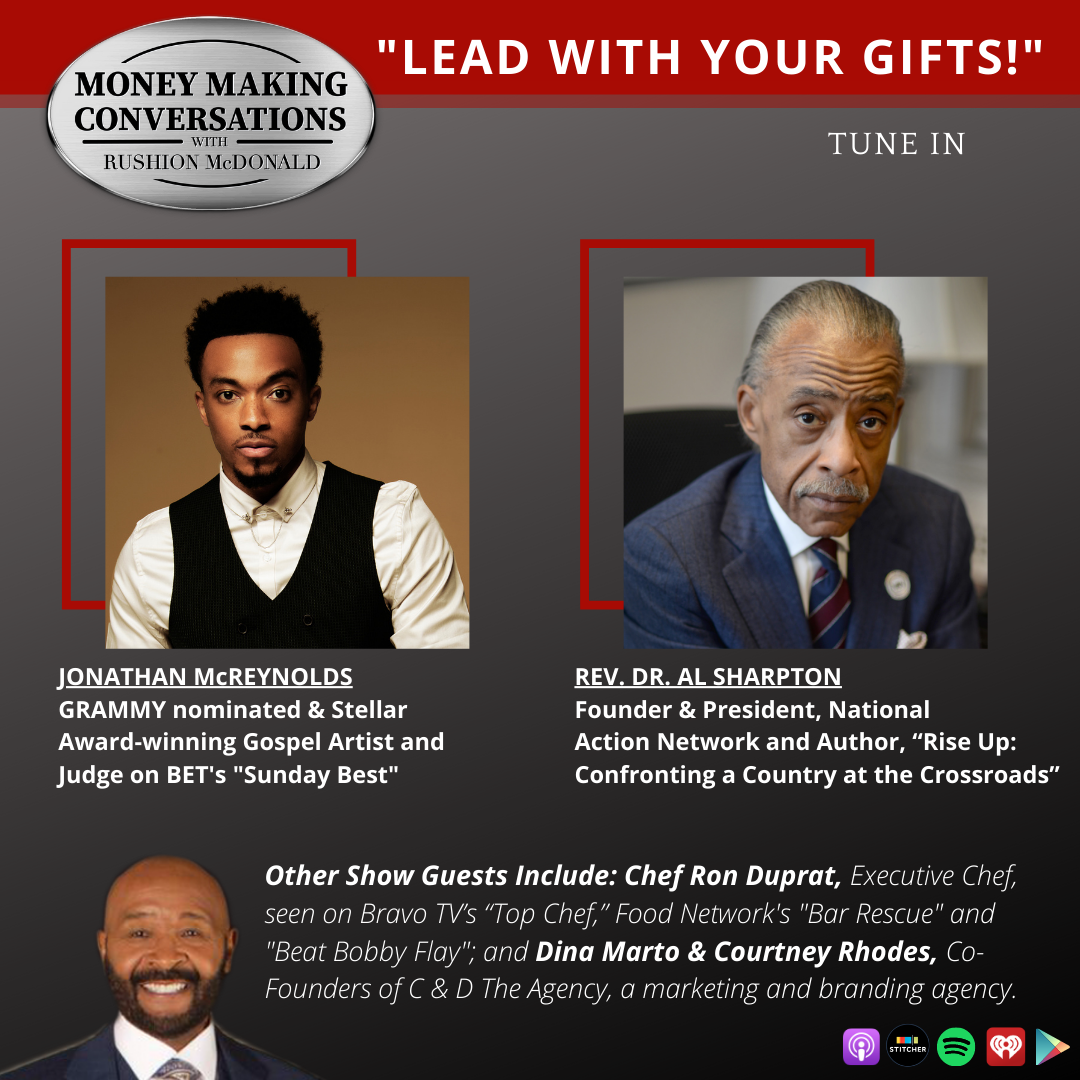 Rushion welcomes Jonathan McReynolds- GRAMMY-nominated & Stellar Award-winning Gospel Artist, Songwriter, Producer, and CEO, Life Room Label; Rev. Dr. Al Sharpton- Renowned Civil Rights Leader, Founder and President, National Action Network and Author, "Rise Up: Confronting a Country at the Crossroads"; Chef Ron Duprat- Food & Beverage Director/Executive Chef at The Amarillo Country Club, seen on Bravo T.V.'s "Top Chef"; Dina Marto & Courtney D. Rhodes- Co-Founders, C & D The Agency.
My next guest Jonathan McReynolds is a GRAMMY-nominated and Stellar Award-winning artist, songwriter, and producer. He is also the founder and CEO of the record label Life Room Label. Jonathan has served as a judge on the last two seasons of BET's hit competition show, "Sunday Best," which wrapped its 10th season this summer and performs on the 51st Annual GMA Dove Awards, which will air on October 30th on TBN. Please welcome to Money Making Conversations Jonathan McReynolds.
My next guest Reverend Al Sharpton is an Internationally Renowned Civil Rights Leader, Founder, and President of the National Action Network. National Action Network is one of the leading civil rights organizations in the Nation with 106 chapters nationwide. Rev. Al Sharpton hosts a daily radio show "Keepin' it Real w/ Rev. Al Sharpton," and a national cable news television show titled "Politics Nation." He does a combined 17 hours of television and radio media every week. In his new book RISE UP: Confronting a Country at the Crossroads, the Reverend Al Sharpton draws on his decades of a unique experience as a civil rights leader, a politician, and a television and radio host to encourage voters to stand up for what they believe and enact change in their country. Please welcome to Money Making Conversations, Reverend Al Sharpton.
My next guest is Chef Ron Duprat. In 2019 he was named Industry Chef of the Year. Currently, he is the Food and Beverage Director, Executive Chef at AMARILLO Golf and Country Club in Amarillo, Texas. He first gained recognition when he competed in Bravo T.V.'s "Top Chef." With his magnetic personality and fun demeanor, there was no keeping him off T.V. Then he went on Spike TV's Bar Rescue, Iron Chef America, and Beat Bobby Flay on the Food network. He always amazes judges with his is exotic foods that combine the rich Caribbean and French flavors. Ron has also been featured on The View, The Today Show, BET, Access Hollywood, Essence Magazine, Huffington Post, and Oprah magazine. Please welcome to Money Making Conversations Chef Ron Duprat.
My next guests are Dina Marto and Courtney Rhodes. They co-Founded in 2020, C & D The Agency. It is an all women-led management agency that provides Marketing, Branding, Public & Media Relations services, and Project, Talent, and Operations Management specializing in Business and Entertainment. Their mission is to empower, mentor, and lead businesswomen to collaborate and increase minority women's opportunity. Dina Marto is a seasoned entrepreneur, having shattered gender and ethnic glass ceilings during her nearly 20 years as a music executive and small business owner. Dina is on the management team for superstar Tip "T.I." Harris and helped launch his popular podcast, which became #1 on Apple Podcasts. Courtney R. Rhodes is a branding and marketing expert. For 20+ years, she has worked with multi-million-dollar businesses to get their marketing messages seen, heard, and experienced across television, radio, magazines, and e-commerce, digital and social media platforms. She's placed over 100 million dollars in advertising dollars across television, radio, digital, social, and outdoor media. Please welcome to Money Making Conversations Dina Marto and Courtney Rhodes.
The Money Making Conversations talk show is about entrepreneurship and entertainment. The interviews give the consumer and business owners access to Celebrities, CEOs, Entrepreneurs, and Industry Decision Makers. They provide relatable information to the listener about career and financial planning, entrepreneurship, motivation, leadership, overcoming the odds, and how to live a balanced life. Listen to Money Making Conversations on Apple Podcasts, iHeartRadio, Stitcher, Spreaker, Spotify, Castbox, and more.
Rushion McDonald is a two-time Emmy Award-winning and three-time NAACP Image Award-winning television and film, producer. He is a sitcom writer, social media influencer, brand architect, entrepreneur, and award-winning baker.​
https://www.moneymakingconversations.com
https://www.youtube.com/MoneyMakingConversations
https://www.facebook.com/MoneyMakingConversations/
https://twitter.com/MoneyMakingConv