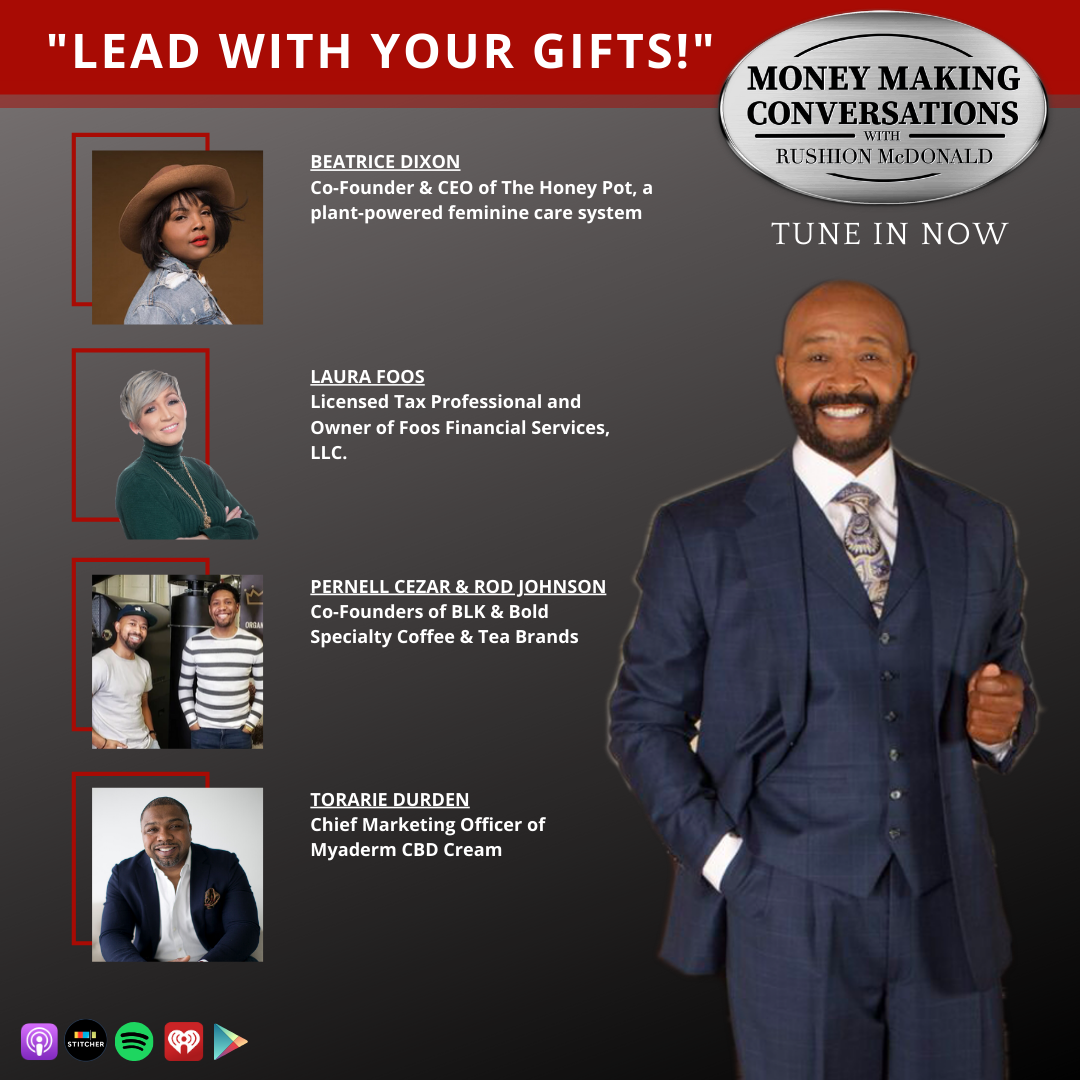 Please welcome Co-Founder & CEO of The Honey Pot, a plant-powered feminine care system, Beatrice Dixon; Licensed Tax Professional and Owner of Foos Financial Services, LLC, Laura Foos; Donatella Arpaia a Celebrity Chef, TV personality, restaurateur, and cookbook author. Chief Marketing Officer of Myaderm CBD Cream, Torarie Durden; and Co-Founders of BLK & Bold Specialty Beverages, Rod Johnson & Pernell Cezar.
Beatrice Dixon has experience in pharmaceuticals, retail, and natural foods. She has the insight and expertise to bring the innovative concept of a plant-based female care system to the marketplace. Unlike mass market and conventional female care brands, consumers will be able to get all of their female care needs met under one brand know as The Honey Pot Company. Please welcome to Money Making Conversations the Co-Founder of CEO of The Honey Pot Company Beatrice Dixon.
Laura Foos, it's tax season, so it's time to talk to one of my favorite tax experts. My next guest Tax Preparation Company specializes in Individual and Small Business tax preparation and tax filings. They pride themselves in taking time with each client to go over with them their tax situations so they understand it, as well as help them plan for upcoming years. Please welcome to Money Making Conversations Laura Foos.
Torarie Durden developed his marketing passion at The Coca-Cola Company, Procter & Gamble, and several stints at NASA. He earned a BA in Physics from Morehouse College, a BS and an MS in Electrical Engineering from Georgia Tech, and an MBA from Harvard Business School in Cambridge, MA. Now he is the Chief Marketing Officer of the most widely distributed CBD Cream in the market, Myaderm CBD Cream. Please welcome to Money Making Conversations Torarie Durden.
Rod Johnson & Pernell Cezar are childhood friends and enthusiastic consumers of coffee & tea respectively. They are the co-founders of BLK & Bold, the first black-owned, nationally distributed coffee brand, is challenging coffee kingpins like Starbucks and Peet's with a socially-conscious business model aimed at supporting at-risk communities. They are selling Coffee with a Cause. Please welcome to Money Making Conversations Co-Founders Pernell "PJ" Cezar and Jarrhod "Rod" Johnson.
The Money Making Conversations talk show is about entrepreneurship and entertainment. The interviews give the consumer and business owners access to Celebrities, CEOs, Entrepreneurs, and Industry Decision Makers. They provide relatable information to the listener about career and financial planning, entrepreneurship, motivation, leadership, overcoming the odds, and how to live a balanced life. Listen to Money Making Conversations on Apple Podcasts, iHeartRadio, Stitcher, Spreaker, Spotify, Castbox, and more.
Rushion McDonald is a two-time Emmy Award-winning and three-time NAACP Image Award-winning television and film, producer. He is a sitcom writer, social media influencer, brand architect, entrepreneur, and award-winning baker.​
https://www.moneymakingconversations.com
https://www.youtube.com/MoneyMakingConversations
https://www.facebook.com/MoneyMakingConversations/
https://twitter.com/MoneyMakingConv