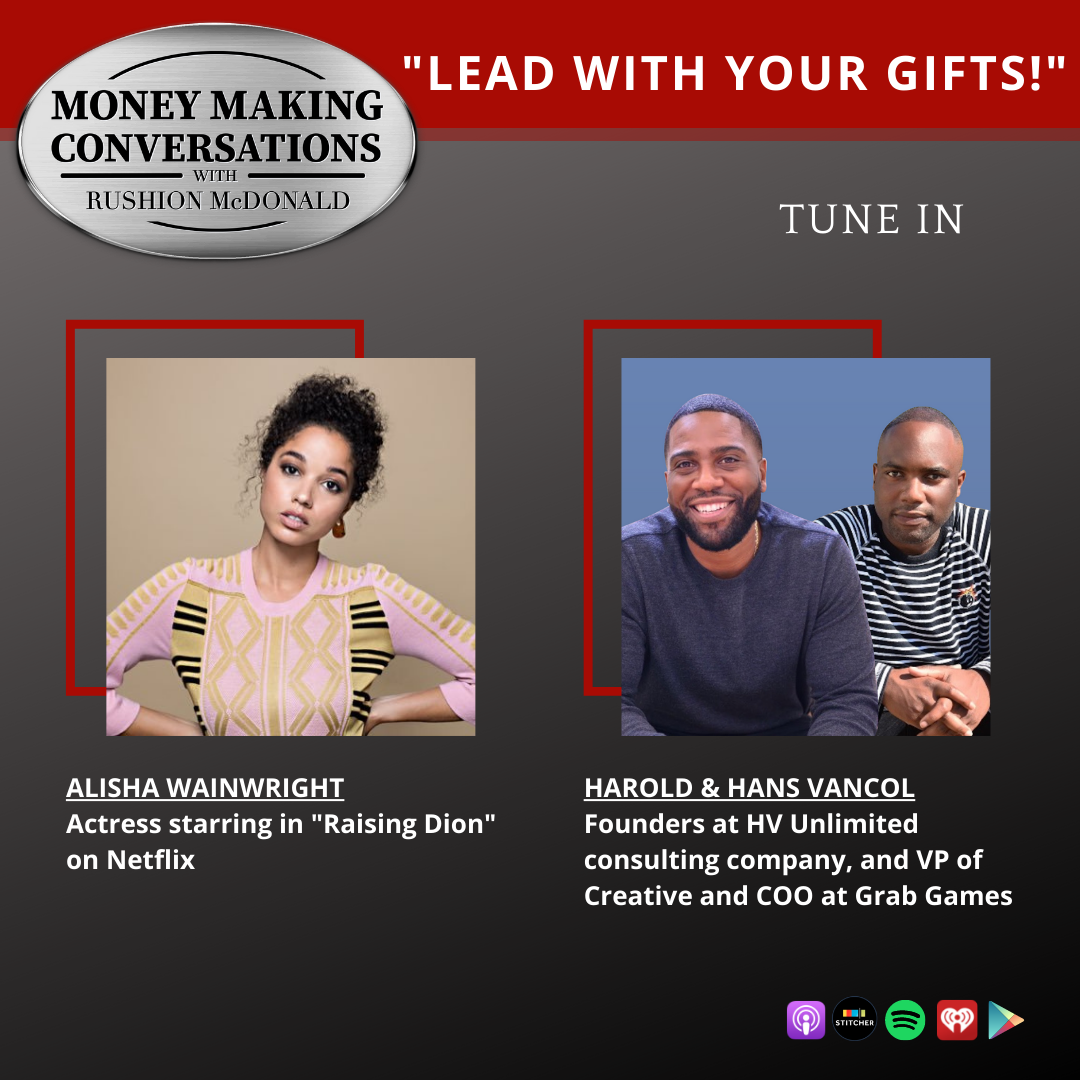 On this episode of Money Making Conversations Alisha Wainwright of the Netflix series, "Raising Dion," shares non-acting upbringing influenced her acting ability. Also, Hans & Harold Vancol explain their plan to expose underserved children to coding, gaming, and virtual / augmented reality.
Topics Discussed with Alicia Wainright:
What prepared her for acting.
How she developed her skill.
Her relationship with Dion (played by Ja'Siah Young)
Development of her character.
Topics covered with Harold & Hans Vancol:
How coding has impacted their life.
Importance of gaming technology to the black community.
The purpose of The Limitless Initiative, a STEM-based initiative.
Their plan to reach the educationally disadvantage
Impact of COVID-19 on the education of underfunded communities.
More on Alisha Wainwright:
Alisha Wainwiright currently stars on the Netflix series "Raising Dion," with Season 2 officially on Netflix as of February 1st. The hit Netflix series is executive-produced by Michael B. Jordan, based on the comic book series of the same name. Alisha recently starred opposite Justin Timberlake in AppleTV's PALMER which released last January. Alisha starred as rule-break werewolf 'Maia Roberts' on the worldwide hit show "Shadowhunters." She also starred in THE WEDDING DO OVER, THE HATRED, and had recurring role on PERCEPTION. The Haitian-Jamaican beauty received a degree in Botany at University of Florida and worked in Panama for the Smithsonian, before she became an actress.
More on Raising Dion:
Raising Dion follows the story of Nicole (Alisha Wainwright) and her son Dion (Ja'Siah Young) after Dion starts to manifest several mysterious, superhero-like abilities. Season Two follows Dion as he continues honing his powers with the support of his mom and Tevin (Rome Flynn), his Biona trainer who catches Nicole's eye. Navigating twists, turns, and surprise visitors, Dion and Nicole must prevail again — not just to save themselves, but the entire city of Atlanta.
More on Hans & Harold Vancol:
Harold and Hans Vancol are founders of their consulting company, HV Unlimited, where they work to help companies to get into the gaming space. They are also leaders at Grab Games, a gaming company that creates entertainment in the VR/AR-enabled platforms (games in the virtual reality/augmented reality space) – Harold is VP, Creative at Grab Games and Hans is COO at Grab Games.
More on HV Unlimited:
HV Unlimited is a consulting and development company founded by Hans and Harold Vancol. The goal of HV Unlimited is to expose career paths in gaming and tech to inner city youth, particularly people of color. HVU creates or aids in the creation of products that leverage tech and interactivity in new verticals around gaming, streaming, advertising, music and education. HVU's clients include but aren't limited to Live Nation, Insomniac, Oculus, and USC. Harold and Hans Vancol will also talk about The Limitless Initiative and the KIPR robot simulator project, in helping students in underserved communities.
https://www.moneymakingconversations.com
https://www.youtube.com/MoneyMakingConversations
https://www.facebook.com/MoneyMakingConversations/
https://twitter.com/moneymakingconv
https://www.instagram.com/moneymakingconversations/