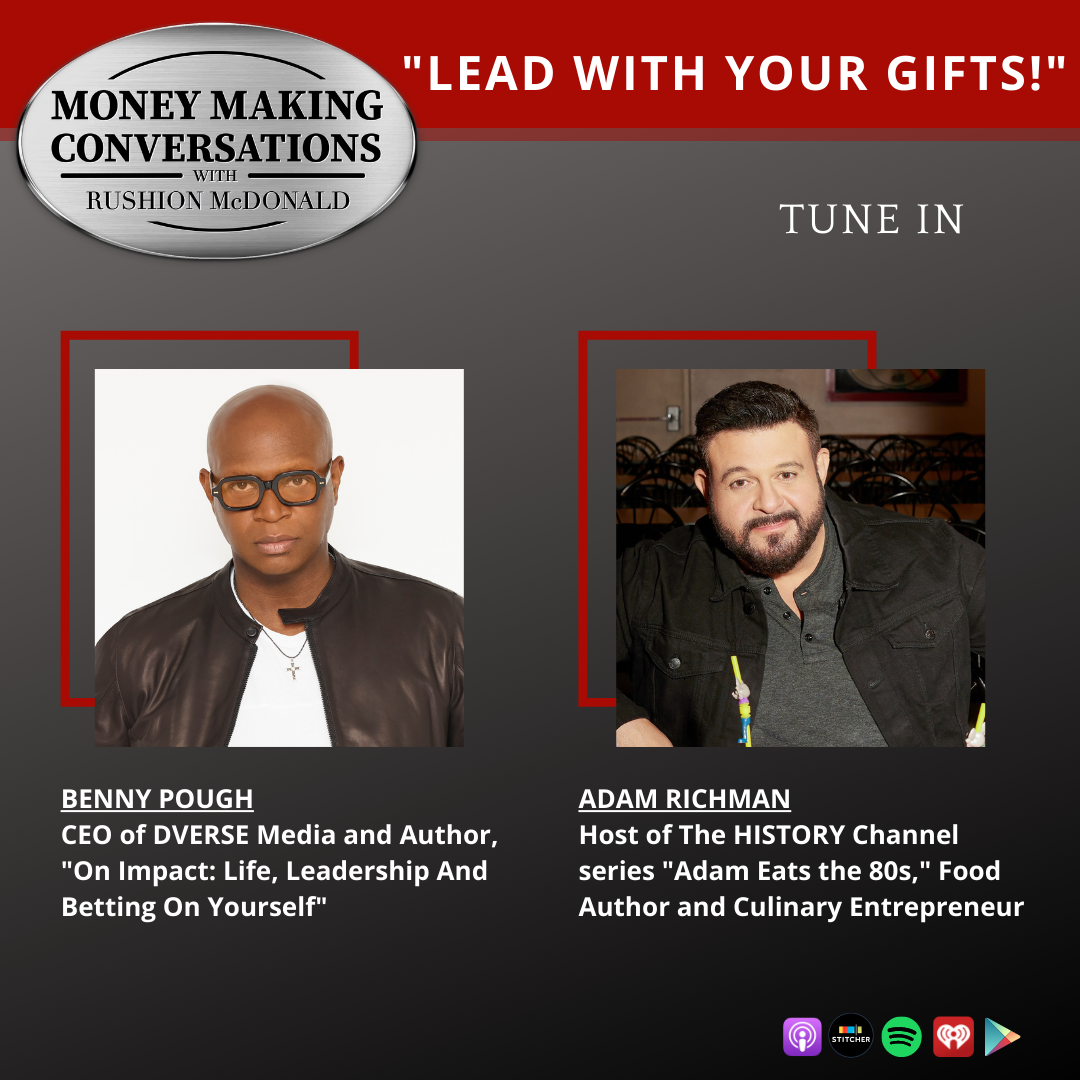 On this episode of Money Making Conversations Master Class we have Adam Richman, host of the History Channel series "Adam Eats The 80s," & "The Food That Built America"; Food Author and Culinary Entrepreneur. We also have Benny Pough. Benny Pough is a former Music Industry executive turned entrepreneur. He has propelled the careers of Jay -Z, Rihanna, Kanye West and more.
Topics covered with Adam Richman:
"Adam Eats the 80s," the idea behind it and the stories of revisiting beloved food.
Season 3 of hosting "The Food That Built America"
Why certain brands have more success over time.
Topics covered with Benny Pough:
Pivoting towards your purpose.
Knowing you value
Real Estate Investing
Music industry 101
DVERSE
More on Adam Richman
Adam Richman, TV personality, culinary traveler, cook and author, was born and raised in Brooklyn, New York. With the diverse culinary mecca of New York City at his fingertips, Adam's love affair with—and intense interest in—food and food culture developed at an early age.
More on Benny Pough
Benny Pough is a respected entertainment industry veteran with decades of experience propelling the careers of some of today's leading superstars includingJay-Z, Rihanna, Kanye West, Travis Scott, Future, DJ Khaled and 21 Savage. Pough hasleft an indelible mark on the music industry holding executive roles at labels MotownDef Jam, Epic Records and MCA Records, culminating in his role as President of RocNation Music before ultimately deciding to pivot to entrepreneurship. Over two yearslater, Pough's multi-tiered entertainment company DVERSE Media is home to recordlabels, distribution platforms, publishing, management and more. This powerhouseentity comes in addition to Al J. Britt Enterprises, Pough's real estate managementcompany that has garnered over 100 doors as part of his portfolio.