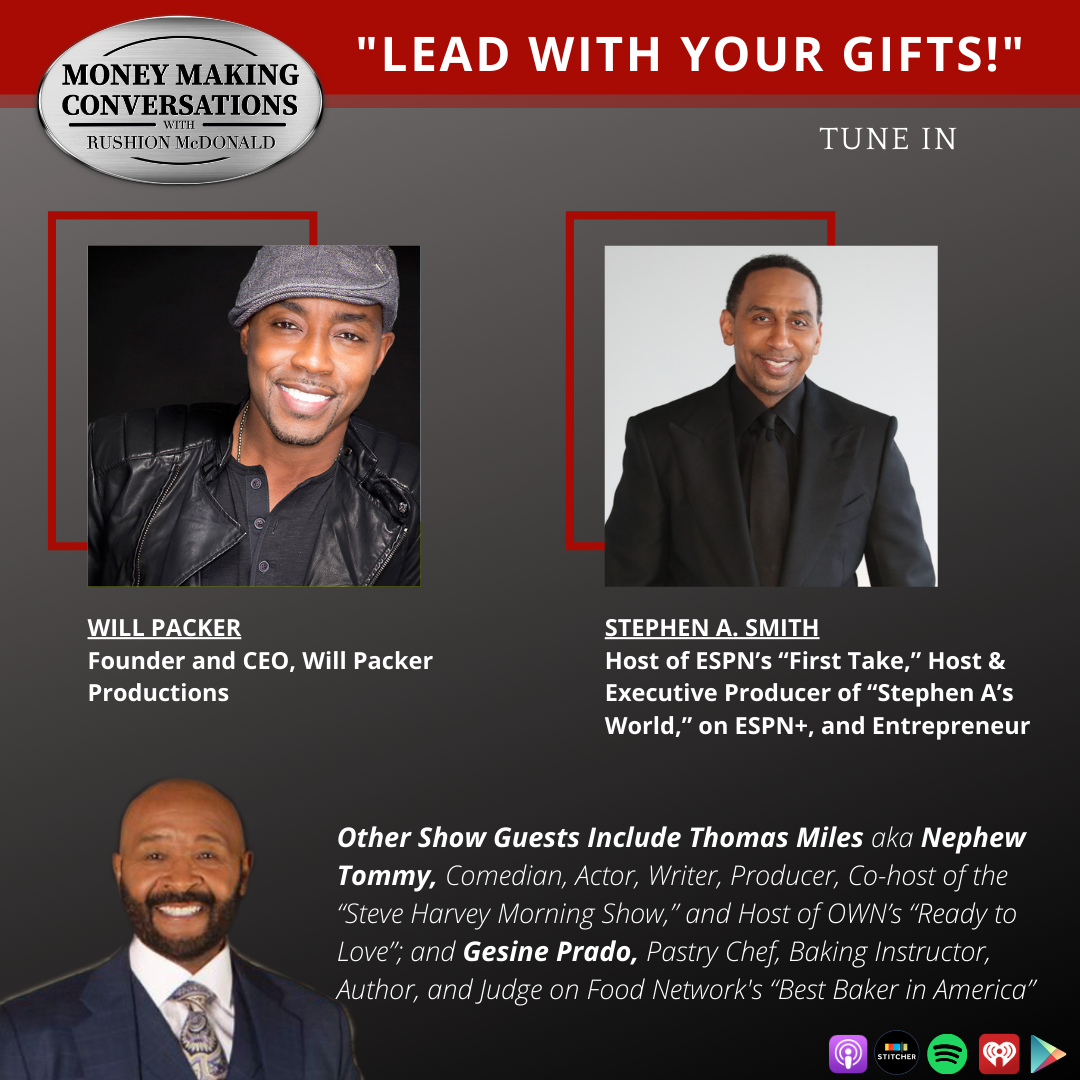 Will Packer, the Hollywood Film and Television Super Producer talks about the importance of HBCUs and how he has produced films that have earned more than $1 billion at the box office, with ten films that have opened number #1 at the box office. We also discuss building his name as a producer.
Stephen A. Smith is the recognized face of ESPN sports. He hosts "First Take," NBA show "SportsCenter with Stephen A. Smith," and is Executive Producer of the hit ESPN+ show Stephen A's World. We discuss what drives his competitiveness and the importance of making a difference with others.
Thomas Miles, aka Nephew Tommy, is the co-host of the Steve Harvey Morning Show, Prank Phone Call King and host of OWN's popular relationship show, "Ready to Love." Talks about why not becoming a track star did not disappoint his father.
Gesine Prado hosts Food Network's hit series "Baked in Vermont." Streaming on Discovery Plus. She is a Pastry Chef, Author, and Entrepreneur, Judge on Food Networks 4th season of "Best Baker in America." Talks about following your dream!
​The Money Making Conversations talk show is about entrepreneurship and entertainment. The interviews give the consumer and business owners access to Celebrities, CEOs, Entrepreneurs, and Industry Decision Makers. They provide relatable information to the listener about career and financial planning, entrepreneurship, motivation, leadership, overcoming the odds, and how to live a balanced life. Listen to Money Making Conversations on Apple Podcasts, iHeartRadio, Stitcher, Spreaker, Spotify, Castbox, and more.
Rushion McDonald is a two-time Emmy Award-winning and three-time NAACP Image Award-winning television and film, producer. He is a sitcom writer, social media influencer, brand architect, entrepreneur, and award-winning baker.​
https://www.moneymakingconversations.com
https://www.youtube.com/MoneyMakingConversations
https://www.facebook.com/MoneyMakingConversations/
https://twitter.com/MoneyMakingConv