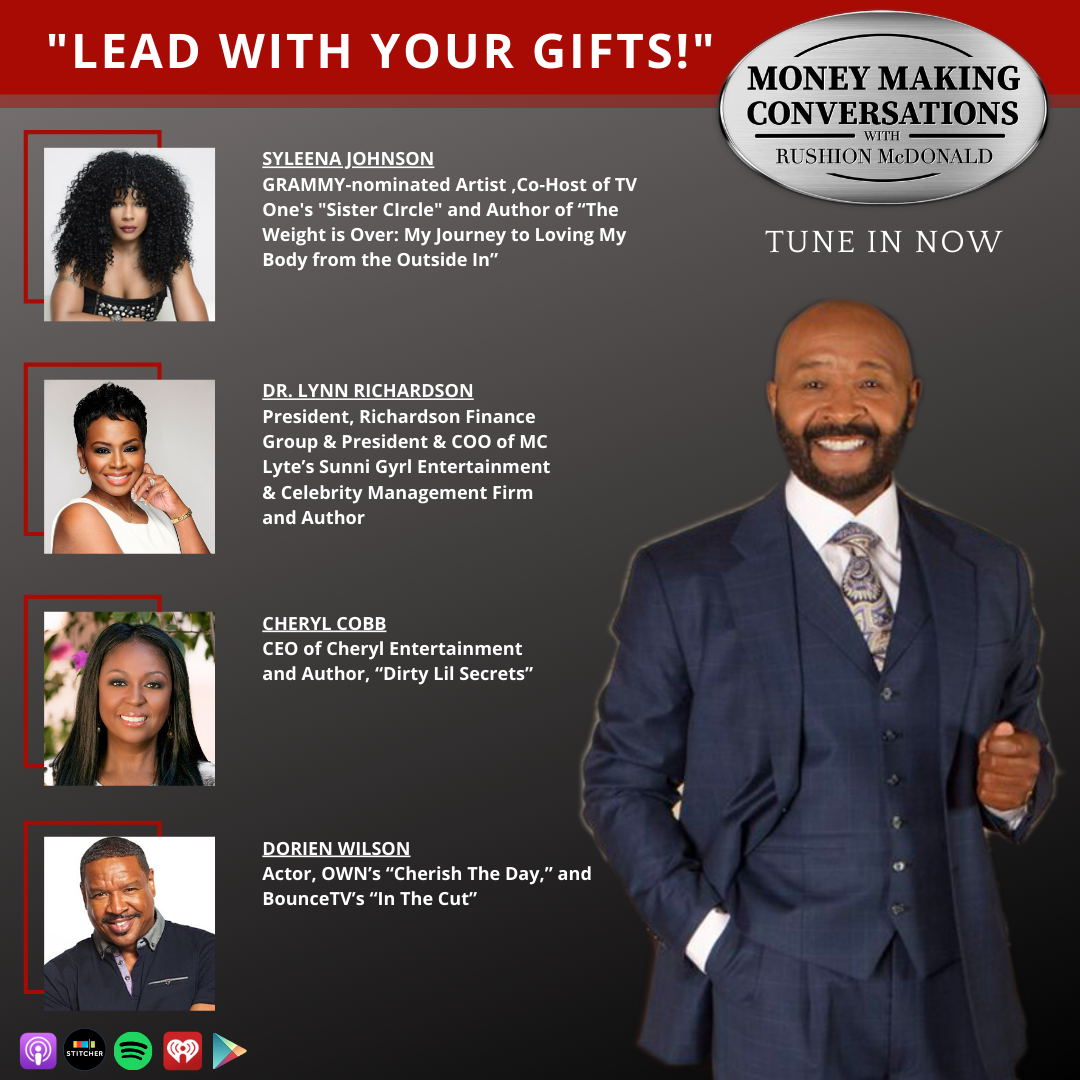 Please welcome Syleena Johnson, GRAMMY-nominated Artist, Co-Host of TV One's "Sister Circle" and Author of "The Weight is Over: My Journey to Loving My Body from the Outside In"; Dr. Lynn Richardson, President, Richardson Finance Group, President & COO of MC Lyte's Sunni Gyrl Entertainment & Celebrity Management Firm and Author; Cheryl Cobb, CEO of Cheryl Entertainment and Author, "Dirty Lil Secrets"; and Dorien Wilson, Actor, OWN's "Cherish The Day," and BounceTV's "In The Cut."
Syleena Johnson is GRAMMY Nominated Artist, Songwriter, Author, Talk Show Host, and Fitness Competitor. The last time she was on the show, we discussed her new book The Weight is Over" Weight is Spelled W-e-i-g-h-t, is a compelling and triumphant journey toward self-love and discovery, as she tells us about her battles with body image that started in adolescence and carried throughout her music career. Well, she is now a fitness competitor, talk show co-host, and she has a new single out entitled 'Woman." Please welcome to Money Making Conversations Syleena Johnson.
Dr. Lynn Richardson was named by Urban Influence Magazine as one of the 20 Hottest Influencers in America, My next guest is an author, entertainment executive and celebrity financial coach who uses her quick wit and humorous presentation style to help others face their money issues and achieve personal, professional and spiritual harmony. The Richardson Finance Group provides a wide range of wealth and tax planning strategies to help you create generational wealth. Please welcome to Money Making Conversations, Dr. Lynn Richardson.
Cheryl Cobb has Hollywood buzzing about her new book 'Dirty Lil Secrets. That nobody wants to tell you about the entertainment industry." She is the woman behind some of music's biggest and beloved artists providing advice and career management to multiple Grammy Award-winning artists including Toni Braxton, Chante Moore, Carrie Underwood, Fantasia, Will Downing, EnVogue, Excape, Da Brat, Sparkle and many more. Please welcome to Money Making Conversations Cheryl Cobb.
Dorien Wilson and my relationship go back to the Steve Harvey sitcom and The Parkers sitcom. He is currently on OWN's "Cherish The Day" and TV One's "Steppin Back to Love." He also has a film that he Executive Produced and starring in on BET networks called "His, Hers, and The Truth." He is also One of the stars of In The Cut, a Bounce network hit original series.
Please welcome back to Money Making Conversations Dorien Wilson.
​The Money Making Conversations talk show is about entrepreneurship and entertainment. The interviews give the consumer and business owners access to Celebrities, CEOs, Entrepreneurs, and Industry Decision Makers. They provide relatable information to the listener about career and financial planning, entrepreneurship, motivation, leadership, overcoming the odds, and how to live a balanced life. Listen to Money Making Conversations on Apple Podcasts, iHeartRadio, Stitcher, Spreaker, Spotify, Castbox, and more.
Rushion McDonald is a two-time Emmy Award-winning and three-time NAACP Image Award-winning television and film, producer. He is a sitcom writer, social media influencer, brand architect, entrepreneur, and award-winning baker.​
https://www.moneymakingconversations.com
https://www.youtube.com/MoneyMakingConversations
https://www.facebook.com/MoneyMakingConversations/
https://twitter.com/MoneyMakingConv