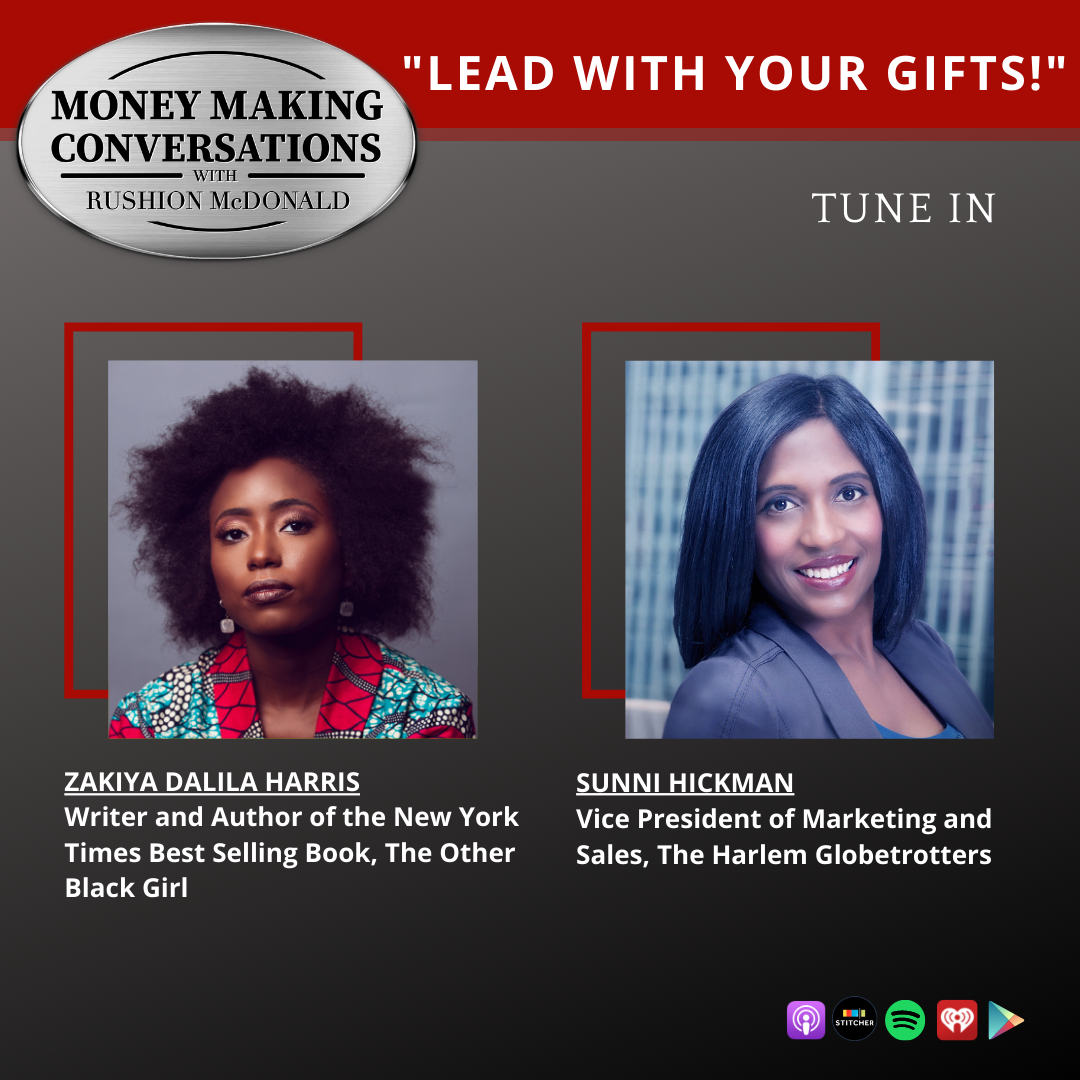 Rushion McDonald talks to Zakiya Dalila Harris, Writer, and Author of the New York Times Best Selling Book, The Other Black Girl. The psychological thriller incorporates social commentary about diversity in the workplace and the challenges Black women often have to navigate. Named a Most Anticipated Book of 2021 by TIME, The Washington Post, Harper's Bazaar, Entertainment Weekly, Bustle, BuzzFeed, Parade, Goodreads, Fortune, and BBC.
Rushion McDonald talks to Sunni Hickman, Vice President of Marketing and Sales, The Harlem Globetrotters. The world-famous Harlem Globetrotters have showcased their iconic talents in 124 countries and territories on six continents since their founding in 1926. Sunni Hickman is the creative powerhouse behind the Harlem Globetrotters 2021 relaunch.
The Money Making Conversations talk show is about entrepreneurship and entertainment. The interviews give the consumer and business owners access to Celebrities, CEOs, Entrepreneurs, and Industry Decision Makers. They provide relatable information to the listener about career and financial planning, entrepreneurship, motivation, leadership, overcoming the odds, and how to live a balanced life. Listen to Money Making Conversations on Apple Podcasts, iHeartRadio, Stitcher, Spreaker, Spotify, Castbox, and more.
Rushion McDonald is a two-time Emmy Award-winning and three-time NAACP Image Award-winning television and film, producer. He is a sitcom writer, social media influencer, brand architect, entrepreneur, and award-winning baker.​
https://www.moneymakingconversations.com
https://www.youtube.com/MoneyMakingConversations
https://www.facebook.com/MoneyMakingConversations/
https://twitter.com/MoneyMakingConv