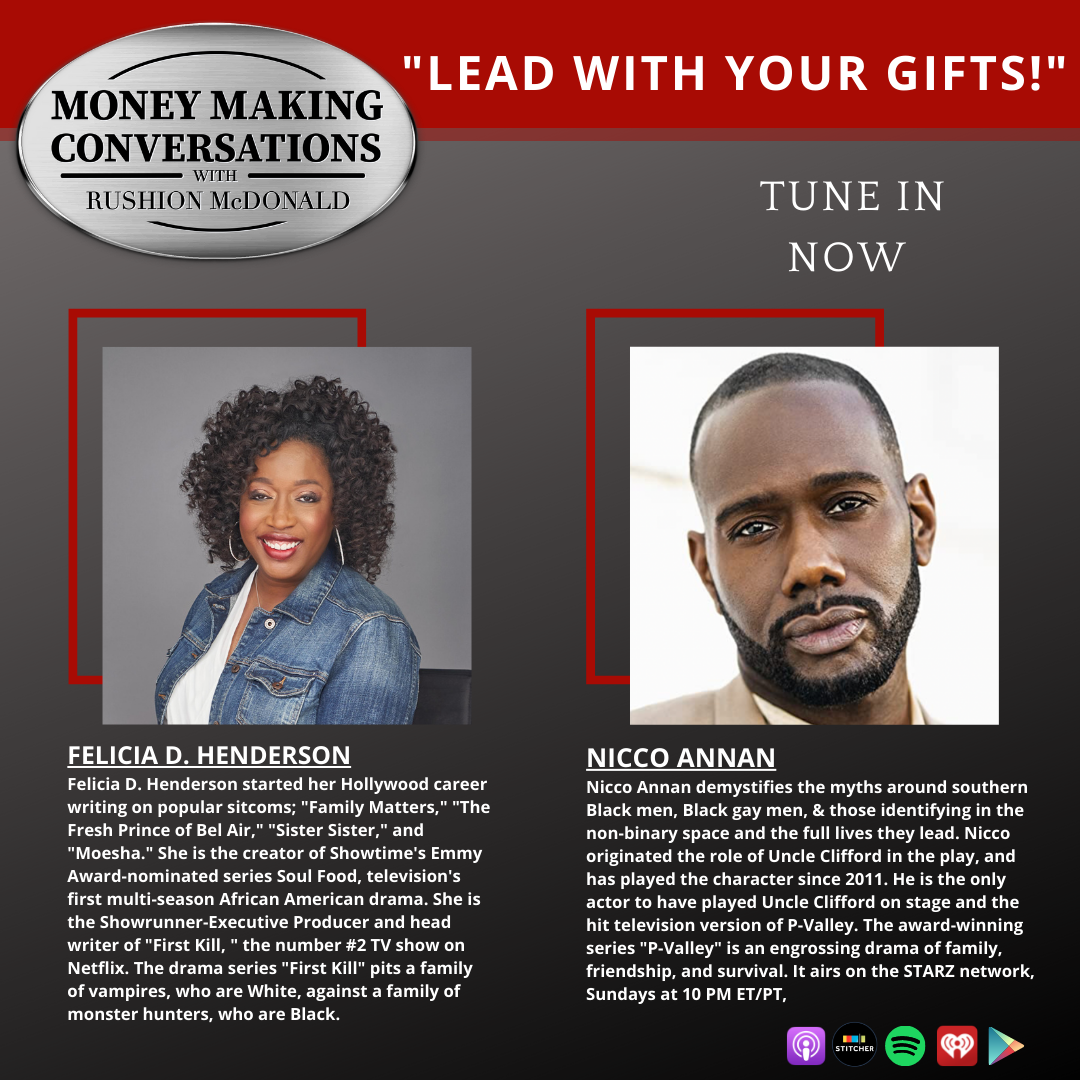 "P-Valley" is the acclaimed Starz original series about the world of professional pole dancing. It follows the lives of the dancers, as well as the club's owner, Uncle Clifford. I spoke with Nicco Annan, who stars as Uncle Clifford, about the new season.
I will also be interviewing Felicia Henderson, the show runner, head writer, and executive producer of the new Netflix show "First Kill", following teenage vampire Juliette and her relationship with a new girl in town named Calliope who is a vampire hunter.
Topics Covered
"P-Valley" tells a universal story of hustlers, dreamers, survivors, and strivers
The series is created, and executive produced by Pulitzer Prize winner Katori Hall
Season two takes audiences deeper into the lives of the Pynk's beloved characters as darkness descends upon Chucalissa.
"P-Valley" was filmed on location in Atlanta, GA, but is set against the Mississippi Delta.
"First Kill" premieres on Netflix
Balancing being Showrunner-Executive Producer and head writer of FIRST KILL
WWII drama AVENGER FIELD for Peacock. The series stars Renée Zellweger as Jackie Cochran.
More on Nicco Annan
Nathaniel Nicco-Annan was born on an Army base in Germany to a black Southern woman born and a West African man from Ghana. Nicco, as he is affectionately known, was raised in Detroit, Michigan. Best described as talented and entertaining, Nicco is an impassioned spirit, who had a love for acting and dance from his earliest years. Ultimately that passion led him from Detroit to New York, where he trained under the iconic Director, Israel Hicks, at SUNY Purchase College Conservatory of Acting, and earned his BFA. Shortly after that, Nicco accepted an opportunity to be a Choreographer in Residence at the Yale School of Drama. Nicco's razor-sharp wit and emotional accessibility have driven a varied career in both Legit and Musical Theatre, as well as in Film and Television. His brand defies all of the traditional limitations. As a gay man he grew up in between the worlds of the "grand fantastical" gay scene and the rigid realities of being a big black man in America and the stigma that both can carry.
More on Felicia Henderson
Writer-Director-Producer Felicia D. Henderson is the creator of Showtime's Emmy Award nominated series SOUL FOOD, television's first multi-season African American drama. Currently, she is the Showrunner-Executive Producer and head writer of FIRST KILL, the new Y.A. genre drama soon premiering on Netflix, which pits a family of vampires against a family of monster hunters. She is also developing the WWII drama AVENGER FIELD for Peacock. The series stars Renée Zellweger as Jackie Cochran, who co-founded the U.S. Army's first women's pilot training program; and at the time of her death, in 1980, was the most accomplished American pilot, male or female, in American history.
Felicia has written and co-executive produced a number of other high-profile shows such as FRINGE, GOSSIP GIRL, Marvel's THE PUNISHER, EMPIRE, and EVERYBODY HATES CHRIS. She also co-created and executive produced THE QUAD, a one-hour drama set on the campus of an HBCU. Her career started with sitcoms such as FAMILY MATTERS, THE FRESH PRINCE OF BEL AIR, SISTER SISTER, and MOESHA.