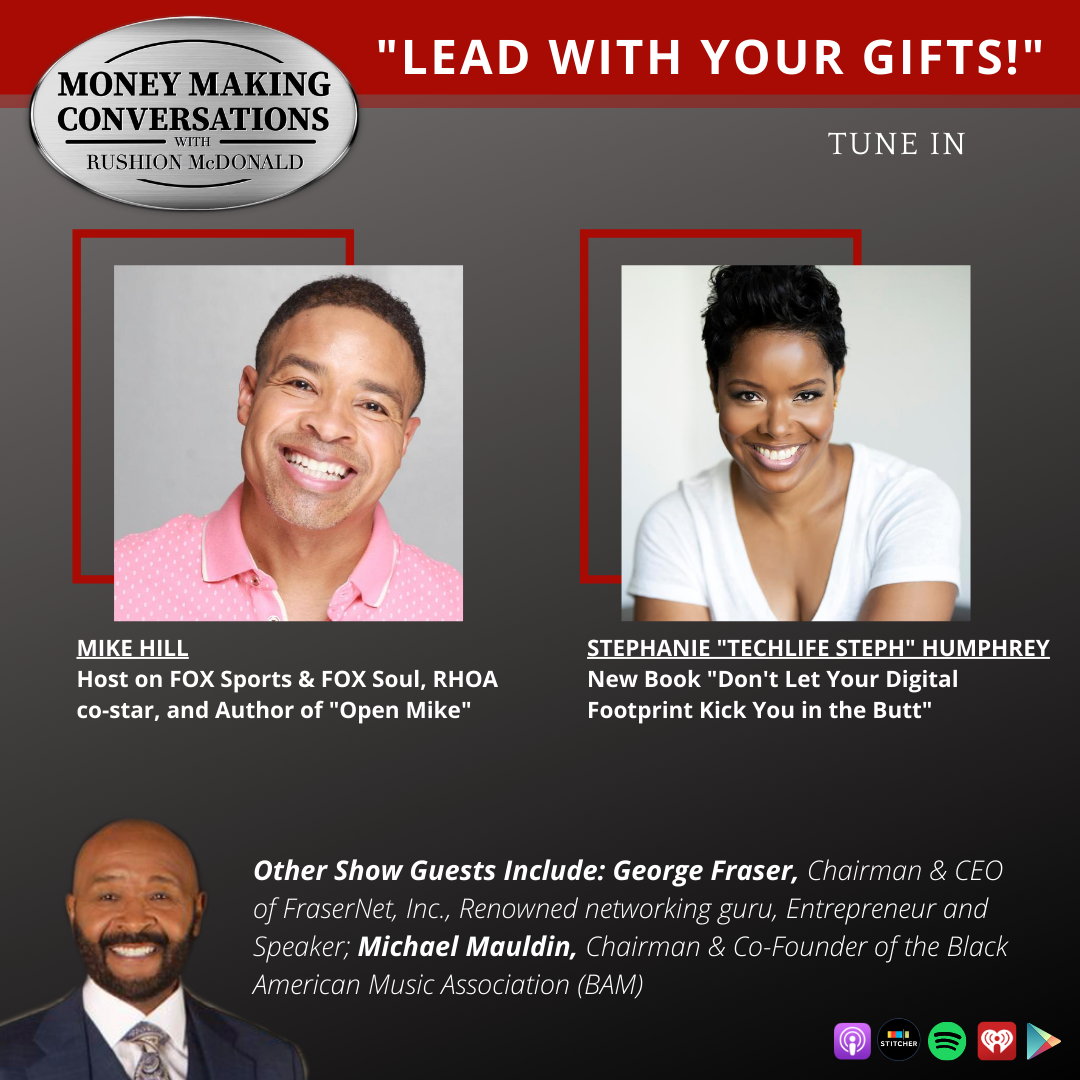 Rushion welcomes Host on FOX Sports & FOX Soul, RHOA co-star, and Author of "Open Mike," Mike Hill; the author of New Book "Don't Let Your Digital Footprint Kick You in the Butt," Stephanie "Techlife" Humphrey; Chairman & CEO of FraserNet, Inc., renowned networking guru, Entrepreneur and Speaker, George Fraser; and Chairman & Co-Founder of the Black American Music Association (BAM), Michael Mauldin.
Mike Hill is on the show today to discuss how he had every reason to take a different path in life, and not let life's circumstances win, but he is successful businessman, he has served in the military, the United Stares Air Force, he is now a 2 time award-winning journalist, popular TV host, Mike will tell us the steps he detailed in his book to become a success in life and how he overcame personal obstacles. Please welcome to Money Making Conversations the infotainer himself Mike Hill.
Stephanie Humphrey is on the show to discuss her new book, "Don't Let Your Digital Footprint Kick You in the Butt. She is on the show to discuss what not to do on the internet to build your brand. We talk a lot about building your brand on this show. The importance of maintaining a positive imprint online and on social media. Please welcome to Money Making Conversations, Stephanie "Steph Tech" Humphrey.
George Fraser will be discussing action plans for success and tips on developing your plans for success that you can use in your personal and business world through networking. 1. Help Black people build wealth that can be transferred inter-generationally. 2. Help Black people become the #1 employer of Black people in the 21st century 3. To facilitate building a global network of Africans throughout the diaspora whose focus is personal and business excellence and using it to build partnerships, joint ventures and strategic alliances. Please welcome to Money Making Conversations George Fraser.
Michael Mauldin guest is the C.E.O. of Mauldin Brand, Inc. and Chairman of the Black American Music Association (B.A.M.). B.A.M. is an organization that protects, preserves, and recognizes authentic Black American Music, its creators, and community from an international perspective, both culturally and financially. He is the person you want to get entertainment career advice from and learn how to navigate the music game. Please welcome to Money Making Conversations Michael Mauldin.
The Money Making Conversations talk show is about entrepreneurship and entertainment. The interviews give the consumer and business owners access to Celebrities, CEOs, Entrepreneurs, and Industry Decision Makers. They provide relatable information to the listener about career and financial planning, entrepreneurship, motivation, leadership, overcoming the odds, and how to live a balanced life. Listen to Money Making Conversations on Apple Podcasts, iHeartRadio, Stitcher, Spreaker, Spotify, Castbox, and more.
Rushion McDonald is a two-time Emmy Award-winning and three-time NAACP Image Award-winning television and film, producer. He is a sitcom writer, social media influencer, brand architect, entrepreneur, and award-winning baker.​
https://www.moneymakingconversations.com
https://www.youtube.com/MoneyMakingConversations
https://www.facebook.com/MoneyMakingConversations/
https://twitter.com/MoneyMakingConv