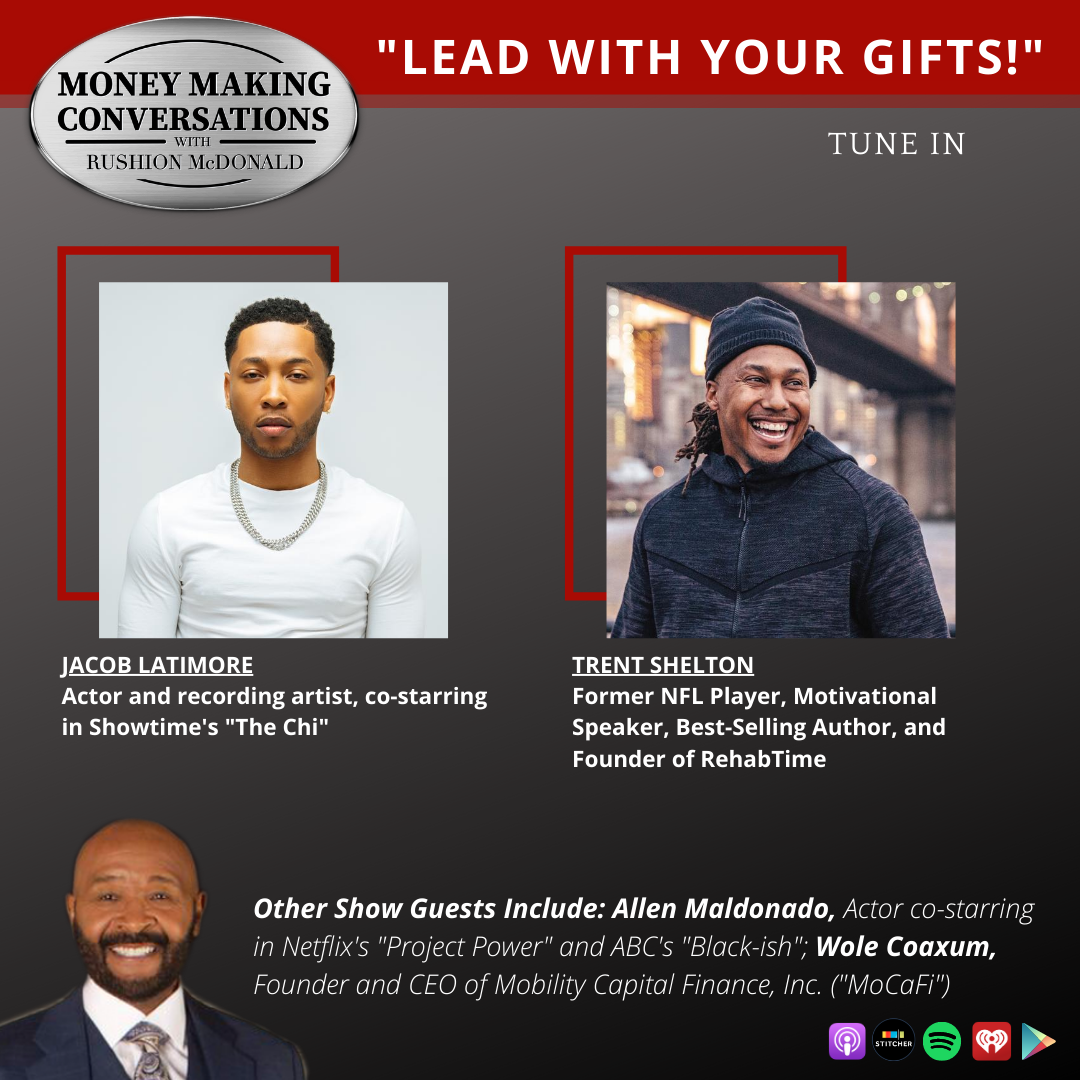 Rushion welcomes Jacob Latimore- Actor and recording artist, co-starring in Showtime's "The Chi"; Trent Shelton-Former N.F.L. Player, Motivational Speaker, Best-Selling Author and Founder of RehabTime; Allen Maldonado- co-starring in Netflix's "Project Power" & A.B.C.'s "Black-ish"; and Wole Coaxum- Founder & C.E.O. of Mobility Capital Finance Inc.-MoCaFi App
Jacob Latimore is one of the true young rising stars in Hollywood, and I am a big fan of his talents. He is an accomplished singer, dancer, and actor. He is on the show to discuss being Black in America, his acting career, and Showtime Network's "The Chi" television series. Please welcome to Money Making Conversations, Jacob Latimore.
Trent Shelton is a motivational speaker, former N.F.L. player, and founder of the nonprofit RehabTime. Trent's helpful book guides young adults to establish healthy relationships, chase after their dreams, and live their best lives. "Straight Up" is imminently honest and practical, helping you take real next steps toward being the best you. Please welcome to Money Making Conversations Mr. Motivator Himself, Trent Shelton.
Allen Maldonado is an incredible character actor and serial entrepreneur.  He will be discussing his serial entrepreneur drive and charity work, but the primary purpose of this interview is to promote PROJECT POWER, co-starring Jamie Foxx, Joseph Gordon-Levitt, and Dominique Fishback on Netflix. Please welcome to Money Making Conversations Allen Maldonado.
Wole Coaxum is the Founder and Chief Executive Officer of Mobility Capital Finance, Inc. Mobility Capital Finance, Inc.  He on the show to discuss his banking app that can help the minority community with their credit scores, direct deposits, provides a debit Mastercard and F.D.I.C. insured. Please welcome to Money Making Conversations Wole Coaxum.
​The Money Making Conversations talk show is about entrepreneurship and entertainment. The interviews give the consumer and business owners access to Celebrities, CEOs, Entrepreneurs, and Industry Decision Makers. They provide relatable information to the listener about career and financial planning, entrepreneurship, motivation, leadership, overcoming the odds, and how to live a balanced life. Listen to Money Making Conversations on Apple Podcasts, iHeartRadio, Stitcher, Spreaker, Spotify, Castbox, and more.
Rushion McDonald is a two-time Emmy Award-winning and three-time NAACP Image Award-winning television and film, producer. He is a sitcom writer, social media influencer, brand architect, entrepreneur, and award-winning baker.​
https://www.moneymakingconversations.com
https://www.youtube.com/MoneyMakingConversations
https://www.facebook.com/MoneyMakingConversations/
https://twitter.com/MoneyMakingConv