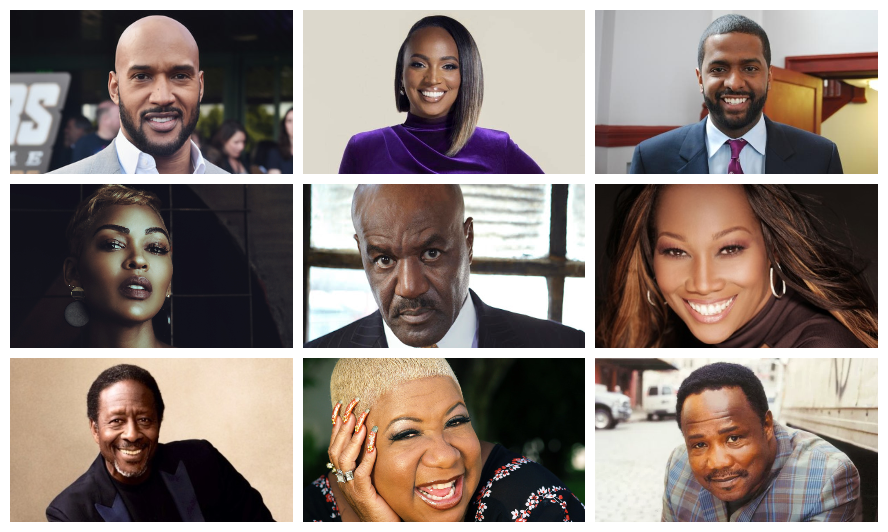 ATLANTA, GA (June 1, 2020) – Two-time EMMY®-winning producer, social media influencer, entrepreneur, and branding guru Rushion McDonald brings together a potent lineup of brilliant insights from actors, entertainers, producers, business moguls and more this month on his popular podcast and syndicated radio talk show "Money Making Conversations." Kicking off June, McDonald and his guests are serving up laughs and summer entertainment featuring highly-anticipated movies and shows, providing inspirational blueprints for maintaining resilience and forging success in tough times, career and entrepreneurial advice, and highlighting African-American music appreciation and historical influence to celebrate Black Music Month. "Money Making Conversations" hosted by Rushion McDonald is available on www.moneymakingconversations.com and across digital platforms, satellite networks and syndicated radio including: Spotify, iHeartRadio podcast, Apple Podcast, YouTube, Spreaker, Stitcher, Alexa, SiriusXM Satellite Radio Channels 141 on Howard University's Campus, and 142 on HBCU Campuses, and multiple stations across the U.S in Michigan, Georgia, Louisiana, California, Iowa, Virginia, Mississippi, Texas, North Carolina and South Carolina, among other states.
Striking a path across multiple industries from Hollywood television and film to music, books, and business enterprise, the guests* featured this June on "Money Making Conversations" include: Meagan Good, Actress ("Think Like A Man" movies; DC Comics' "Shazam!; "Anchorman 2"; "Deception"; "Stomp the Yard"), Author, and Entrepreneur of Good Girl Wraps, a collection of satin hair wraps; Actor Delroy Lindo (Spike Lee's Netflix film "Da 5 Bloods"; "Clockers"; "Crooklyn"; "Malcolm X"; CBS All Access "The Good Fight"); Yolanda Adams, GRAMMY®-winning Gospel legend, Radio Host, and Entrepreneur of Simply Yolanda skincare and YA Handbags; Actor Henry Simmons (ABC's "Marvel's Agents of S.H.I.E.L.D."; "No Good Deed"; "NYPD Blue"); Bakari Sellers, CNN Commentator, Attorney, Author ("My Vanishing Country: A Memoir"), former SC State Representative and 2014 Lieutenant Governor Democratic Nominee; Comedian/Actress Luenell, the original Bad Girl of Comedy (Acclaimed films "Dolemite Is My Name" with Eddie Murphy; Bradley Cooper's "A Star Is Born"; Showtime comedy special "Funny Women of a Certain Age" with Fran Drescher; upcoming "Coming 2 America" sequel); Actress/Comedian/Producer/Author Yvonne Orji (HBO's "Insecure" and her own HBO comedy special "Momma, I Made It!"; "Jesus and Jollof" Podcast Co-Host; upcoming book "Bamboozled by Jesus: How God Tricked Me Into the Life of My Dreams"); Actor Clarke Peters (Spike Lee's Netflix film "Da 5 Bloods"; "Harriet"; "The Wire"; "Treme"; "Person of Interest"); Actor Isiah Whitlock Jr. (Spike Lee's Netflix film "Da 5 Bloods"; "BlacKkKlansman"; "Chi-Raq"; "Veep"; "The Wire"); Dara Resnik, Co-Creator/Co-Showrunner/Executive Producer of Apple TV+ series "Home Before Dark," Producer/Screenwriter (TV series "Marvel's Daredevil"; "Jane the Virgin"; "Castle"); Lia Dias, Star of Bravo's "Married to Medicine Los Angeles" and Entrepreneur/Founder of beauty supply chain The Girl Cave LA; Melissa Butler, Founder and CEO of The Lip Bar, a vegan beauty brand which can be found in Target; Phil Thornton, Award-winning Music Executive, Senior Vice President and General Manager of RCA Inspiration, and Television/Film Producer; Dyana Williams, Veteran Broadcaster, Co-Founder of Black Music Month and music activist, and CEO of Influence Entertainment, a media coaching and artist development firm; Teresa Caldwell, Entrepreneur, Business Mogul, Manager and Mom of Bow Wow, and Author ("I Once Was Her"); Terry Brown, Owner of Armor Bearer Protective Services, providing VIP/executive/celebrity personal protection; and Dr. Tammira Lucas, a Business Professor and Investor, and Jasmine Simms, a Salon Consultant, Beauty and Hospitality Expert, Co-Founders of Moms As Entrepreneurs, a non-profit helping moms start sustainable businesses with entrepreneurial training and financial education.
Rushion McDonald produces "Money Making Conversations" through his multimedia company 3815 Media, where he is the business manager for ESPN's Stephen A. Smith and was the Chief Marketing Officer for the Air National Guard's national account for recruitment and retention in the 50 states, Guam, Puerto Rico, U.S. Virgin Islands and Washington, DC. Delivering entertainment and entrepreneurship each month, McDonald interviews CEOs, celebrities, entrepreneurs, industry experts, authors, and more on "Money Making Conversations" to share their expertise and keys to navigating business and living a balanced life. A multiple EMMY® and NAACP Image Award winner, Rushion McDonald is a television/film producer, sitcom writer, branding architect, award-winning baker, and his successes include producing top television sitcoms and syndicated shows like "Family Feud," "Evidence of Innocence," "The Jamie Foxx Show," "Sister, Sister," "Steve Harvey Talk Show," blockbuster films "Think Like A Man" and "Think Like A Man Too," and executing top-tier special events and tours. McDonald graduated with a Mathematics degree from the University of Houston and was trained in marketing while working at IBM.
*List subject to change
To connect with Rushion McDonald and Money Making Conversations, visit:
www.moneymakingconversations.com
Facebook: @RushionMcDonald, @MoneyMakingConversations
Instagram: @RushionMcDonald, @MoneyMakingConversations
Twitter: @RushionMcDonald, @MoneyMakingConv
YouTube: https://www.youtube.com/MoneyMakingConversations
Contact:                    
W&W Public Relations
Jacinda Chen / Jacinda@w-wpr.com
908-253-6360