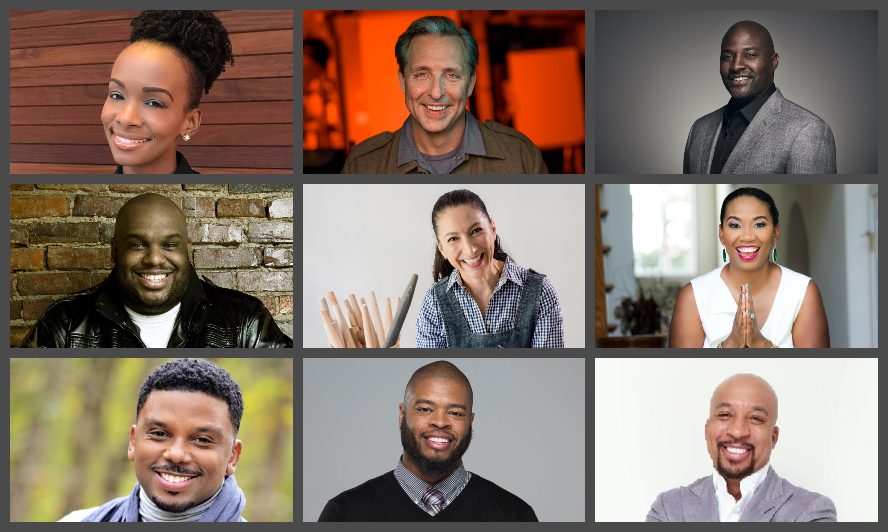 ATLANTA, GA (December 3, 2018) – Multiple EMMY® winning producer, social media influencer and entrepreneur Rushion McDonald, will kick off a December to remember, hosting a powerful month of inspiration this holiday season with talent and experts from film and television, sports, lifestyle, business, life coaching and more, on his hit radio talk show "Money Making Conversations." Providing a hub of entertaining and educational conversations on success, motivation, personal empowerment, and leading a balanced life, Rushion McDonald hosts each "Money Making Conversations" show with his signature mix of leadership knowledge, humor and insight, utilizing his breadth of experience that have made him an award-winning entertainment and branding guru. "Money Making Conversations" is hosted by Rushion McDonald and produced through his multimedia company 3815 Media. "Money Making Conversations" can be heard live every Monday on Atlanta's biz1190-AM from 10AM-Noon ET, with a replay every Friday 10AM-Noon ET, and every Sunday at 3PM ET. "Money Making Conversations" can be heard on SiriusXM Channel 141 on Howard University Campus and SiriusXM Channel 142 on HBCU Campuses. The show can be downloaded on iTunes, iHeartRadio podcast, Google Play, Stitcher, SoundCloud, and seen live on the Money Making Conversations Facebook page.
The guests* expected on "Money Making Conversations" in December include: Marcellus Wiley, NFL veteran, FOX Sports TV host, and author ("Never Shut Up"); Carl Payne, Actor/Director ("Martin," "The Game," new film: Misguided Behavior); Adrienne Bailon-Houghton, Singer, actress, and EMMY® winning TV host of "The Real"; Gesine Bullock-Prado, Chef, Food Network TV host, and cookbook author ("Fantastical Cakes"); Thomas "Nephew Tommy" Miles, Comedian, TV host (OWN, "Ready to Love"), radio co-host of "The Steve Harvey Morning Show," writer/producer; Dave Asprey, CEO & Founder of Bulletproof Nutrition, and best-selling author ("Game Changers"); Actor Clifton Powell (Ray, All Eyez on Me, new film: Misguided Behavior); Wade Smith, NFL veteran, philanthropist/founder of The Wade Smith Foundation, and author; Alex Okafor and Rynae Lindsey, Co-owners of the Napturalista Emoji App; Nina Taylor, Creator/Founder of The Suite Faith, a luxury-discounted travel accommodations provider; Sarita Pittman, Life coach, and President & CEO of Atiras International Coaching Academy; Entrepreneur and financial expert John Matheson, CEO & Co-founder of Commercial Loan Success; and Sitcom Writer and Film Producer Anthony Hill. "Money Making Conversations" will also close out the month of December with a collection of "Best-Of" show replays for the holiday, in the final two weeks of December.
A renowned global dealmaker, branding guru, award-winning hit television and film producer, and former technology corporate executive, Rushion McDonald has executed multi-million dollar deals across various industries, written and produced for Kevin Hart, Taraji P. Henson, Gabrielle Union, Jamie Foxx, and most notably he is the architect of Steve Harvey's multi-media entertainment career. Through his company 3815 Media, Rushion McDonald continues to be a leading voice and expert branding executive through multimedia and social platforms including "Money Making Conversations," "Rushion's Baker Spotlight," and other avenues.
*List subject to change
To connect with Rushion McDonald, please visit:
Facebook, Twitter, Instagram: @RushionMcDonald
Contact:                    
W&W Public Relations
Jacinda Chen / Jacinda@w-wpr.com
908-253-6360