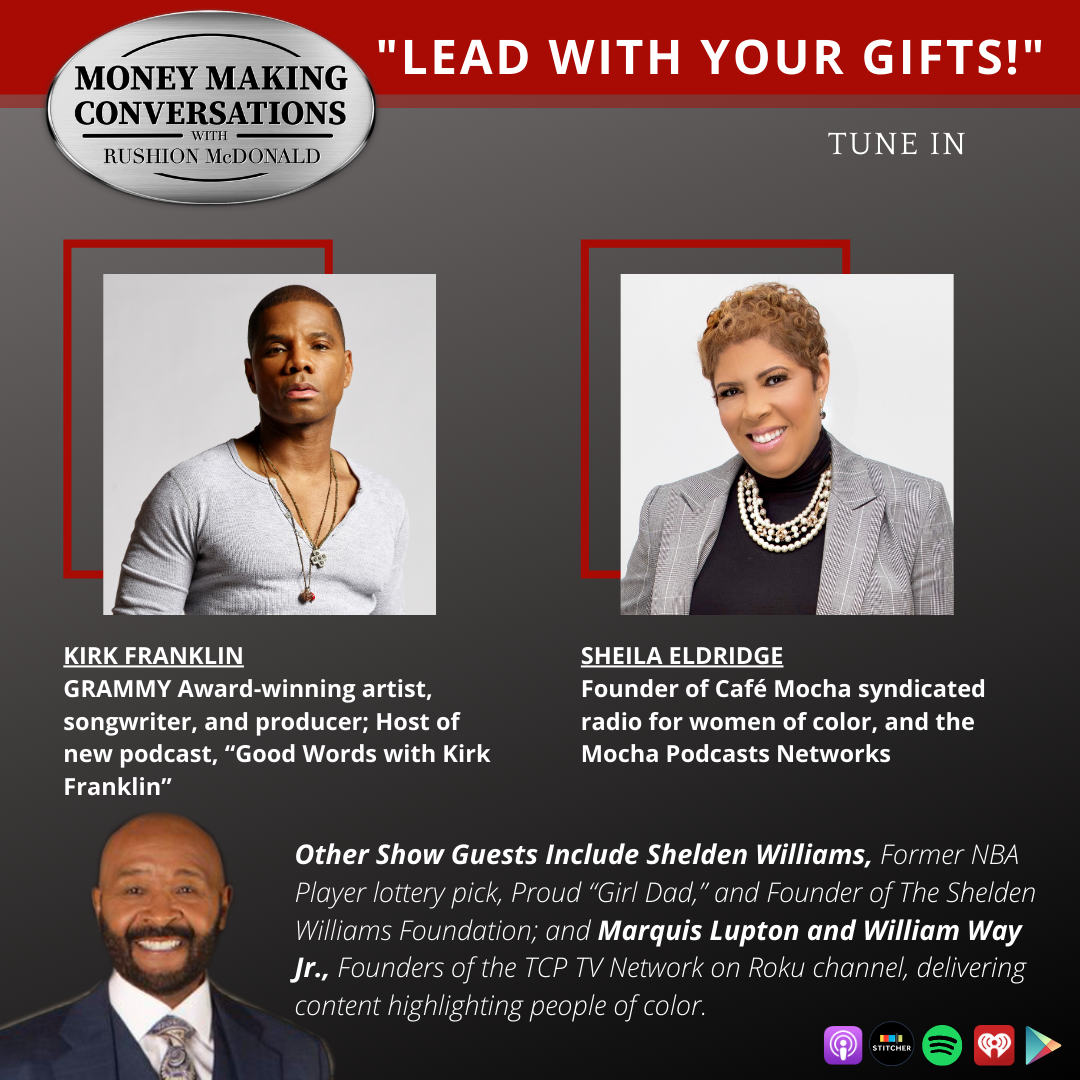 My next guest is Kirk Franklin. He is a 16-time GRAMMY-winning artist, songwriter, and producer. His latest album is the acclaimed LONG LIVE LOVE, his 13th studio album; he released a new single and video from the album, "Strong God," this past summer. He is on the show to discuss his new podcast, "Good Words with Kirk Franklin." A new podcast series that welcomes people from every cross-section of life who seek inspiration and empowerment. Lock this date in February 9th in conjunction with Sony Music Entertainment. Please welcome to Money Making Conversations Kirk Franklin.
My next guest is Sheila Eldridge. She is the CEO of Miles Ahead Entertainment & Broadcasting and Founder of the Mocha Podcasts Network. She is an HBCU graduate of Howard University's prestigious school of communications. Her Miles Ahead Entertainment & Broadcasting (MAEB) is a certified multicultural marketing and public relations firm that provides consumer lifestyle marketing, event management, sponsor engagement as well as integrated broadcast media campaigns for clients like Ford, Boost Mobile, Toyota America, National Museum of African American History and Culture, AARP, Essence Communications. She syndicates the highly successful Café Mocha Radio show, the CafeMocha2go digital show, and the streaming Salute THEM Awards series. Please welcome to Money Making Conversations Sheila Eldridge.
My next guest is Sheldon Williams. The former NBA lottery pick and Duke University Hall of Fame player discuss his career from Oklahoma City to the NBA, life after basketball, and what inspires him to give back. The Shelden Williams Foundation is dedicated to empowering student-athletes and their families by delivering and supporting initiatives that promote emotional and physical health through sports, education, and community involvement. Please welcome to Money Making Conversations, Sheldon Williams.
My next two guests are Marquis Lupton and William Way Jr. They are two of the founders of TCP Network, TCP stands for The Cultured Professional Network. They recently took their business up another notch this new year, bringing their content on Roku, launching their Roku channel TCP TV. TCP TV aims to give people of color and other disenfranchised groups a voice and platform and supports its community through broadcasted content, community service events, and media literacy camps for kids. Please welcome to Money Making Conversations, Marquis Lupton, and William Way Jr.
The Money Making Conversations talk show is about entrepreneurship and entertainment. The interviews give the consumer and business owners access to Celebrities, CEOs, Entrepreneurs, and Industry Decision Makers. They provide relatable information to the listener about career and financial planning, entrepreneurship, motivation, leadership, overcoming the odds, and how to live a balanced life. Listen to Money Making Conversations on Apple Podcasts, iHeartRadio, Stitcher, Spreaker, Spotify, Castbox, and more.
Rushion McDonald is a two-time Emmy Award-winning and three-time NAACP Image Award-winning television and film, producer. He is a sitcom writer, social media influencer, brand architect, entrepreneur, and award-winning baker.​
https://www.moneymakingconversations.com
https://www.youtube.com/MoneyMakingConversations
https://www.facebook.com/MoneyMakingConversations/
https://twitter.com/MoneyMakingConv