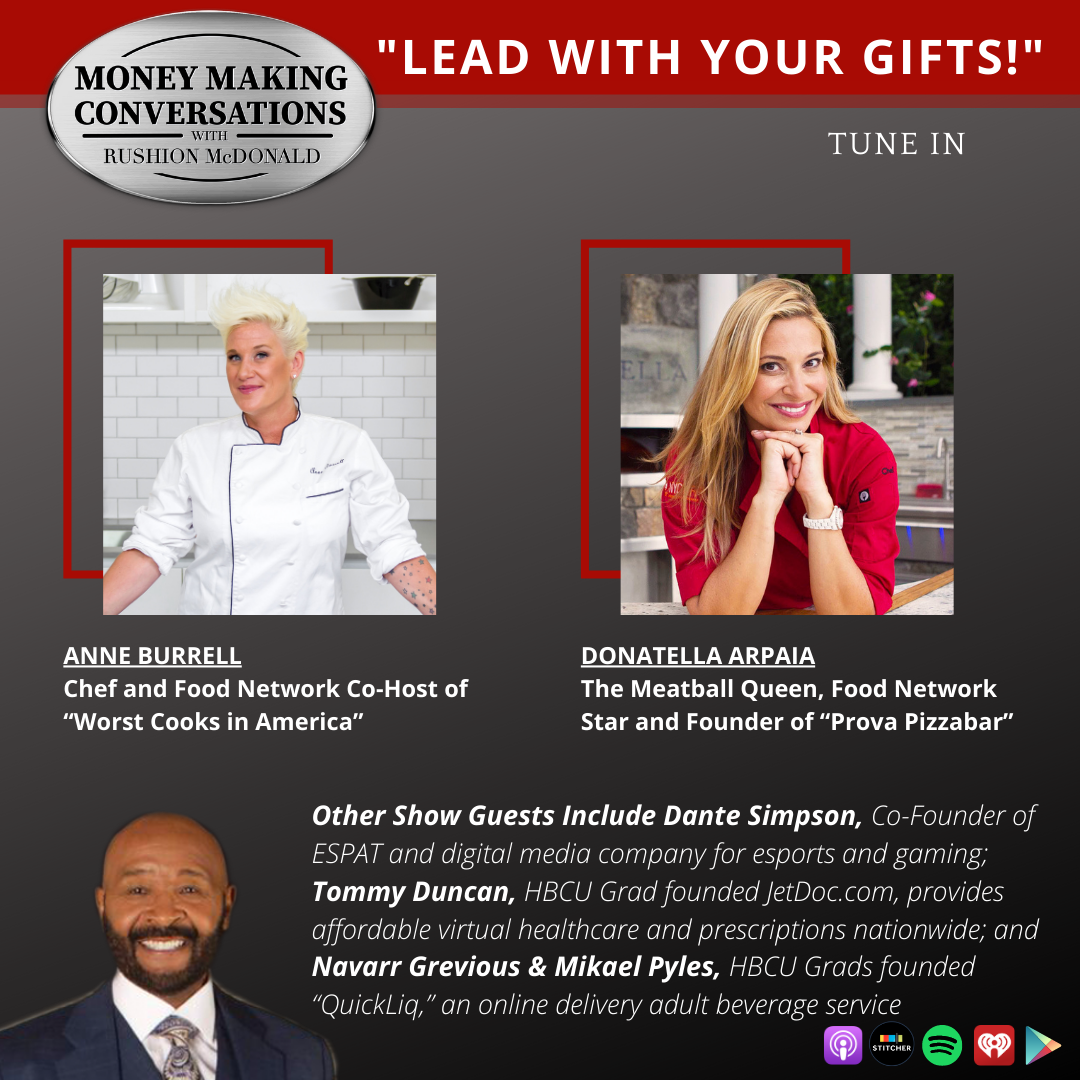 My next guest is Anne Burrell. She co-hosts the Food Network's "Worst Cooks in America." She has the trademarked spiky blonde hair and a sparkling personality. Anne Burrell is the hugely popular and fan-favorite host of Worst Cooks in America, Worst Cooks in America: Celebrity Edition. She is on the show to talk about the new season of WORST COOKS IN AMERICA airs on Food Network every Sunday at AT 9 PM ET/PT. Chef Carla Hall faces off against Chef Anne Burrell to see who can transform their team of kitchen disasters into culinary masters. Please welcome to Money Making Conversations Anne Burrell.
My next guest is Donatella Arpaia. She is The Meatball Queen, Food Network Star, and Founder of "Prova Pizzabar." After a very brief career as an attorney, she decided to follow her passion and opened her first restaurant at 26. She is a Celebrity Chef, TV personality, restaurateur, and cookbook author. You have seen that smiling face on the Food Network, Next Iron Chef, and the Today Show. Today is National Meatball Day. I know because I posted her Mama's Meatball and Ragu recipe on my Facebook page, and my followers loved it. She is on the show to talk about National Meatball Day, her restaurant, her career, and living a balanced life. Please welcome back to Money Making Conversations Donatella Arpaia.
My next guest is Dante Simpson. He is the co-Founder of ESPAT and a digital media company for esports and gaming. ESPAT TV is a collaborative, made up of the world's most recognizable production studios, led by Ridley Scott Creative Group and PRG. He has overseen the rapid growth and expansion of the organization and provided consultation to companies globally. His work spans global gaming interests, branded entities, high-profile influencers – both on content/technical production and campaign matters. Please welcome to Money Making Conversations Dante Simpsons.
My next guest is Tommy Duncan- He is an HBCU Grad and founded JetDoc.com, which provides affordable virtual healthcare and prescriptions nationwide. He started his first healthcare company at 26 years of age. Then he sold it. Then he began Trusted Health Plan, a Medicaid managed care company that insured 50K people between DC & Detroit. Then he sold that in January of 2020 to Blue Cross Blue Shield. A week later, h started JetDoc. JetDoc is a telehealth platform providing quick virtual urgent care visits plus access to up to 85% of prescriptions at pharmacies across the country for either $20 per visit or $10 per month. Please welcome to Money Making Conversations, Tommy Duncan.
The Money Making Conversations talk show is about entrepreneurship and entertainment. The interviews give the consumer and business owners access to Celebrities, CEOs, Entrepreneurs, and Industry Decision Makers. They provide relatable information to the listener about career and financial planning, entrepreneurship, motivation, leadership, overcoming the odds, and how to live a balanced life. Listen to Money Making Conversations on Apple Podcasts, iHeartRadio, Stitcher, Spreaker, Spotify, Castbox, and more.
Rushion McDonald is a two-time Emmy Award-winning and three-time NAACP Image Award-winning television and film, producer. He is a sitcom writer, social media influencer, brand architect, entrepreneur, and award-winning baker.​
https://www.moneymakingconversations.com
https://www.youtube.com/MoneyMakingConversations
https://www.facebook.com/MoneyMakingConversations/
https://twitter.com/MoneyMakingConv