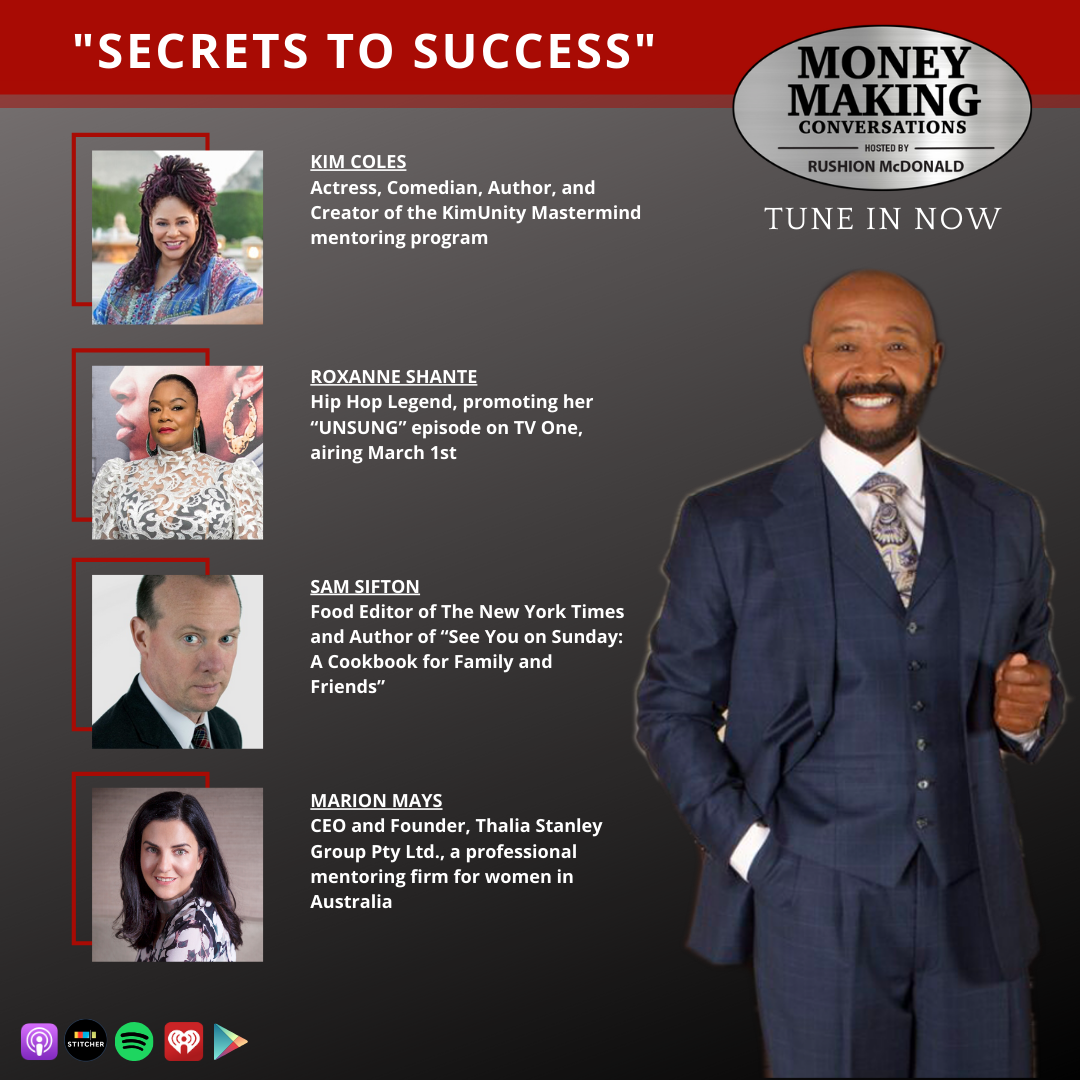 Please welcome is Kim Coles, Actress, Comedian, Author, and Creator of the KimUnity Mastermind mentoring program; Roxanne Shante, Hip Hop Legend, promoting her "UNSUNG" episode on TV One; Sam Sifton, Food Editor of The New York Times and Author of "See You on Sunday: A Cookbook for Family and Friends"; and Marion Mays, CEO and Founder, Thalia Stanley Group Pty Ltd., a professional mentoring firm for women in Australia.
Kim Coles is a best selling author of four books and she travels the globe sharing love and laughter. She is an Actress, Comedian, Speaker and motivational Coach who showbiz career has spanned over 35 years, including starring "Living Single." She teaches audiences to empower, educate and entertain so they can "Broadcast Their Brilliance" in order to draw a bigger impact and more income with KimUnity Mastermind. Please welcome to Money Making Conversations Kim Coles.
Roxanne Shante is featured in the five-time NAACP Image Award-winning series UNSUNG. UNSUNG delves into the lives of trailblazing musical legends whose full stories and journeys have yet to be explored. The series celebrates the lives and careers of artists or groups who, despite great talent, have been under-appreciated or under-recognized. Through first-hand accounts, interviews with family and friends, and archival footage, each episode weaves a tale of the highs and lows of a life in the limelight. She is Hip Hop's First Female Rap Legend, and a Radio who will be discussing her "UNSUNG" episode. Please welcome to Money Making Conversations, Roxanne Shante.
Sam Sifton is the food editor of The New York Times, a columnist for The New York Times Magazine, and the founding editor of NYT Cooking, an award-winning digital cookbook and cooking school. He is also the author of Thanksgiving: How to Cook It Well. He is on the show to talk about his newest cookbook "See You on Sunday: A Cookbook for Family and Friends." Available now from Random House. Please welcome to Money Making Conversations, Sam Sifton.
Marion Mays is calling us from Australia. She recently was featured in the Herald Sun, The Sydney Morning Herald, Domain Property, The Property Investor Magazine, Smart Investor, The Australian newspaper, Money Magazine and many other publications.
She is an official advocate for White Ribbon, in this role she speaks to Men nationally to champion change for the prevention of violence against women and children. Her overall mission is to bring financial literacy to every woman in Australia, in the hope that they will step into our birth right of abundance and economic empowerment. Please welcome to Money Making Conversations from Australia, Marion Mays.
The Money Making Conversations talk show is about entrepreneurship and entertainment. The interviews give the consumer and business owners access to Celebrities, CEOs, Entrepreneurs, and Industry Decision Makers. They provide relatable information to the listener about career and financial planning, entrepreneurship, motivation, leadership, overcoming the odds, and how to live a balanced life. Listen to Money Making Conversations on Apple Podcasts, iHeartRadio, Stitcher, Spreaker, Spotify, Castbox, and more.
Rushion McDonald is a two-time Emmy Award-winning and three-time NAACP Image Award-winning television and film, producer. He is a sitcom writer, social media influencer, brand architect, entrepreneur, and award-winning baker.​
https://www.moneymakingconversations.com
https://www.youtube.com/MoneyMakingConversations
https://www.facebook.com/MoneyMakingConversations/
https://twitter.com/moneymakingconv