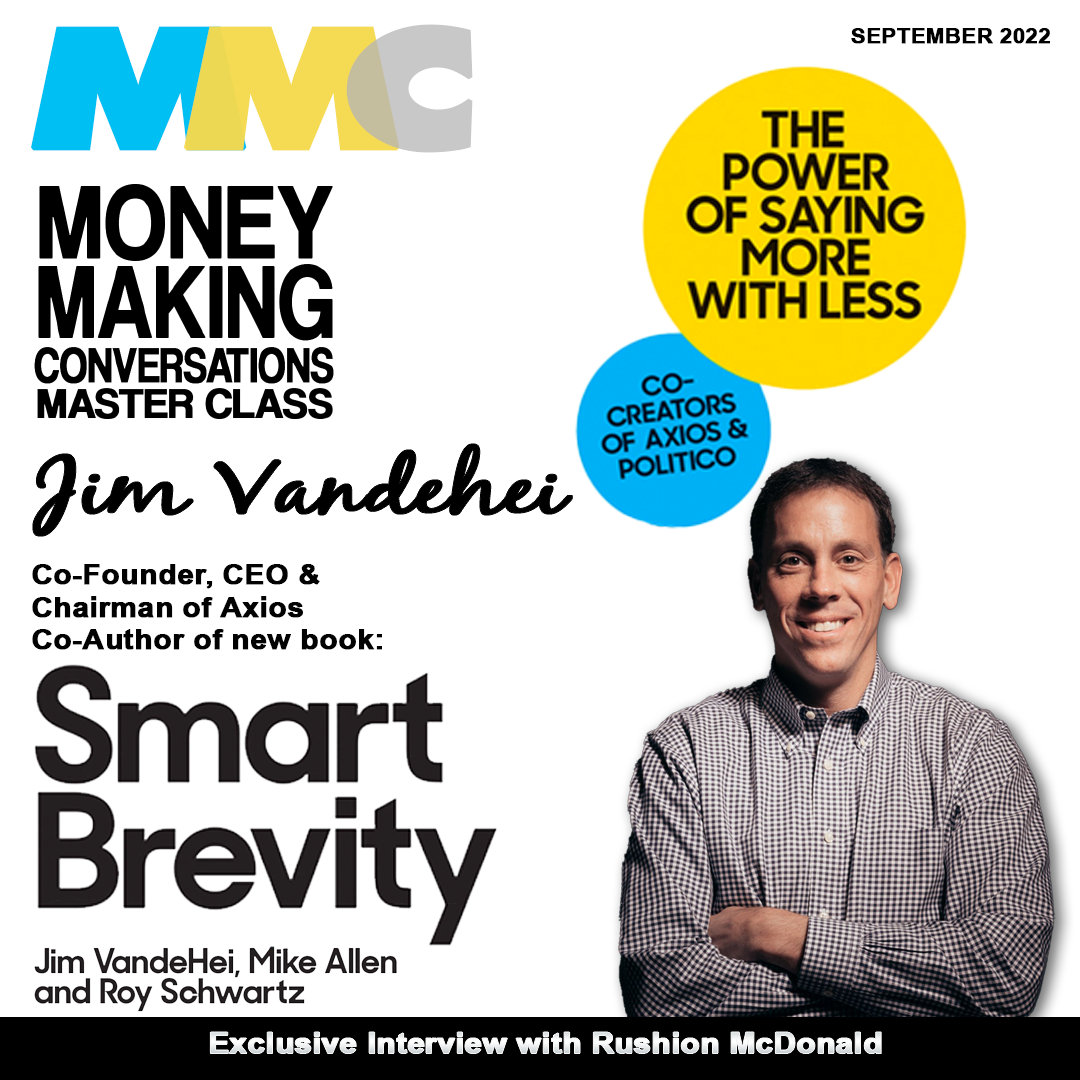 Jim VandeHei, Co-Founder and CEO of celebrated media company Axios, is out with a new book "Smart Brevity: The Power of Saying More with Less," co-authored with his Axios co-founders Mike Allen and Roy Schwartz. Sharing the ingredients for success and their decades of experience in media, business, and communications, this book provides a guide for readers to communicate more effectively and efficiently in the digital age with the concept of "Smart Brevity."
Topics Covered
Jim VandeHei is the cofounder, CEO and chairman of Axios.
Incorporate Smart Brevity into both written, verbal and visual communications. Learn why Smart Brevity is so powerful to get your message across.
Grab your audience's attention immediately
Determine what information is most relevant for an audience
Use Smart Brevity to enhance professional and personal relationships. Book provides real-life examples, and how-tos of this methodology, so you can use Smart Brevity in presentations, your writing, even meetings.
More About the Jim VandeHei
JIM VANDEHEI is the cofounder, CEO and chairman of Axios, a media company focused on breaking news and invaluable insights across business, politics, technology and the world. Axios helps readers and viewers get smarter, faster across the consequential topics reshaping our country and lives. As CEO, VandeHei has steered Axios into becoming one of the most celebrated digital media success stories of the past decade. VandeHei is also an executive producer of the Emmy Award–winning docu-news series, Axios on HBO. Before Axios, VandeHei cofounded and was CEO of Politico, the media company that upended and revolutionized political and policy journalism in Washington DC, New York, and Europe. Overseeing both the editorial and business teams, VandeHei was the leading strategist behind its highly scalable and successful business model. Prior to this, VandeHei spent more than a decade as a reporter, covering the presidency and Congress for The Wall Street Journal and The Washington Post. He was named national Editor of the Year in 2016. VandeHei is from Oshkosh, Wisconsin. He has a bachelor's degree from the University of Wisconsin-Oshkosh.