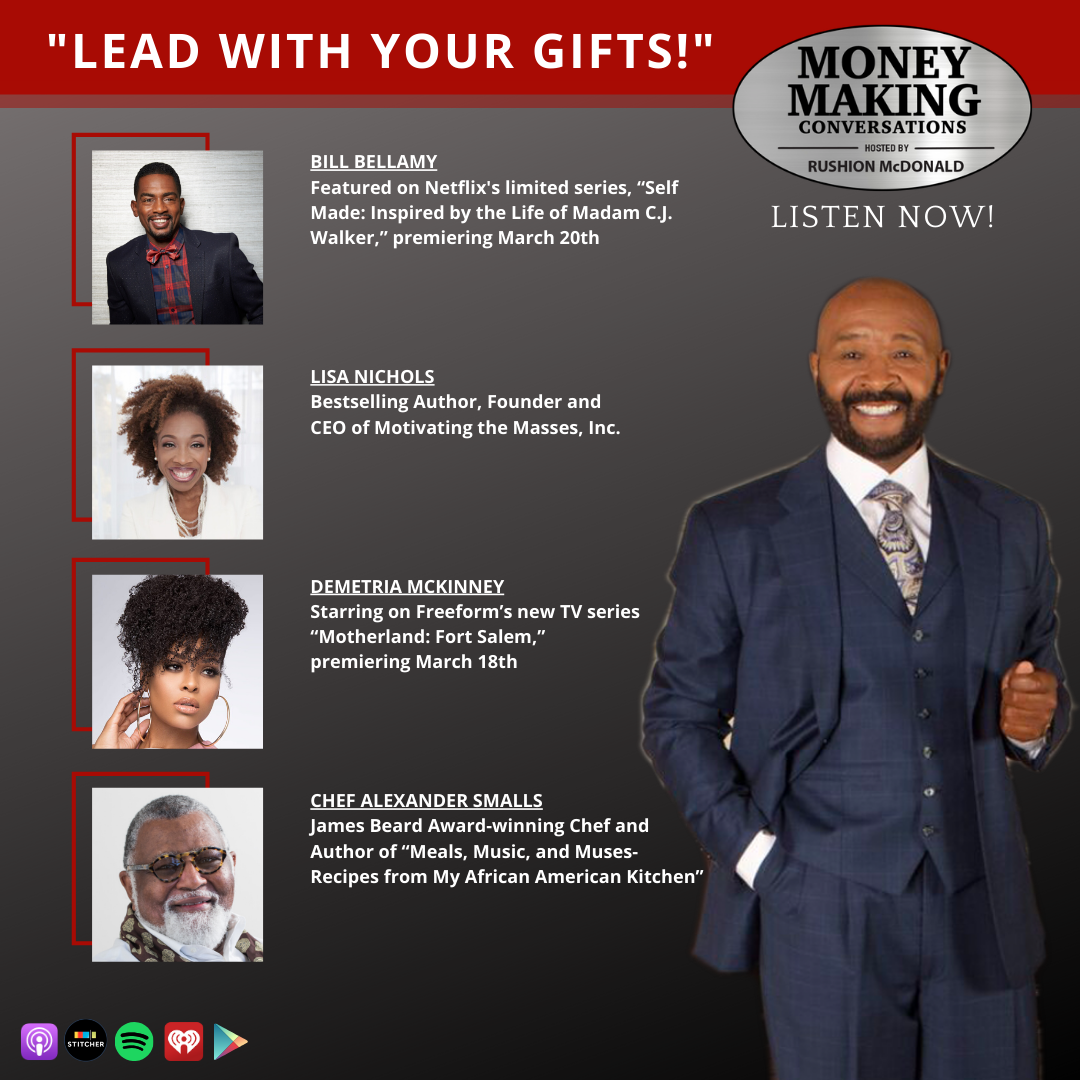 Please welcome Bill Bellamy, Comedian, Actor, Featured on Netflix's limited series, "Self Made: Inspired by the Life of Madam C.J. Walker"; Lisa Nichols, Bestselling Author, Founder and CEO of Motivating the Masses, Inc.; Demetria McKinney, Actress, Singer, Starring on Freeform's new TV series "Motherland: Fort Salem,"; and Chef Alexander Smalls, James Beard Award-winning Chef, Restaurateur, Grammy & Tony Award-winning Singer, Author of new cookbook "Meals, Music, and Muses-Recipes from My African American Kitchen."
Bill Bellamy was born in Newark, New Jersey. His cousin is Hall of Fame basketball player Shaquille O'Neal. While attending college he majored in economics at Rutgers University. He has built one of the most diverse acting resumes in Hollywood, Stand-Up Comedy Specials, Access Hollywood, Racheal Ray, HBO's INSECURE, Game Show Host, Films like Any Given Sunday and Love Jones which is still my favorite movie that he has starred in. He is on the show to promote his new Netflix limited series "Self Made The Madam CJ Walker Story", which premieres March 20th. It stars Academy Award Winner Octavia Spencer, Blair Underwood and Tiffany Haddish. Please welcome to Money Making Conversations the other star of "Self Made The Madam CJ Walker Story, "Bill Bellamy.
Lisa Nichols is one of the world's most-requested motivational speakers. She is a Bestselling Author, Coach, Founder and CEO of Motivating the Masses, Inc. From a struggling single mom on public assistance to a millionaire entrepreneur, her global platform has reached nearly 80 million people. Please welcome to Money Making Conversations Lisa Nichols
Demetria McKinney entertainment career has encompassed singing, stage, television, and film. You seen her acting work in Bounce TV's "Saints & Sinners" and UMC's "A House Divided" Tyler Perry's "House of Payne. Now she is also starring on an exciting Freeform's new TV series "Motherland: Fort Salem" which premieres March 18. Please welcome to Money Making Conversations. Demetria McKinney.
Chef Alexander Smalls grew up in South Carolina's Low Country. He is a world-renowned opera singer and the winner of both a Grammy Award and a Tony Award for the cast recording of Porgy and Bess, by George Gershwin, with the Houston Grand Opera. He is also a
James Beard Award-winning Chef and Restaurateur. You have seen him as a judge on Top Chef, appeared on The Food Network on such shows as "Recipe for Success" and "Throwdown!" with Bobby Flay, and NBC's "The Today Show." He has a new cook book out "Meals, Music, And Muses: Recipes From My African American Kitchen By James Beard Award-Winning Chef & Restaurateur Alexander Smalls with Veronica Chambers" Now Veronica Chambers was the recipient of the prestigious James Beard Award as a writer for Best American Cookbook. Now without further ado please welcome to Money Making Conversations Alexander Smalls.
The Money Making Conversations talk show is about entrepreneurship and entertainment. The interviews give the consumer and business owners access to Celebrities, CEOs, Entrepreneurs, and Industry Decision Makers. They provide relatable information to the listener about career and financial planning, entrepreneurship, motivation, leadership, overcoming the odds, and how to live a balanced life. Listen to Money Making Conversations on Apple Podcasts, iHeartRadio, Stitcher, Spreaker, Spotify, Castbox, and more.
Rushion McDonald is a two-time Emmy Award-winning and three-time NAACP Image Award-winning television and film, producer. He is a sitcom writer, social media influencer, brand architect, entrepreneur, and award-winning baker.​
https://www.moneymakingconversations.com
https://www.youtube.com/MoneyMakingConversations
https://www.facebook.com/MoneyMakingConversations/
https://twitter.com/moneymakingconv