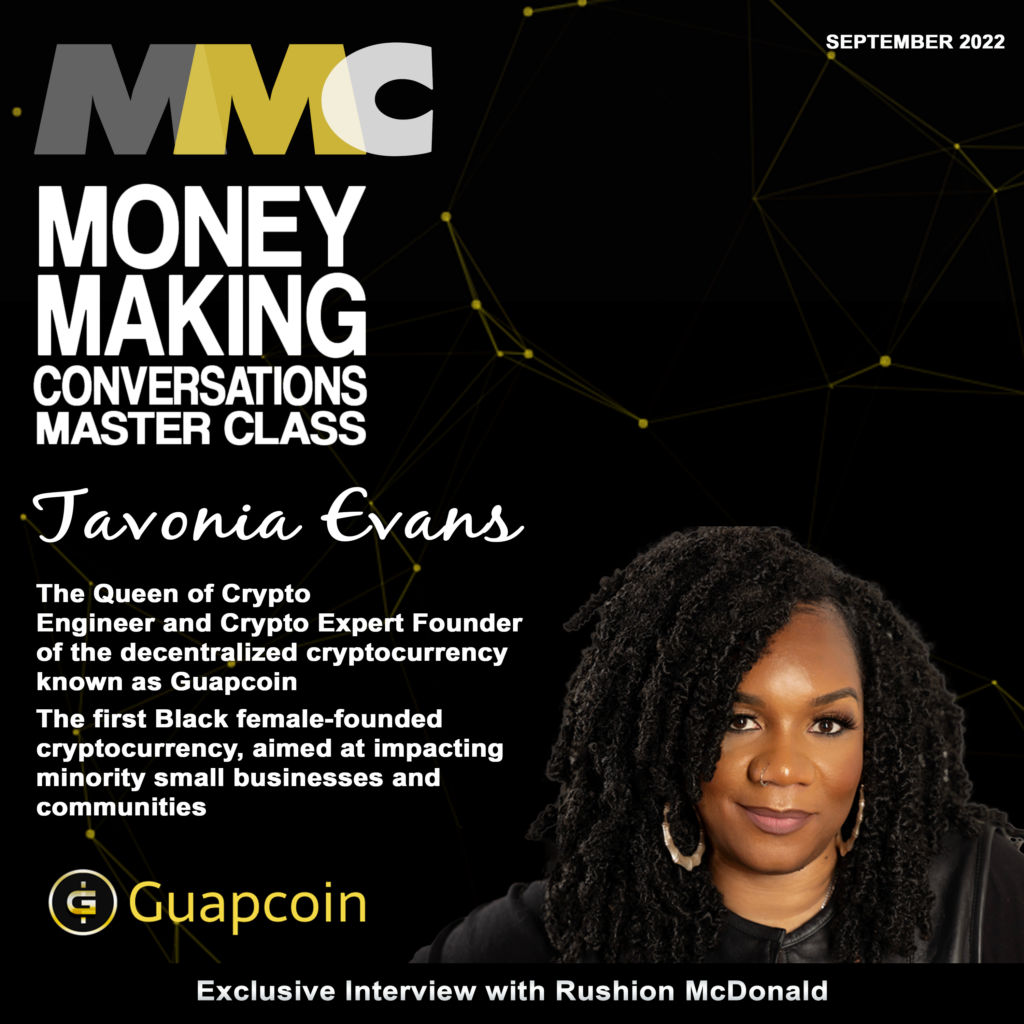 On this of episode Money Making Conversations Master Class the Queen of Crypto, Tavonia Evans explains how and why the black community should get started in crypto technology. She offers advice on how to take your first steps and discusses the first black female founded crypto technology aimed at impacting minority small businesses and communities.
Topics Covered
Cryptocurrency/Guapcoin is the most viable solution to closing the wealth gap in our community by providing alternative options to access to money, especially via the creation of DAOs ( Decentralized Autonomous Organizations ) that use the blockchain to pool or raise funds.
Why it's important that we are investing in building Smart Cities.
We are being left out of the true revolution in money – decentralized currencies ( crypto ), and how a lack of real eduction and knowledge is hindering us.
More on Tavonia Evans
Tavonia Evans is a 47 year old native of New York and "mompreneur". She has been called "the Queen of Crypto" due to being an established Crypto Expert and the founder of the decentralized cryptocurrency known as Guapcoin . She is an Engineer and 4x Founder of Guapcoin, Guap City DAO, Kowrii Bank, and Block4hire. Tavonia's vision is to use Guapcoin for the economic empowerment of black people ( especially black-owned businesses ) and eventually for the betterment of all people globally. Tavonia made the transition into the world of Blockchain in 2016 as a result of identifying Cryptocurrency as a tool that could stimulate economic growth and financial freedom within the Black community. She is one of the first Black women heralded as being the founder and lead engineer in developing a coin with such a mission within the Black community. She was featured in Glamour Magazine's May 2018 "Women in Crypto", CNN, Bloomberg, Complex TV, CNBC, Marie Claire, Blavity, Ozy – as well as other media publications for her work in the space. Since 2017, she has been an expert global voice for blockchain, and has spoken on diversity and the impact of blockchain technology in a variety of forums. She is now working with her cofounders Twyla Jackson and Marlena Barnett to build an Eco-sustainable Metaverse and Real Life Smart City – called Guap City.