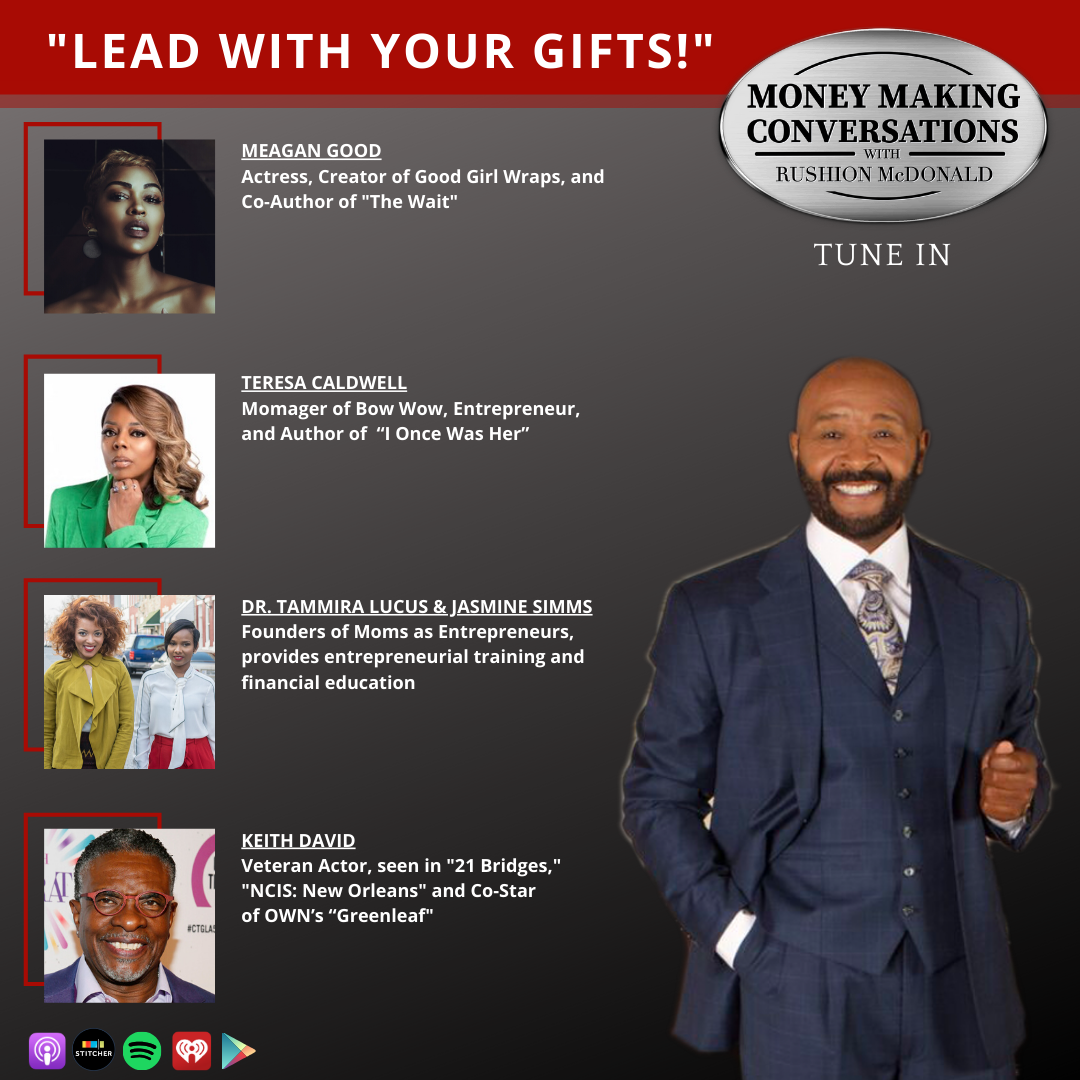 Rushion welcomes Actress, Creator of Good Girl Wraps, and Co-Author of "The Wait," Meagan Good; Momager of Bow Wow, Entrepreneur, and Author of "I Once Was Her," Teresa Caldwell; Founders of Moms as Entrepreneurs, provides entrepreneurial training and financial education, Dr. Tammira Lucas & Jasmine Simms; and Veteran Actor, seen in "21 Bridges," "NCIS: New Orleans" and Co-Star of OWN's "Greenleaf," Keith David.
Meagan Good is on the show to discuss her acting career, "Will there be a Shazam 2?," her new Good Girl Wrap, and the powerful relationship book she wrote with her husband. Please welcome to Money Making Conversations Meagan Good.
Dr. Tammira Lucas and Ms. Teresa Caldwell are on the show to discuss how this well-put-together woman has had her share of tears and mountains to climb. Her book is a raw look into the dark side of Teresa's life, before the fame and fortune, and tells the story of rejection, abandonment, and physical abuse. Please welcome to Money Making Conversations Entrepreneur and author Teresa Caldwell.
Jasmine Simms is on the show to discuss their struggles of both motherhood and entrepreneurship, they knew exactly what was needed to help service a community that most didn't think of, mothers. Since 2017 they have launched over 110 mom-owned businesses. Please welcome to Money Making Conversations, Dr. Tammira Lucas and Ms. Jasmine Simms.
Keith David co-stars in the OWN network series Greenleaf, Bishop Greenleaf. He is on the show to discuss how his acting talents can swing between comedy, sci-fi, voice-over roles, and drama and most importantly we will discuss the final season of Greenleaf, he plays Bishop James Greenleaf. Please welcome to Money Making Conversations to Keith David.
The Money Making Conversations talk show is about entrepreneurship and entertainment. The interviews give the consumer and business owners access to Celebrities, CEOs, Entrepreneurs, and Industry Decision Makers. They provide relatable information to the listener about career and financial planning, entrepreneurship, motivation, leadership, overcoming the odds, and how to live a balanced life. Listen to Money Making Conversations on Apple Podcasts, iHeartRadio, Stitcher, Spreaker, Spotify, Castbox, and more.
Rushion McDonald is a two-time Emmy Award-winning and three-time NAACP Image Award-winning television and film, producer. He is a sitcom writer, social media influencer, brand architect, entrepreneur, and award-winning baker.​
https://www.moneymakingconversations.com
https://www.youtube.com/MoneyMakingConversations
https://www.facebook.com/MoneyMakingConversations/
https://twitter.com/MoneyMakingConv